Appreciations
View(s):

To a brave and loving sister | Rohini Aluvihare

I yearned in the last few months to come and be within your radius dear Rohini Akka – to learn more of your strength, courage and acceptance of life, and love. You took the sting from every loss and quenched the fire from every pain,
My family of sisters is surely one of the treasures the Lord has bestowed on me – along with my parents, husband and all those who have touched my life. In the silence of the night memories- memories of my childhood echo and recho in my mind. Anyone can leave footprints in the sand but it takes someone special to leave a lasting footprint in the lives they have touched.

In the language of flowers- roses, jasmines- your fragrance lingers on with us. Rohini means a star. She was the shining star in our family of sisters. She had the courage, the strength to be brave, to smile and laugh as she travelled through her life. In her youth she was not too well, but the Lord held her hand. My parents helped their precious daughter to return to her normal self.

She had a special joy, a one of a kind laugh, a merry twinkle that used to steal over her beautiful face, making us all happy and teaching us to take life as it comes.

Her talents were many. Her floral arrangements inspired by Constance Spry, her candles- she made the best I remember in my youth. She was an accomplished china and porcelain painter. All these passions she shared with many pupils in Sri Lanka and England.

I felt as if we were characters in Louisa Alcott's memorable book 'Little Women'. We had a somewhat similar life and our characters matched those of the girls in the family in many ways. Joe was special, very much like Rohini Akka. Our love for each other was unconditional. We walked together with our own choices and decisions. Thanks to our parents we realised that being the 'superwoman' we should be the ones who kept a united and balanced family.

Rohini Akka moved to England and we missed her very much. But she visited annually and we would relive our precious memories. Her marriage to Vernon was so romantic. Our parents home was open to all and they taught us that there is only one religion- Love and one caste- Humanity. They gave their blessings. Rohini and Vernon had four lovely children.

We travelled to UK for my elder sister Padmini's grandson's wedding. Rohini Akka was still her happy cheerful self riding her sports car as she called it- her electronic wheelchair. Her health was deteriorating and she was in pain because of her arthritis. God took her away when He thought it was best.

Thank you Lord for giving us such a brave, loving sister.

Malini Naganathan

You have left lasting beautiful memories | Ratnasiri Sepala Seneviratne

A year ago, on November 10, the smoke from the Kanatte crematorium took away the last trace of a journey of a great humanbeing. He was Siri, Siri Aiya, Siri Mama and Siri Seeya to hundreds of relatives and friends of different generations. Siri Aiya was my beloved cousin, a person with remarkable human qualities mixed with love, compassion, and kindness.

The son of the late Henry and Mary Seneviratne of Katuwana Homagama, he had his education at St. John's College Panadura and at S. Thomas' College Mt Lavinia. After his father's death, he continued the family business, the then famous Seneviratne & Sons toy shop at Front Street, Pettah, till he retired from the business. 

In the large family circle, he was held in high esteem and won the love and respect of everyone irrespective of their age. He maintained a simple and exemplary lifestyle, strictly following the teachings of the Buddha. No family function, be it a wedding, funeral , pirith or an almsgiving would be complete without his presence and in all those gatherings friends and relatives looked up to him. Even after moving to Colombo, he took great pleasure in talking and reminiscing about his kith and kin and about life in the good old days at Homagama.

A devoted practical Buddhist, he followed the teachings of Dhamma to the letter and had close associations with many temples and leading Buddhist priests. He was generous in silently helping the poor and the needy and supporting many Buddhist organisations and activities.

He never expected or wanted any publicity or prominence in return, such was his simplicity. His loving kindness did not extend only to human beings, but also to animals being a great animal lover and wild life enthusiast. He and his late wife Dhakini were an exemplary couple who engaged themselves in so many meritorious deeds and helped the needy with a sincere motive, and have instilled those noble qualities and values in their daughter Lathika.

His death has left an irreplaceable void in our family circle, for he was such a loving and respected person to all his extended families. He has accumulated a vast wealth of merit during his lifetime with all the meritorious deeds he had done, which I believe will make his journey through sansara short to attain the noble bliss of Nirvana.

I miss you dear Siri Aiya, for you have left behind lasting beautiful memories and impressions and I respect and consider you as my elder brother for all purposes.

Gamini

You showed me the wonder of little things in life | Chitra Ratnaweera

My Dearest Aththamma,

It is said that a grandmother holds your tiny hands for a just a little while, but holds your heart forever and though you are no longer with us, you will always be in my heart.  When you thought I was not looking, you would greet me with the sweetest smile when I came home from preschool and it made me want to look as pretty as you did.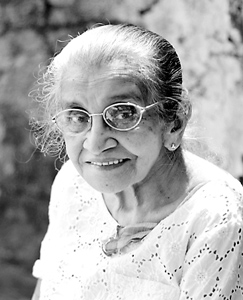 When you thought I was not looking, you gave me a sticker, and I learned that little things were special things. When you thought I was not looking, I would smell your sweet lavender scent from the soap you used and to this day, the smell of lavender reminds me of you.
When you thought I was not looking, I saw you taking care of Seeya and cook a meal for a sick neighbour and I learned to be compassionate towards others.
When you thought I was not looking, I saw you feeding a stray cat and you taught me that all living beings were important.
When you thought I was not listening, I heard you speak kind words to anyone whether they were angry, disheartened or fearful and I learned to be calm and patient in any given circumstance.
When you thought I was not listening, I heard your firm voice, and that reminded me to obey and be respectful. When you thought I was not looking, I saw you being thankful for what you have received and I learned to appreciate and count my blessings.
When you thought I was not listening, I heard the pride and joy in your voice whenever you heard of your grandchildren's accomplishments and that made me want to do more. When you thought I was not looking, I saw you shed a tear and I thought it was alright to cry.
When you thought I was not looking, I saw how you treated your children, sons-in-law, daughter-in-law, and relatives and I learned the value of family. When you thought I was not listening, I thought I heard your humming and it taught me to be in the moment and to be happy.
When you thought I was not listening, I heard your soft chuckle that was warm and comforting, and I learned that the world is a wonderful place. When you thought I was not looking, I noticed you crocheting, sewing and gardening and it taught me that time should not be wasted.
When you thought I was not looking, I saw your neat handwriting and you told me to leave more space between letters when writing and you taught me the importance of little things. You were right, all my teachers adore my handwriting. 
Aththamma, as I walk across the stage next year at my graduation, I know you will be there showering me with your blessings and cheering me along with Seeya. Thank you for guiding me when I was little, teaching me about the value of reading, the delight you get from an orange chocolate bar, a bottle of Fanta, ginger biscuits and giving me the pleasure of tasting your delicious egg curry whenever I visited your house. I am grateful for my three wonderful aunts who are my inspirations. Most of all, I thank you for the man in my life, my Thaththa.
Love you and miss you.
Your youngest
granddaughter,
Namali