Disciplining students: Where do you draw the line?
By Aanya Wipulasena
View(s):
On Thursday, a student who sustained injuries was hospitalised as a result of corporal punishment (caning) by the principal of a school. A group of grade 11 students of Minuwangoda Dewalapola Ananda Vidyalaya had allegedly made jokes and called the teacher names while they were in class.
When the teacher complained to the principal he had punished the students by caning them. A parent had lodged a police complaint after one of the students was hospitalised. In Aralaganwila, Polonnaruwa, last week a Buddhism master had allegedly hit a student who sustained injuries to his eardrum. The student apparently was guilty of bringing his lunch wrapped in a polythene sheet which was against the school's drive towards being environmentally friendly.
The student was rushed to the Polonnaruwa hospital where he received treatment. His parents and school authorities reached a settlement to avoid tarnishing the name of the school and also since the student will have to return to the school once he recovered.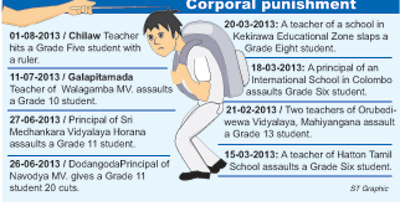 Although corporal punishment is banned it is still practised in some schools with three cases being reported from different parts of the country in the past two weeks.  Last week the incident of a teacher slitting a grade 11 student's trouser that she deemed too tight, made headlines. The family of the student of Denipitiya Weligama Madya Maha Vidyalaya said he was humiliated in front of his schoolmates last Friday.
This was apparently not the first trouser-slitting incident where a student was humiliated. In January this year the principal of Rajarata Maha Vidyalaya, Polonnaruwa had cut the trousers of 15 grade 11 students, during school assembly, claiming they were not suitable to school. The students were reluctant to go back to school following the incident.
Meanwhile National Child Protection Authority chairperson Anoma Dissanayake said they get many complaints of students being subjected to corporal punishment. "We are handling these complaints while we conduct awareness programmes among teachers on how to discipline a child in an accepted way," she said.
Deputy Education Minister, Mohan Lal Grero said when such incidents occur parents should complain to the education director or the police and necessary action would be taken. Southern Province Education Minister Chandima Rasaputra said alternative methods should be used to instil discipline among students.
"Corporal punishment is illegal. However, some knowingly or unknowingly implement this means of punishment on students," Mr Rasaputra said adding when a situation arose parents should be summoned and informed of the students misdeeds and failing which the student can be suspended for a few days. If all these initial steps fail the student should be taken out of school and enrolled in a place where the student can seek help.
Minister Rasaputra said sadly some sections of society also supported this kind of punishment saying this was the only way to discipline students. He was referring to a a demonstration that was held on Thursday where students and parents of Denipitiya Weligama Madya Maha Vidyalaya protested against the transfer of the trouser-slitting teacher.
"The demonstration only makes the situation worse. Taking children to the streets is wrong because they then believe these actions are acceptable," the minister said adding that he was against corporal punishment and if the teacher was found guilty disciplinary action would be taken against her.
Eastern Province Education Minister M. T. A. Nizam told the Sunday Times that such incidents hardly occur in the Province because they conduct awareness programmes for teachers and principals on how to handle students. "When a teacher punishes students this way they tend to believe that they are animals. This can be very damaging," he said.
Lanka Teacher Services' Union General Secretary Mahinda Jayasinghe said the behaviour of students had taken a turn for the worse. He said although students are constantly reminded school rules and regulations some do not follow them. "It is when the student does not listen that the teachers are forced to take certain remedial actions," he said.
He said the practice of some parents lodging police complaints over the slightest incident has aggravated the situation. "Most of the teachers who were accused of these actions were good disciplinarians in their respective schools. We are against incidents where teachers cause injuries to students' ears etc. but hitting with a cane to the hand when caught doing something wrong is a different story," he said.
However, Inter-University Students Federation (IUSF) Convenor Sanjeewa Bandara said that teachers behave aggressively towards students when they are burdened with other problems. "This is a social problem. Teachers are paid poorly in our country and as a result of this they have economic problems which lead to other problems. When they cannot cope with these stresses they take them out on students. Now, teachers are more focused on conducting private tuition classes (where they earn more) than school work," he charged.