The Tower of London | From a Young Reporter
Nilanga De Silva (11 years) | Royal Institute, Maharagama
View(s):
My parents, brother and I went on a trip to England once. We went to see all sorts of places, but the most interesting place we saw was the Tower of London. This tower, originally built as a prison, is situated in the centre of London, next to the London Bridge. The Tower of London consists of a few towers, three most probably. We first visited the Bloody Tower.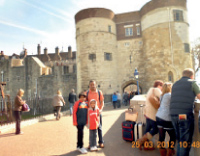 The Bloody Tower is where all the machinery used to torture prisoners in the past are kept. Of the many machinery we saw, there was one which consisted of a wooden plank thick enough for a man to lie down on, some cuffs, one on each edge and some machinery to which the cuffs were connected. The prisoner had to lie down on the plank and put his arms and legs in the cuffs, which then were tightened. Then the guards would turn the machine and the prisoner's legs and arms would twist about breaking his veins.
Then we went to the White Tower. In here were most of the things used by the past kings and queens of England – goblets, shields etc., and the crowns of the past and present kings and queens. The crowns were made for different kings and queens and each design was unique. 
The most beautiful by far was the 'crown jewels' worn by the present queen, Queen Elizabeth II. Then we visited the tower where we saw the armour used by kings and their knights as well as their horses. The kings' and knights' weapons such as swords and shields were there too. We also saw a machine used to chop off the heads of the guilty in the past.
We also saw a massive dragon at least 10 feet in height and made of things such as barrels, medals, shields etc., a most astonishing but beautiful thing. The Tower of London gave me new experiences and enabled me to see all sorts of new things. I learnt a lot on my trip there. It was a most exciting visit.