Acting heads at CHOGM repartee
View(s):

Last Monday morning around 10, the Nelun Pokuna Mahinda Rajapaksa Theatre was a hive of activity and the buzz was when Britain's 'Prince Charles' arrived at the venue.  It was in the form of M.R.K. Lenagala, the External Affairs Ministry's UN Division DG. The fashionably head shaven young diplomat ironically had just last year been unceremoniously sent packing from serving Sri Lanka at the Court of St. James in Britain due to differences with High Commissioner Chris Nonis.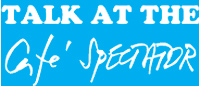 There was no Royal escort though for bachelor 'Lena' and no one from the Ministry seemed ready for the role of Camilla. It was a full blast rehearsal of the CHOGM opening ceremony that was taking place. The 52 visiting Heads of State were being played by External Affairs Ministry officials who would be their respective Liaison Officers.
All the local artistes, both young (Santush and Bathiya) and not so young (Channa Wijewardene etc.,) were in full throttle — the audience being President Mahinda Rajapaksa, Presidential Secretary Lalith Weeratunge, Defence Secretary Gotabaya Rajapaksa, Service Commanders, the IGP and EAM officials.
But unlike President R. Premadasa who played himself at a rehearsal for a SAARC summit during his time, the incumbent President who like US President Ronald Reagan has acted in some 'B rate' movies in his youth opted to see his 'double' perform instead.
That part went to EAM's Additional Secretary Rodney Perera whose Oscar performing role in singing the national anthem, speaking before the tele-prompter and taking his seat as Sri Lanka's Head of State earned him a Presidential commendation afterwards; "Maawa hondata act kala (you played my role well)."
Unfortunately, the 'acting' President could not bring back the 17th Amendment and agree to the Right to Information Law during his 90 minutes as 'President' or sack any of his useless ministers either. That was not in the script.
Kurunegala rivals to bat it out
There still remains some camaraderie between government and opposition politicians.  In the Kurunegala District where they fought each other on the political front, both Chief Minister Dayasiri Jayasekera, now with the UPFA and UNP parliamentarian Akila Viraj Kariyawasam are to meet on the playing field.
They are set to captain two sides in a game of cricket. It is between "Dayasiri United" and "Akila Warriors"
Whoever wins, there is sure to be a lot of fun.
Gavaskar catches bananas at Botham walk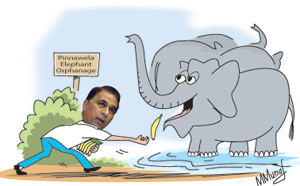 Several former international test cricket players joined with England Cricket legend Sir Ian Botham, last week for a charity walk from Kilinochchi to the southern village of Seenigama. En route, they stopped at the Pinnawala elephant orphanage. Former Indian test player Sunil Gavaskar was given a bunch of bananas by a person in the group to be offered to the elephants at the orphanage.
Gavaskar, skilled at throwing a ball to the wicket keeper, began throwing bananas one by one to the mouth of an elephant.  There were a few throws, however, that did not reach the target or the elephant's mouth. Gavaskar was quick enough to catch them before they fell on the ground.
There was also another story about bananas this week. Prisons officials have decided that inmates should be served a banana each at least twice a week together with their lunch.
Road closures: If the police are right, then the EAM is unpatriotic
Senior Deputy Inspector General Anura Senanayake replaced Police Chief N.K. Illangakoon at a news conference last Monday.
It was to brief the public, through the media, about Police arrangements for the Commonwealth Heads of Government Meeting (CHOGM).
"Some of the media are unpatriotic. They are only saying that the roads are going to be closed during the summit. That is not true," he said. Such closures, he added, would not last at most for more than 10 to 20 minutes. There will not be complete closure.
The Police Department was disappointed that the media had not given adequate publicity to this aspect. Hence, they have decided to place prominent advertisements in the media. If DIG Senanayake's accusations of media being "unpatriotic" are true, what would he then say to the External Affairs Ministry?
This week, the EAM responded to a statement by the International Bar Association's Human Rights Institute (IBAHRI). The IBAHRI statement said:
"(IBAHRI) high-level delegation which includes the United Nations (UN) Special Rapporteur on the Independence of Judges and Lawyers Gabriela Knaul, and the first UN Special Rapporteur on the Independence of Judges and Lawyers Param Cumaraswamy. The group has had its visas revoked officially, or de facto, notwithstanding the public assurance from Sri Lanka's High Commissioner to the United Kingdom Dr. Chris Nonis, on 30 April in a BBC interview, that representatives of IBAHRI 'Are absolutely welcome to come in.' And that '…if any institution is formally invited… naturally of course we would [let them in]'.
"The IBAHRI delegation was intending to travel to Colombo, to participate in a conference co-hosted by the Bar Association of Sri Lanka and the IBAHRI entitled 'Making Commonwealth Values a Reality: the Rule of Law and the Independence of the Legal Profession'. More than 200 lawyers and diplomats are registered to attend the event, which aims to promote scrutiny and discussion on international Commonwealth obligations and values regarding the independence of the legal profession. The Conference is scheduled to take place on 13 November ahead of the start of the Commonwealth Heads of Government Meeting (CHOGM: 14-17 November 2013) in Colombo where more than 50 Heads of Commonwealth countries will gather….."
The EAM has said in a response, among other matters, that "It was further clarified that during this period all the required resources will be fully utilised, resulting in practical difficulties in the conduct of any events with international participation, particularly with regard to the security and logistical aspects which would entail road closures, non-availability of hotels and accommodation facilities etc." Does that mean the EAM too is unpatriotic in saying that there would be logistical aspects that would "entail road closures?"
Govt. leaders livid over Cameron's visit to Uthayan
Senior Government leaders were livid that British Prime Minister David Cameron, who will be in Sri Lanka to attend CHOGM wants to go to Jaffna. It is not the visit to the Northern capital that is causing concern to them. It is a proposed visit to the Tamil daily Uthayan newspaper office.
"Eyaata press freedom gene balanna oney nam, kiyanna Sunday Times ekata yanna kiyala. Kela paththara valata gihilla vedak nehe, (if he wants to learn of media freedom, ask him to go to the Sunday Times. There is no purpose in going to 'jungle' newspapers)," remarked a top government leader to one of his aides.
Colombo's facelift: Dangers at night
The ambitious campaign to give the City of Colombo a new facelift may see broken legs and dented cars.  Late night workers are constructing new bollards. Just two examples are at James Peiris Mawatha when one drives from the Sri Jinarathana Road, Darley Road – Union Place Divide. Another is a point just outside the Kompannaveediya Police Station. A manhole has been kept open. Several pedestrians escaped stepping in.
Making matters worse is the dangers they pose at night. There are no illuminated signs to warn pedestrians or motorists. Motorists in particular say that until a proper street lighting system is introduced, such illuminated warnings can save limbs, prevent dents and even lives.
Road Development Authority (Engineering Works) Director Jayantha Guruge says it will take more time to address the issues. The reason, he points out, is that more traffic is now invading the City of Colombo sooner because of the Katunayake expressway.
However, motorists complain that placing an illuminated board of caution should have been done before work was undertaken.
DPL post for Northern Governor?
UPFA circles are buzzing with reports that Northern Province Governor G.A. Chandrasiri may receive a diplomatic posting.
The newly elected Northern Provincial Council led by its Chief Minister C.V. Wigneswaran has asked President Mahinda Rajapaksa to replace Mr. Chandrasiri with a civilian. The present incumbent is a retired Major General and served as Security Forces Commander in Jaffna.
One source said his preferred choice was Australia where some members of the family reside. The present High Commissioner in Australia, retired Navy Commander Thisara Samarasinghe had just concluded two years in office.
An External Affairs Ministry spokesperson said heads of missions could serve a stint of two or three years. It is not immediately clear whether Admiral Samarasinghe would be moved to another posting if he is asked to return to Colombo.
Ranil third umpire, not man of the match
Opposition Leader Ranil Wickremesinghe was the guest of honour at the "Top 25″ business awards ceremony organised by a local magazine and held at the Colombo Hilton. Instead of taking a seat allotted to him, Wickremasnghe opted to sit with DNA MP Arjuna Ranatunga and Western Provincial Council Minister Udaya Gammanpila.
A conversation ensued. The subject was casinos. Wickremesinghe said he liked the proposal made by Gammanpila to conduct a referendum on whether there should be foreign-backed casinos in Sri Lanka. 
He told Gammanpila even though the UNP had certain views on other issues the UNP was ready to debate the issues involved in casinos with anyone. Gammanpila asked who would lead the anti-casino campaign on behalf of the UNP.
Wickremesinghe said Karu Jayasuriya would lead the campaign. Then the discussion turned to the UNP's leadership issue. Gammanpila told Wickremesinghe that somehow at the end Wickremeinghe had become "the man of the match." Denying the claim with a smile, Wickremesinghe said he was now only the "Third Umpire".
Attanayake on train, won't even change seat
The United National Party's General Secretary, Tissa Attanayake, wanted to travel by train to Kandy last Sunday. After buying a first class ticket, he boarded the train from the Colombo Fort station. Some travellers in the compartment thought Attanayake was on an inspection tour. Others thought it was for security reasons since the crisis ridden UNP has been subject to many an issue recently.
One passenger walked up to Attanayake and offered his seat in the Observation Car. This was in exchange for the first class ticket. The UNP General Secretary politely declined the offer.
After quitting the Kundasale electorate where he was the UNP organiser, Attanayake might have been wary about changing even train seats.