Race against time to dress up for CHOGM 2013 visitors
By Nadia Fazlulhaq
Renovating, refurbishing, resurfacing for a right royal reception; traffic on several areas to be restricted
View(s):
From streets to cemeteries, historical forts to botanical gardens, the country's places of interest are being spruced up for the
upcoming Commonwealth Heads of Government Meeting (CHOGM) with workers hurriedly trying to keep to the deadline of end of the month. 
Colombo city, where most of the Commonwealth programmes will be held, is seeing a rapid transformation with road surfacing, paving, landscaping and street lighting.
Municipal Commissioner Bhadrani Jayawardena said the Colombo Municipal Council (CMC) is working on overdrive to meet the October 31 deadline.
"There are 3,000 CMC employees working day and night, along with support from 200 Civil Defence Service (CDS) personnel. We understand there are inconveniences to the public, especially with
road resurfacing. But the work is to reach completion soon," she said.
This week, the roads were dusty with CMC workers placing flower and herbal plant pots in some of the major routes to be used by delegates.
The Colombo Municipal Council has also distributed notice to residents requesting them to clean and paint the walls and gutters facing the main road.
The joint letter issued by Mayor A.J.M. Muzammil and Ms. Jayawardena, requested the public to remove the boundary walls of buildings wherever possible, grow flowers to highlight the elegant environment and the 'Green City Concept' to passersby.
"Almost all the delegates will pass through Colombo city. We are also expecting a visit from the spouses to Viharamahadevi Park, beautification of which is to be completed by October 31,"the Commissioner said.
The opening ceremony is at Nelum Pokuna (Lotus Pond) Mahinda Rajapaksa Theatre on
November 15, with the Bandaranaike Memorial International Conference Hall (BMICH) being the main conference venue. The Business Forum is to be held at Cinnamon Grand, Colombo.
As delegates arrive from November 12, traffic on the Katunayake Highway, Kelaniya Bridge, Baseline Road, Galle Road from Ratmalana to the hotels will be restricted to facilitate VVIP travel, police sources said.
Police Spokesman Ajith Rohana said the old Parliament roundabout to Galle Face roundabout, Kollupitiya Junction to Liberty roundabout, Ananda Coomaraswamy Mawatha, Bauddhaloka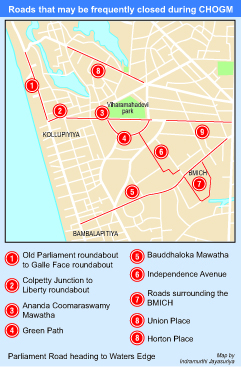 Mawatha, Independence Avenue, Nanda Motors roundabout, Horton Place, Roads surrounding the BMICH, Parliament Road heading to Waters Edge and Union Place will experience frequent road closure.
Motorists will be advised to take alternate routes and these will be notified by Traffic Police by the end of this month, the SSP said.
Meanwhile, officials of the Ministry of External Affairs will be among those attending an etiquette training programme for liaison and protocol officers involved in CHOGM tomorrow.
All officers assigned to work with the delegations from various countries are expected to attend. Authoritative sources said the training is a professional course by the Singaporean Government.
Meanwhile, a number of places in the city are getting ready with hopes of a visit by Charles, Prince of Wales.
Heritage Ministry Additional Secretary S. Samarasekare said the National Museum is going through a facelift.
"Whitewashing is taking place and the colonial artifact display section is being refurbished," he said.
The other places are Commonwealth War Memorials honouring World War I and II dead, at the Borella and Jawatte Cemeteries.
Out of Colombo, Hambantota, Galle and Kandy are some of the places the Heads of Government, Foreign Ministers, spouses and delegates are expected to visit.
Department of National Zoological Gardens Director General Anura Silva said the spouses of Heads of Government and Foreign Ministers are expected to visit the Pinnawala Elephant Orphanage.
"They have asked us not to organise a special display, as they wish to enjoy the daily routine of the elephants at Pinnawala. Spouses will get to be a part of the milk feeding of baby elephants and to feed fruits to the elephants. They will be able to witness elephants bathing at Ma Oya, while having tea at Pinnalanda Hotel," he added.
Southern Province Governor's Secretary Lal Samarasekare said the Galle Heritage site will be visited by spouses of Heads of Government and Foreign Ministers and Governor Kumari Balasuriya will be hosting lunch.
"Coinciding with the lunch will be the Galle Fort Fair, a traditional fair since colonial times. There will be sales of lace, handcrafts and sweet delicacies. There will be bullock carts and thirikkal for the delegates," he said.
Temple of the Sacred Tooth, Kandy, and Royal Botanical Gardens, Peradeniya, are other places expected to be visited by the spouses.
Department of National Botanical Gardens Director General Siril Wijesundera said the spouses will be taken on a ceremonial drive in battery-operated eight-seater carts around the Peradeniya Botanical Gardens.
"The cafeteria is being renovated for the spouses. There will also be a souvenir shop with some items unique to the Botanical garden. They will be taken to the memorial tree planting area where they will see trees planted by Queen Elizabeth II, Yuri Gagarin and other dignitaries," he said.
He said the Heads of Government will participate in a tree-planting event at the Mirijjawela Botanical Garden's opening ceremony, just after the Youth Forum.
Laksala, Director (Promotions) Kelum Jayawardena said they will be opening a new outlet at the 'Ape Gama' (our village) premises in Battaramulla.
Ape Gama has been built according to the village concept, and delegates will get an opportunity to experience village life.
Laksala is hoping there would be a demand for blue sapphires and other gems, handcrafts especially wood carved elephants and batiks.
Checks, inspections, scrutiny abound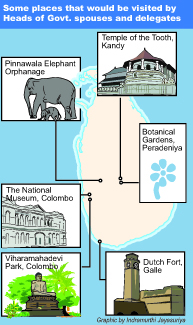 Star-class hotels to restaurants, to food outlets are coming under thorough inspection, especially in Colombo, Kandy and Galle where delegates of the Commonwealth Heads of Government Meeting (CHOGM) are expected to travel to.
The Colombo Municipal Council's (CMC) Chief Medical Officer Dr. Pradeep Kariyawasam said that apart from three star-class hotels, all others have been inspected.
"We are hoping to complete inspecting all hotels by the end of this month. However, a doctor and eight Public Health Inspectors have been assigned to monitor these hotels, to assure that the delegates are provided with food stored and prepared under strict hygienic conditions, safe drinking water and ensure no mosquito breeding grounds in the vicinity," he said.
Kitchens, freezers and storage rooms will be checked, while hotel rooms will be checked for quality drinking water, pest control and hygiene.
"Galle city has about 500 hotels, restaurants and small food outlets. It is the historical town closest to Colombo. Therefore, we are expecting many delegates to visit the area and even dine outside. Inspections are being conducted and deficiencies pointed out," said Galle Medical Officer of Health, Dr. Venura Singhaarachchi.
Dr. Singhaarachchi said that a meeting will be held with all food handlers this week, when they will be briefed on food hygiene and safety and instructions on preparation.
"There are about 15-20 three-star and above hotels in Kandy, and many small food outlets. We are checking all of them and briefed them on food standards," said Kandy Medical Officer of Health Dr Asoka Senarath.
Dr. Senarath said that mosquito control measures have commenced with fumigation in mosquito-dense areas.
Ridiyagama Detention Centre: Sorry, no room for more beggars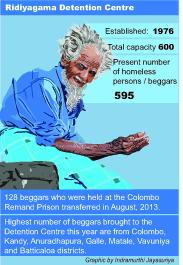 Despite requests from police stations and prison officials, the country's only detention centre for the destitute is full of inmates, said Ambalantota's Ridiyagama Detention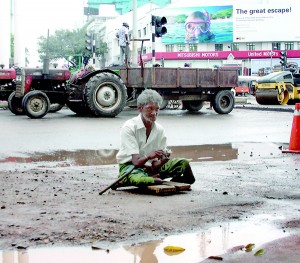 Centre Superintendent.
The detention centre was established to house beggars and homeless persons brought from Colombo, during the Non-Aligned Movement Summit in 1976.
"Though the maximum capacity is 600, there are 595 inmates. With dilapidated buildings and most inmates not having a place or family to go to, there is no way of adding more. It is already overcrowded," he said.
Financial allocations for the detention centre are from the Southern Provincial Council and not the central Ministry of Social Services or Department of Social Services.
Ahead of the Commonwealth Summit, 128 beggars who were held at the Colombo Remand Prison, were transferred to the detention centre.
According to the Superintendent, this year a majority of the admissions have been from Colombo, Kandy, Anuradhapura and Galle.
Beggars can be arrested by police under the Vagrants Ordinance and produced before courts.
However, Police spokesman Senior Superintendent of Police Ajith Rohana said that the police have no intention of arresting beggars before or during CHOGM.
comments powered by

Disqus