Contraband fags freely available despite heightened vigilance by the law
View(s):

An office executive went to a kiosk close to his office in Kollupitiya, and asked for a popular brand of imported cigarettes.The cashier stood up, raised his sarong and pulled out a pack from the shorts he wore underneath. It was Rs 25 cheaper than the same brand produced locally. Sunil Chandrasiri, a regular smoker, last week called over at a wayside grocery shop in Kirulapone and purchased two cigarettes of a popular local brand. He smoked one of them on his way home, while retaining the other to smoke after dinner.

As usual, after dinner, he smoked the other cigarette and noticed a difference. The following day he confronted the shop owner who admitted that he was trading in smuggled cigarettes as well. That is how the trade in smuggled cigarettes is flourishing in the City.Shopkeepers do not display them on their shelves for fear of police raids.

"There are persons who supply foreign cigarettes smuggled by them into the country. There are others who are able to obtain them from ships and supply them to us," a Pettah trader dealing in smuggled cigarettes told the Sunday Times. He said that smuggled cigarettes do not cost more than Rs 5 each, as it is the tax component which hikes the price of local cigarettes.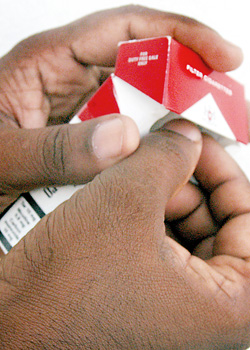 'If it is a known customer, we offer the cigarettes at a lower price, sometimes at Rs 15 per cigarette, when the price of a popular brand of cigarette is Rs 28. However, if we do not know the customer, we sell it off at the normal price," he explained. He said that, while some of the regular smokers are able to identify the difference, most of them do not know the difference.
Pettah has been identified as one of the main areas from where smuggled cigarettes are being distributed. Earlier this month, the Special Task Force (STF) on a tip-off detected a van being loaded with some 10,000 cigarettes to be distributed around Colombo. "Two suspects arrested over the incident, claimed that they received the cigarettes from the Colombo Port," STF Inspector of Police (IP) Nadeeka silva told the Sunday Times.
The biggest detection of smuggled cigarettes by the STF was made in February, when more than 3 million were detected in Ragama. "We first detected a van packed with cigarettes and found 13,000 packets. When we questioned two persons, they said they were distributing the items to a location in Armour street. Based on their information, we found 15,000 more packets hidden in storage facility in Kandana," IP Silva explained.
This year, the STF detected more than 3 million smuggled cigarettes to date. "We are able to detect only a portion of the smuggled cigarettes, while most of it gets into the market," he said. A senior Customs officer said that cigarettes are usually smuggled in fridges which are usually not checked, or in items which are sent through clearing houses. "They are usually concealed in false bottoms," he added.
He said that Dubai was one of the locations from where cigarettes were smuggled into the country. "We have found that the smuggled cigarettes are of low quality," he said. But, most consumers are sold smuggled cigarettes at restaurants, night-boutiques, shops and bars in the main towns, as well as in the outstations.
Meanwhile, the police have stepped up raids on those smoking in public.
Though the National Authority on Tobacco and Alcohol 13 Act No 27 of 2006 states that "No person shall smoke or allow any person to smoke any tobacco product within any enclosed public place" the "public place" has been described, "as any place to which the public have access to, whether as of right or otherwise."
Attorney-at-Law Angelo Benedict said that, under the restrictions imposed by the National Authority on Tobacco and Alcohol Act, a person could be prosecuted for smoking by the roadside or any place where the public has access to.
comments powered by

Disqus