Severity, brutality of crimes increase though numbers dip
By Damith Wickremasekara
View(s):
Kumara Ramanayaka, 57, retired Warrant Officer of the Sri Lanka Air Force, was attending a religious ceremony in his village in Yakatuwa, Minuwangoda, last Sunday, when there was a sudden electricity failure plunging the place in darkness.
He then decided to return home on his motorcycle, as only his wife and two children were at home. Besides, he also had a large number of electronic items including television sets, CD players and other valuables retained as collateral, as he was a money lender.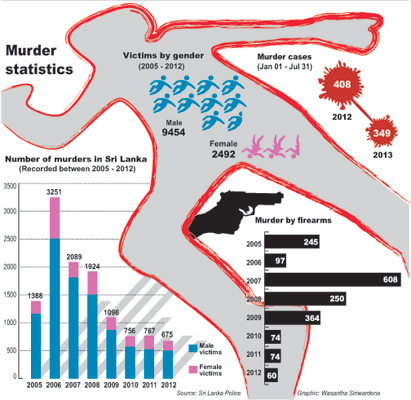 As he reached his gate, his wife heard two gunshots. At the gate, she found her husband in a pool of blood. She also heard the sound of a motorcycle speeding away. Police who arrived on the scene followed the direction of the departing motorcycle and found it abandoned a short distance from the crime scene. The suspect had stopped another motorcyclist, fired into the air and hijacked his motorcycle.
Police traced the owner of the motorcycle they found and arrested him. He claimed that he had sold the motorcycle, but it was still under his name. A senior police officer involved in the investigations said that the police were trying to ascertain whether the victim was gunned down because of the business he was engaged in. or due to other reasons.
Earlier this month, seven-year-old Nivedha Sathaseevam, a student of St Anthony's Tamil MV in Ruwaneliya, Nuwara Eliya, went missing from home, after returning from school, and her body was found two days later in another part of the estate. However, up to Friday, Police had not been able to make a breakthrough.
Her mother, an estate employee, on returning home had looked for her, without success.  In Jaffna, a woman's body was found in the compound of Nachchimar Hindu temple close to Jaffna town on Thursday. Police believe that the woman had been murdered elsewhere and the body dumped here.
Police have yet to make a breakthrough in their investigations. On Thursday, a Sub Inspector of the Kirulapone Police, a police constable of the Bambalapitiya Police and a woman were arrested for extorting Rs. 3.5 million from a businessman in Borella.
The woman, who reportedly had an affair with the businessman, and called over at the Bambalapitiya Police station to lodge a complaint, had intended to extort money with the assistance of the police constable she met there. They had threatened to inform the businessman's wife of his illicit affair and obtained Rs. 3.5 million. Thereafter, they had further demanded another Rs. 7 million.
These are among a series of criminal incidents reported in the recent weeks.Statistically, the number of killings in the first seven months of this year, was less than in the corresponding period for last year, while criminal activities were being reported on a regular basis.
In 2006, there were 3,251 killings reported, but last year, the figure dropped to 675. However, Retired Senior Deputy Inspector General of Police Nimal Mediwaka commenting on the current criminal trends, told the Sunday Times that the pattern is serious.
"By and large, killings are carried out in a very professional manner, as against those committed on sudden provocation. Also, much publicity is now given to these incidents," he said. 'Though, statistically, the crime rate has not increased, the brutality of such incidents has shown an increase in its severity," he said.
"A public support mechanism is very useful to contain crime. You should get the optimum support from the public. During my years of service, we had the support of vigilance committees to alert police to the presence of suspicious characters," he said. Police should also introduce confidence building mechanisms. The involvement of a few policemen in criminal activities, leads to an adverse effect," he said.
Mr Mediwaka believes that if the police could harness public support, they could easily apprehend those responsible for criminal activities.  Police spokesman SSP Ajith Rohana believes that the police, in recent months, have been able to make breakthroughs in almost all of the cases involving killings.
"We have been able to educate the people on reducing the crime rate and therefore, we receive information from the public, which in turn helps us solve crimes," he said. He said that one of the other key features is that there are no major underworld gang clashes anymore, which were very common till recently.
comments powered by

Disqus