Illicit fags become dear as the Law butts its smuggling
View(s):

The sale of illegal cigarettes is on the decline with law enforcement agencies cracking down on outlets involved in the business. As cigarettes are heavily taxed, it has long been observed that many of the imported sticks are smuggled into the country to avoid taxation, and sold at a much lower rate.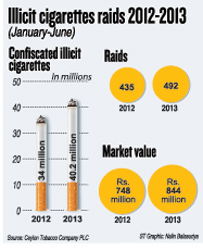 The Ceylon Tobacco Company (CTC), in a performance report, states that law enforcement agencies conducted 492 raids in the last six months, resulting in the confiscation of 40.2 million illegal cigarettes valued at LKR 844 million.
The total number of cigarettes confiscated last year was 34 million.
The Sunday Times found that many of the local outlets that sold imported cigarettes, now sell the locally manufactured sticks. A popular restaurant, and a onetime prominent cigarette dealer in Kollupitiya, does not sell imported sticks anymore.
Offering to sell us a locally manufactured Benson and Hedges pack for Rs 640, they tell us that they no longer sell the imported sticks for want of a proper market for it.
Our next stop was Fort where we were directed by traders, to a store reportedly selling these illegal cigarettes.
This store's owners however, unsure of our bona fides, refused to reveal the items to us. Some of the heavy smokers in the area told us that, these dealers sell smuggled cigarettes only to their most trusted buyers, for fear of being traced by the police.
The business is quite profitable among the smokers in the area, for these cigarettes sell for a lower rate, compared with local cigarettes manufactured from imported tobacco that is taxed, and thereby sold at a much higher rate. Police Media spokesman SSP Ajith Rohana said, "We are closely monitoring these smuggling activities and have conducted several raids."
Meanwhile, the smoking culture in Sri Lanka is being controlled to a great extent; the taxes imposed on tobacco have thus far discouraged many smokers.
No longer is it possible to smoke in an enclosed public area, by order of the National Authority on Tobacco and Alcohol 13 Act, No. 27 of 2006, which states, "No person shall smoke or allow any person to smoke any tobacco product within any enclosed public place."
The Act also states that, "Any person who, being the owner, occupier, proprietor, manager, trustee or person in charge of any enclosed public place, shall ensure that no person smokes any tobacco product within any such enclosed public place."
For the purpose of the act, "public place" means any place to which the public have access to, whether as of right or otherwise.
SSP Rohana said, "When police detect those smoking in public areas, particularly at bus stands and railway terminals, they take the offender's identity cards and file a court case against them."
He also said that police have the power to act against persons selling synthetic cigarettes. "We are monitoring the sale of these artificial cigarettes, and have observed them to be taking place particularly in the east of the country. They manufacture these cigarettes without conducting proper tests," he said.
"We have made a couple of arrests, particularly in the Kalmunai area," he said.
comments powered by

Disqus