A taste of the North
View(s):

It turns out, a plate of really authentic Jaffna crab can be hard to find. The distinctive flavours and balance of spices have proved hard to replicate in the city's restaurants.After a break, our column Take 3 returns with a selection of eateries that serve the speciality, but how many of them get it right? Here's what you need to know.

Jeyashiri Café 44B, Sri Kathiresan Street, Colombo 11. Ph: 011 – 2439922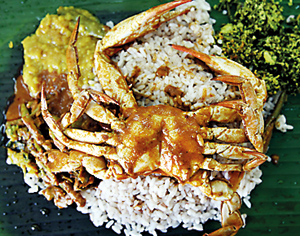 Kathiresan Street begins just a few feet from where the sellers of Ayurveda medicines cluster in Pettah. (Look over your shoulder and you'll see the old Town Hall.)Turn in and walk down to find Jeyashiri Café, a favourite with visitors to this bustling part of the city. When we step in at 11. 30 a.m the food is ready to go and we've beaten the lunchtime hordes that will descend in an hour. The place is clean, service is prompt and friendly and the food is delicious. 
The rice and curry, prepared by cooks from Jaffna is simple – the fat grains of rice dished out on a banana leaf, accompanied by the day's vegetable dishes and staples like rasam. We get a tasty, generous portion of crab for Rs.250 to go with our lunch but the thin gravy that comes with it is a little disappointing. Behind the counter, Sivanesan dishes out more food.
Having moved from Jaffna to Colombo in 1987, he says they've been here ever since and his team is made up of people from that region. Sivanesan's counter is overflowing with appetising dishes – aside from the crab there's also prawns, squid, chicken, fried fish and chunks of fatty, perfectly spicy mutton. Can you tell we gave in and tasted the last? But we digress, on to the next kade!
Yarl No. 46/1, Station Road, Colombo 6. Ph: 011 – 2593904
Someone has painted the walls a bright orange since we were last here, giving the famous little kade a jaunty air. There's Tamil music on the radio and a bevy of Hindu gods looking down on you. On the wall are a dozen newspaper cuttings, all picturing the meal we're about to dig into. We got here just in time. We're on the wrong side of noon and there are only two portions of crab left.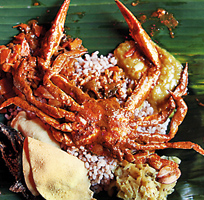 We're lucky enough to be served by the proprietor himself. Mr. Nanda Kumar remembers when Rick Stein dropped by to film a segment for his BBC Far Eastern series and says they still get people pouring in, particularly on weekends, looking for the crab that Stein dubbed the best he'd ever eaten.
It's still very good – the sweet, tender crab meat encased in a tough shell, the gravy thick and rich and calling to be poured liberally over your rice. While experienced gourmands might quibble over whether this is authentic Jaffna fare, Yarl seems to have maintained its standards. What has changed though are the prices – a rice and curry meal with a single crab now costs Rs.400.
Cosy 25, Station Road, Wellawatte, Colombo 6. Ph: 011 – 2504020
As we leave Yarl, we're thinking of stopping by a little kade in Slave Island we've eaten at once before (but not been too impressed by) but we get side tracked by a bold yellow and black sign across the road that announces the presence of 'Jaffna Kitchen'.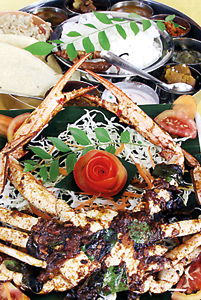 Inside the décor is an eclectic mix – think heavy, slightly musty maroon curtains and Indian prints on the wall, while the bathroom is a bold bumblebee yellow and black.
(The little known restaurant has two branches in Jaffna, one a hotel, another, a purely vegetarian restaurant.) A quick inquiry and we discover they do in fact have a rice and curry with Jaffna crab for the very reasonable price of Rs.350.
The meal when it comes quickly convinces us this is the most value for money. Almost every element on the thali is tasty – there are even two sweet dishes today.
The spicy crab, murunga leaves still clinging to its shell, makes for several luscious mouthfuls. The only problem?
Though delicious, the entire meal tastes more like something produced by a south Indian kitchen than a Jaffna one. Still, if you're a crab lover and disinclined to be picky about how it's prepared, you should consider dropping in for their weekend crab special. Rs. 499 gets you a full meal with rice, dhal, naan, a drink and of course your very own crab to devour. There's also a very extensive menu of Chinese and Indian dishes.
comments powered by

Disqus