A Cinematic glimpse on Vietnam
View(s):

Depicting the Southeast Asian cinema, Vietnam Film Festival is now being screened at the National Film Corporation Theatre Colombo.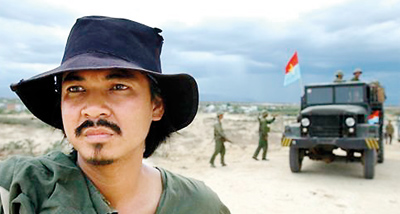 Started on October 19, three films will be screened today, October 20. The films 'Living In Fear', 'The White -Eye bird' and 'Black Forest' will be screened at 10 am, 2.30 pm and 6.30 pm respectively. 'King of the Garbage Dump' will be screened at 6.30pm on October 21. 'Living In Fear' is a film about a soldier in South Vietnam who had two wives living in two different places. When the war ended in 1975, he brought his second wife and her child to a new land which was littered with land mines and bombs leftover from the war. As a loser, he had no choice.
He built a small house for himself. He worked extremely hard to earn money. One day, while having a drink with a Cong San named Nam Duc, he found out another way to earn his living. 
Vietnamese film "Rung Den" (Black forest) is directed by Vuong Duc was nominated for the public-vote prize worth 4,000 Euros. The film won a consolation prize at the 2007 Canh Dieu Vang (Golden Kite) Awards organised by the Vietnam Cinema Association.
The 93-minute film tells the story of woodcutters in a family that has to bear the consequences of harming the forest spirit after the father cuts down an ancient tree.
'King of the Garbage Dump' (Vua Bai Rac) is the first film from writer/director Do Minh Tuan and it is a whimsical romantic comedy set in a Vietnamese garbage dump. The film stars as Trong, a gruff trash dealer with little regard for the feelings of his employees.
Nguyen Bich Ngoc is Thuy, a beautiful young florist who has put a price on her virginity in order to afford treatment for her dying mother. When Trong meets Thuy, he falls in love and begins to see the world and his dump in a different light. As their romance blossoms, Trong learns to care for the trash collectors that work for him, and he encourages them to express themselves by building art from the refuse.
comments powered by

Disqus