Public places, blocked gutters at homes breeding mosquitoes
By Nadia Fazlulhaq
Lack of PHIs to carry out inspections still an issue say authorities as National Mosquito Control Week ends today
View(s):
"Some people donate coins to the gods, seeking protection from evil spirits, but it is more important to check the vicinity of your home at least once a week for mosquitoes," was the Health Ministry's message to mark National Mosquito Control Week that began on October 7 and ends today.
However, raids conducted within this week revealed mosquito breeding grounds were mainly found in bus depots, cemeteries, drains, construction sites, abandoned lands, areas on either side of motorways and railway lines, hostels, both state and private schools, religious institutions and tuition classes.
According to health statistics, up to September this year dengue fever had claimed 68 lives while 24,987 were afflicted by the virus. Last year the death toll was a shocking 225 with 44,456 cases being reported islandwide. 
The Ministry also said on the first day of the Mosquito Control Week, 661 state and private institutions were sent warning notices and if they failed to comply legal action would be taken against them. The National Dengue Control Unit's Consultant Community Physician Dr. Nimalka Pannilahetti said problems of accessibility to potential mosquito breeding grounds and shortage of workforce had resulted in the inability to control the menace.
"There is an increase in the number of cases reported this year from the Colombo suburbs and Gampaha district. Ragama in the Gampaha and Dehiwala, Sri Jayawardenapura Kotte, Moratuwa and Kolonnawa in the Colombo district can be termed as mosquito dense areas," she said. 
The districts reporting the most number of dengue cases included Colombo, Gampaha, Kandy, Kurunegala, Ratnapura, Galle and Puttlam.
"There is a growing number of construction sites in Colombo and its suburbs. In addition there is the problem of abandoned houses and lands with owners having migrated. As we cannot enter without the permission of the owner or occupant, access to these places is a difficult task," she said.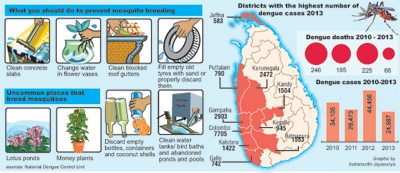 According to her, discarded polythene covers and empty yoghurt and icecream cups pose a huge threat in the breeding of mosquitoes. "There have been discussions with container manufacturers to introduce recyclable cups or a programme to return empty cups. Meanwhile, the public should be more responsible when discarding empty cups," she added.
Breeding spots of the dengue mosquito, Aedes aegypti varied from area to area. In areas in the East and North and in Hambantota water storage containers were the biggest culprits. In Ratnapura, mosquitoes breed in more natural surroundings such as in Pineapple plantations. In Kurunegala and Kegalle discarded or tyres were found to be the leading mosquito breeding spots.
When it came to households the commonest mistake was not clearing blocked roof gutters. Residents also fail to clean concrete slabs and elevator ducts, Dr. Pannilahetti said adding that unfortunately people took note of these only after they are warned or after legal action was taken.
With the onset of the monsoon season, the public should be more vigilant about mosquito breeding sites. In spite of the World Health Organisation (WHO) declaring dengue a major international public health concern, Sri Lanka still lacks dengue control officers for each district. However, each district has an anti-malaria and filaria officer to identify mosquito dense areas, promote awareness and support entomologists, the Sunday Times learns.
Sri Lanka has only 1616 Public Health Inspectors islandwide to conduct raids and inspections.
comments powered by

Disqus