Officials sound out warning to 'noisy' vehicles
By Damith Wickremasekara
View(s):
Vehicles including motorbikes with modified silencers or horns that go above the permitted sound levels and vehicles with audio setups that generate sounds will be checked for noise pollution, authorities warn.  The Environment Ministry and the Motor Traffic Department will assist the police to launch this monitoring programme on Tuesday with equipment imported from Denmark.
The move comes in the wake of increased complaints by the public about noise pollution cause by vehicles including motorbikes plying the roads. Last week Ampara Magistrate Duminda P. Mudunkotuwa gave a stern warning and imposed a fine of Rs. 50,000 on a youth who had modified his motorcycle to generate a louder roar while he rode it at night in the town.
Police said the youth was warned several times before he was arrested and produced before the magistrate for being a public nuisance by riding his bike late at night.
Central Environmental Authority Director General Dr Saranga Alahapperuma told the Sunday Times that increased complaints from residents and foreign tourists had increased in recent times. "Sound pollution is causing problems to patients, particularly those with heart ailments and children. This has forced us to take additional action," Dr. Alahapperuma said.
He added that sudden excessive noise from blaring horns had even resulted in collisions among vehicles. He said studies had found that drivers of heavy vehicles and buses were among the chief offenders when it came to noise pollution and that even their hearing was impaired as a result.
Dr. Alahappeurma said the equipment would be on a tripod and the horn of an offending vehicle would be tested to see whether it was above the permitted sound levels. Accordingly the pitch of a vehicle horn should not exceed 105 decibels from a distance of two metres and 93 decibels from a distance of seven metres.
The noise levels of motorcycles would also be tested on these same levels.Initially CEA officials would train and assist policemen to check the levels and later it will be the duty of traffic policemen to carry out these tests, Dr. Alahapperuma said.
He said that local companies which modify air horns to generate increased volume also have been warned that legal action would be initiated against them if they continued such practices, he said adding that Customs has been asked to keep tabs on the horns that are fitted on to the vehicles imported. "In the event they are found to generate increased volume they can be removed."
Motor Traffic Department Commissioner General, S.H.Harishchandra told the Sunday Times that they too had imported equipment that will be used to check noise levels generated by motorcycle exhausts and horns.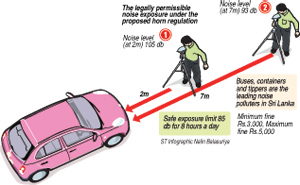 "We are appealing to the public to remove additional horns or those who have modified the silencers to change them before action is taken against them. If they are not sure of the sound levels they can visit the Industrial Technology Institute (ITI) and get it checked out," he said.
comments powered by

Disqus