Hi-tech highway ready for takeoff
By Damith Wickremasekara
View(s):
Sign boards giving advance warnings to motorists about road conditions ahead, facilities to monitor vehicle flow throughout the journey and road side communication posts for motorists needing assistance, are some of the features of the Katunayaka Expressway that opens in two weeks.
Finishing touches to the 45 billion rupee project were underway this week, before President Mahinda Rajapaksa opens the expressway on October 27, ahead of the Commonwealth Heads of Government Meeting next month. Road Development Authority (RDA) Chairman, R.W.R. Premasiri told the Sunday Times that quick access to and from the airport will help boost the country's economy in addition to providing facilities to passengers.
"We estimate that 20,000 vehicles will make use of the expressway each day," Mr. Premasiri said. He said many modern features found in expressways worldwide have been incorporated in this project. RDA's Colombo – Katunayaka Expressway Project Director M.P.K.L. Gunaratne told the Sunday Times that in addition to providing easy access to the airport one of the other objectives was to reduce traffic on the Colombo – Puttalam Road.
"Usually it takes about one and a half hours to travel from the airport to Colombo, but on the expressway it will take only 20 minutes," he said. Mr. Gunaratne said although the entry point to the highway is close to the Kelaniya bridge the expressway proper begins close to the Peliyagoda fishmarket. Therefore only vehicles that are permitted to use the highway can enter the access roads near the Kelaniya bridge. This means threewheelers and motorcycles would not be allowed to enter the access roads. However, these vehicles are permitted to go to the fish market using the access road connecting the Colombo-Negombo road.
He said motorists entering from Peliyagoda will not be issued a toll ticket but those entering from any of the interchanges at Ja-Ela, would be issued one. This is to reduce the delay in the issuance of tickets he said adding that a motorist entering the expressway from Katuanayaka would not be issued a ticket, but would have to pay at the end of the journey.
Elaborating on one of the most high-tech features, Mr. Gunaratne said vehicle movement along the entire stretch of the expressway would be monitored via CCTV cameras from a centre set up in Seeduwa. Mr. Gunaratne added that digital boards providing weather warnings, road conditions, traffic situation etc too would be found along the way.
He said the plants along the centre of the expressway would not only deflect the glare of vehicle lights at night but also add to the scenic beauty.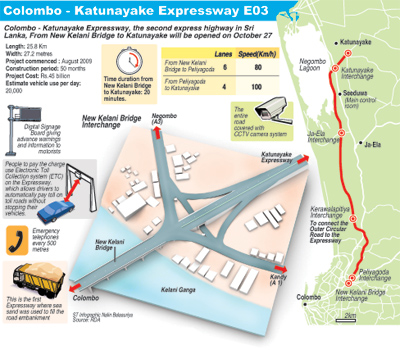 comments powered by

Disqus