COPE exposes, Opposition proposes, Govt. disposes
View(s):

Parliament took the unprecedented step of holding a two-day debate last week on the Report of the Committee on Public Enterprises (COPE), which was presented to the House in July this year. COPE probed the accounts of 244 State-run institutions that come under the purview of this Committee.

Here are extracts of speeches made by Chief Opposition Whip John Amaratunga who opened the debate on behalf of the Opposition, and the COPE Chairman Senior Minister D.E.W. Gunasekera who wound up the debate.

DEW Gunasekera:

This report has been collectively endorsed by both the Government and the Opposition. This is the most comprehensive Report by the Committee that has ever been presented. The Report was handed over to the President and the Cabinet of Ministers, and for the first time the report was discussed within the Cabinet as well.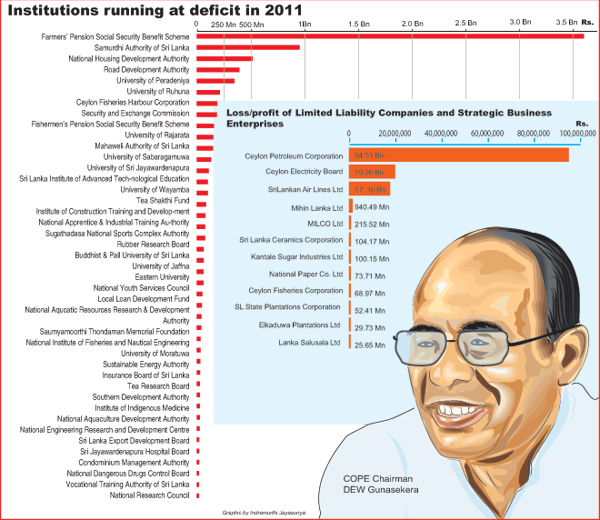 The work of COPE is being talked about even in the villages. I get at least 50 letters each month addressed to my office, complaining of corruption and waste in State institutions. This shows that people are aware of the work of our Committee.
The Auditor General's role has to be strengthened, and I agree his salary is dismally low. Even my Ministry's Secretary gets a higher salary than he. Financial control is vested with Parliament, and we must ensure that this power is safeguarded.
The role of COPE has been recognized by foreign countries as well, as I have been invited to Vietnam and Nepal to assist them in the work of their oversight committees of Parliament. The work of the Committee has also strengthened the Government.
John Amaratunga:
In Sri Lanka, Parliament is the custodian of public finances and it is this custodianship that is exercised by COPE. It is the duty of Parliament to protect the State's investments in State enterprises. The Report shows that millions of rupees have been squandered in loss-making ventures.
This has been compounded by mismanagement and corruption at unprecedented levels.Some of the observations made by the Report include the need to increase the salaries of professionals within the public sector, the need for private auditors and to strengthen internal audits.
The Report has also highlighted the unsatisfactory debt management within these institutions, the adverse role of trade unions in decision making, and the lack of qualified persons as heads of institutions. Government must tell the House what action it has taken based on these findings. Otherwise, this will be just another Report.
comments powered by

Disqus