Youth Leadership Camp (YLC) at WCMT Campus
View(s):

Build leaders to take up emerging leadership challenges in Sri Lanka 'Youth Leadership Camp' organised by WCMT Campus will be held on 15th and 16th of October at their premises, Mount Lavinia for recent school leavers. WCMT Campus was established in Sri Lanka in year 2010 as a BOI Approved venture with a clear purpose of serving human development and socioeconomic advancement while uplifting the quality of life through education and research.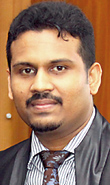 The Youth Leadership Camp to be held at WCMT campus is hosted with the crystal intention of empowering young leaders, to take up emerging leadership challenges in the country. 
WCMT expects a gathering of over 200 after A/L students for the event from leading schools all over Sri Lanka. YLC is purely a CSR event, as such all students are to be participated free of charge, upon prior registration with WCMT Campus through schools or direct.
Speaking at the ceremony at WCMT Campus CEO Eranga Weeramanthri mentioned, 'WCMT Campus taking this initiative with the purpose of promoting leadership, creativity and innovation among young leaders, who have just finished A/Ls'. 
He explained, 'We, team at WCMT Campus extending our fullest potential to make these two days' "Youth Leadership Camp" to be a real value creator to the young minds". He said, "We are proud to announce the confirmed programme line up for the YLC with inimitable resource donors'.
CEO further emphasised, "WCMT Campus staff is currently making all the arrangements to make these two days one of the most memorable days in their young life." He further added, "WCMT Campus and all the other sponsors are willing to announce lucrative scholarships, discounts, gifts and certificates for the children successfully completing two days none residential camp" 
For more information, please contact us on 0777727172 or E-mail: info@wcmtedu.net
comments powered by

Disqus