'Rush' races to Liberty Lite
View(s):

'Rush' a biographic action movie on 1976 Formula One Season and the rivalry between champion drivers James Hunt and Niki Lauda is now being screened at Liberty Lite, Kollupitiya.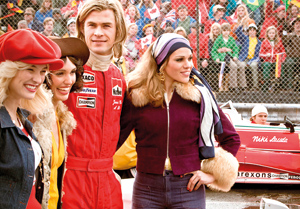 Directed by Ron Howard and written by Peter Morgan, the film stars Chris Hemsworth as Hunt and Daniel Brühl as Lauda as the two protagonists. 
The film which was premiered in London and represented at the 2013 Toronto International Film Festival runs around James Hunt and Niki Lauda, the two highly skilled race car drivers who first develop a fierce rivalry in 1970 at a Formula Three race at the Crystal Palace circuit in England, when both their cars spin out and Hunt eventually wins the race. Hunt is a brash young Briton with a tendency to vomit before every race, while the Austrian Lauda is a cool, calculating technical genius who relies on precision.
After a falling out with his father, Lauda takes a large bank loan and buys his way into the BRM Formula One team, meeting teammate Clay Regazzoni for the first time. Meanwhile, Hesketh Racing, the fledgling racing team Hunt drives for, enters Formula One as well. Lauda then joins Scuderia Ferrari with Regazzoni and wins his first championship in 1975.
Hesketh closes shop after failing to secure a sponsor, but Hunt manages to land a driving position in McLaren after Emerson Fittipaldi leaves the team. During this time, Hunt marries supermodel Suzy Miller, while Lauda develops a relationship with socialite Marlene Knaus.
The 1976 Formula One season starts with Lauda dominating the first two races while Hunt struggles to catch up. Hunt wins the Spanish Grand Prix, but is disqualified after a post-race inspection rules that his car is too wide. Struggling to comply to F1 rules, McLaren suffers a series of setbacks on the next few races, and Hunt's situation is further exacerbated when Suzy is discovered to have a relationship with Richard Burton.
At the German Grand Prix, Lauda urges the F1 committee to cancel the race due to rain on an already dangerous race track; the request is vetoed by majority of the racers after Hunt convinces them that Lauda fears losing the points race. Both Hunt and Lauda start the race with rain tires, which becomes a costly tactic due to most of the track quickly drying up. They both pit to change tires during the second lap, but halfway toward the third lap, a suspension arm in Lauda's Ferrari breaks, sending the car crashing violently into an embankment before it bursts into flames and is further hit by other cars on the track. After being pulled out of the flaming wreckage, he is airlifted to the hospital with third-degree burns to his head and toxic fumes in his lungs.
For the next six weeks, Lauda is treated for his injuries while he watches his rival dominate the races in his absence. Against his doctor's orders, he returns behind the wheel of his Ferrari at the Italian Grand Prix to finish fourth while Hunt fails to finish the race.
comments powered by

Disqus