Carving out a fresh and colourful niche
View(s):

Every photograph is an exquisite, delicious deception. Those rocks are actually potatoes, those waves are lettuce and those mountains are loaves of bread; that tree is a floret of broccoli, that island a clump of pineapples. Yet it takes a moment to see them for what they are – instead your eye registers a quaint village, a cottage out of a fairytale, a ship sailing off on its adventures, a mythical forest with a waterfall at its heart.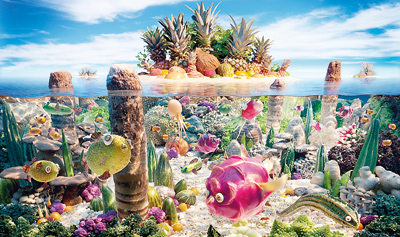 Carl Warner's 'Foodscapes' have become the stuff of internet legend – forwarded and forwarded again until they find their way into your inbox a dozen times. They've made the U.K based photographer famous, leading to commissions for international clients such as Nestle, Unilever and General Mills, as well as a publishing deal for 'Carl Warner's Food Landscapes' in 2010.
They still bring people knocking at his door, the photographer tells The Mirror Magazine in an email. Carl has carved a niche for his 'Foodscapes' in advertising and says he is also directing TV commercials and animations for kids using these techniques. Along with him, his viewer discovers the incredible potential in using food as an art material. He enjoys an enviable choice of ingredients in terms of shape, texture and colours and his palette is three dimensional. But food also has a short shelf life, necessitating that he works quickly, especially when creating a large scene and under hot studio lights. Herbs like coriander and parsley in particular will wilt and dry out before his eyes. 
Once interested in fine art, Carl now puts his drawing skills to work dreaming up new Foodscapes. "I use a lot of devices from classic landscape painting to fool the viewer into a more recognisable format of traditional landscape," he says. "Making sure everything is photographed at its freshest and most colourful is vitally important when shooting food. The rest of the technique is down to lighting and composition which I spend a great deal of time finessing."
Each scene is painstakingly constructed by hand and placed so as to create the illusion of depth and distance on a triangular table top about 12ft across and 9ft deep. The point nearest to the camera is cut off so that his foreground is only a few feet across, ensuring the table works perfectly with his wide angle lens. Playing with size, Carl makes grand trees out of celery and churning rapids out of noodles. When he's recreating scenes from specific parts of the world, he likes to use produce from that region. Each Foodscape has its own specific challenges. Carl's most challenging and – perhaps for that reason his favourite –Foodscape was a Fishscape made entirely out of fish.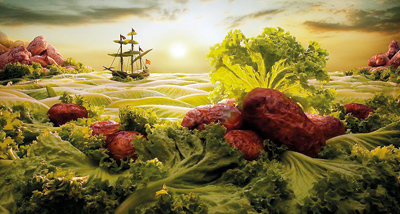 He remembers struggling to create a wake behind the boat and finally managing to do so with the help of a food stylist who layered sides of salmon over herring to create wave patterns. As you'd expect, Carl finds geographical features with their curves and natural bends easier to replicate than manmade structures. His budgets vary – on average each set costs a few hundred pounds to create but this depends on how exotic his ingredients are. 
Wasting food is a concern and so he uses polystyrene to give the illusion of bulk. If they have a lot of food left anyway, they typically donate it to a local shelter. A committed foodie, Carl sees his work as falling in line with a growing trend. "The aesthetic appreciation of food has become such a big part of today's culinary world as presentation of a dish is sometimes just as important as the taste, and so my work is just a greater indulgence in that visual pleasure." Despite years of making Foodscapes, Carl still enjoys how they make people smile. He likes to tell people his work is a "pleasant deception." He sees their real world value in the educational potential. Particularly with the T.V shows that take adults and children behind the scenes, making a fun game of learning about food. Pleased that his work is being used to promote healthy eating, nutritional education and good diet, he says, "I am glad that the work can make people happy and hopefully do some good in the world."
For more information on Carl's Foodscapes visit www.carlwarner.com
comments powered by

Disqus