AGENDA 14 to award budding cinema critics
View(s):

AGENDA 14 Short Film Festival for the second has made arrangments to award Tissa Abeysekera Best Up and Coming Film Critic award at the festival jointly organised by Europe Film Academy and AGENDA 14.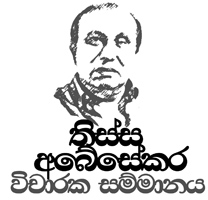 The film criticsms can be written in any of the three languages; Sinhala, Tamil or English and the topic is 'Heta Dawase Laankiya Cinamawe Dishanathiya' (The Direction of Tomorrow's Sri Lankan cinema). The award on the above subject is organised at a time when the theme for Sri Lanka cinema is dominated by historical legends and specially at a time when digitalization of film production and projection. 
The interested writers can send their writings to the address AGENDA 14, Short Film Festival, 56/11, Horton Place, Colombo 7 before November 10 together with an application in which name, address, telephone number, email address, date of birth and ID number are included.
The winner will be awarded and those nominated will be given certificates at the Festival award ceremony in December.
comments powered by

Disqus