Sri Lankan flag flies high in Chicago
Rotary Colombo Member to Head Rotary International
View(s):
K.R. Ravindran, a member of the Rotary Club of Colombo since 1974, has been unanimously elected as Rotary International President for the year 2014/15. Previously, he has served Rotary International as Trustee of the billion dollar Rotary Foundation and as Treasurer and Board Member of Rotary International. Ravindran, a Thomian and Managing Director of Printcare Plc, will spend two years in Chicago during his tenure as Rotary International President.
President of the Rotary Club of Colombo Daya Warnakulasuriya, Managing Director of Midaya Ceramics, said it was a matter of great pride and honour for the Rotary Club of Colombo and Sri Lanka to have Ravindran elected as International President. He pointed out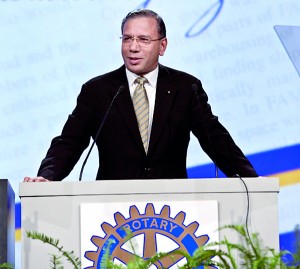 that Rotary International is one of the largest service organisations in the world and has a U.N. presence. Warnakulasuriya noted that Ravindran is likely to visit over 150 countries during his tenure, where the Sri Lankan national anthem will be played and the Sri Lankan flag displayed. Moreover, Warnakularsuriya proudly said that the Sri Lankan flag will fly alongside the Rotary flag atop Rotary headquarters in Chicago during Ravindran's term as International President.
The Rotary Club of Colombo, established in 1929 and the first Rotary club in Sri Lanka, has been at the forefront of service activities for the community in Sri Lanka and has been the prime mover for the setting up of the Ceylon National Association for Prevention of Tuberculosis (CNAPT), the Cancer Society, the Sri Lanka Anti-Narcotics Association (SLANA), and recently, the National Cancer Detection centre. Ravindran himself has won accolades for his leadership in establishing SLANA during his presidency, building new schools after the tsunami, and for driving the polio eradication campaign in Sri Lanka, which made Sri Lanka the first country in South Asia to become free of this crippling disease. He is now closely involved with the setting up of the early cancer detection project.
The Rotary Club of Colombo will felicitate Ravindran at an event where over 200 South Asian Rotarians are also expected to attend.
comments powered by

Disqus