Vanishing options and new horizons
National Tennis administrations
View(s):
One of our favorite past time in this island is to discuss sports associations and personalities in them. In fact we do lot more of that than the skills and disciplines of sport itself. While we are busy doing so the global development in sports is rapidly removing most of the options available to local administrations. This in turn diminishes the prospects of our players internationally. There has been a loss of focus by the administrations in many developing countries to keep up with the global trends. Popular sports events are the ones with international appeal. The media highlights such events to keep its news paper readers and TV viewers. It has helped many sports in terms of 'fans' but it has rapidly reduced the local administration's options and validity of their existence.
Players and Events are the only two appealing aspects, in any sport. With world ranked players, high profile clubs, popular leagues and mega events, global sport has a packed annual calendar. Local administrations cannot even have a slot in them to make an impact. Even the junior events suffer from this fate. So bad are the options to the local bodies which have not kept up with global development to meet the needs of the times.
Filtering process of development
The approach 'development to show numbers' and not 'potential' has eliminated the 'filtering process which created elites'. In fact, good potential sportspersons are drowned in nationwide appealing statistics. It is true that statistics has been cheating us. Not identifying this aspect, local administrations have become ineffective. It is visible in group two and downwards in the Davis Cup and Fed cup teams from many countries. Players who man those teams have come up through an ineffective process.
Another sheer over sight is evident in this ineffective process. It is the junior national team 'selection' process. This works diametrically in the opposite direction and highly restrictive to a talent development program. Junior national teams do not have enough slots compared to the number of potential players in the development programs. Many good talents went down with this system.
The 'league' provides more slots. League's objective is to get group leadership and is not a knockout system. Winning a league remains open almost to the last. This makes it interesting. It is the 'league' as an event in the appropriate format the National associations have missed out for a larger base in talent fostering. League is the talent pool of any sport in any country. League is possible in every sport. What more, league is the best 'filter' for final selection and not the committee systems. League creates all the variants of competitive sport, which no trial match process can provide. League also provides a long term seasonal interest to public and an avenue for new comer's interest.
Stars and big cities
In the women's WTA event in Tokyo last week, Petra Kvitova of Czechoslovakia beat Angelique Kreber of Germany in the finals. Both are in the top ten of the world's women's ranking. In the junior US-Open of 2013, two Croats won the junior title. Borna Coric with a world ranking of 1 won the boys singles and in the girls, Ana Konju ranked 2, took the title. These titles have money, ranking points and prestige. The appeal to bring in such players to our local tournaments was there in the past. We have lost them. Vijay Amitraj the Indian tennis star explained to me that even a big city like New Delhi, India has this problem. Tennis, unlike Cricket is played in over 200 countries. The appeal of Sri-Lanka is yet to appear for mega tennis events.
In the player development area the appeal to play tennis is personal and short sighted in Sri Lanka. This is not sustainable. At 16 years of age, the development achieved locally will not suffice to face international challenge. Most of the administrations like ours face this situation without answers. Statistically we show otherwise but in playing standard, it is not looking good. Global events are now controlled by ATP, WTA and ITF for juniors. They will not give a nation a high-end tournament unless local standard is high. They relate playing standard to player development, spectatorship and sponsorship interest. These are the energizers of modern day international Tennis.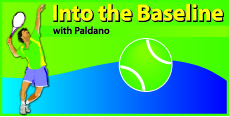 The way forward into new horizons
Almost all the national associations of the world are affiliated to International Tennis Federation [ITF]. In the early seventies when Tennis became 'Open' from being 'amateurs only' there were many reactions to it. The 1973 Wimbledon was the turning point. Many players boycotted that Wimbledon and the title went to Jan Kodes of 'Czechoslovakia'. From that point on, the ATP – Association of Tennis professionals was formed and they took a firm footing. This was followed by WTA – Women's Tennis association. Today all the players are attached to these two associations without exception. These two bodies have a recognized reputation and also control Tennis events. Their events are available to us but at a cost. If we are to have better options this is the only way forward. It is the new horizon of Tennis!
(George Paldano, former international player; Accredited Coach of Germany, ITF and USPTR; National, Davis Cup and Federation Cup Coach – georgepaldano@yahoo.com)
comments powered by

Disqus