The rhyming Ibrahims – to guide Lanka's rugby fortunes
By Naushad Amit
View(s):
Sri Lanka rugby has come out with many firsts in the recent times. The popular Carlton Super Sevens International Tournament, which features many of the top international Sevens players, is one such occurrence. Sri Lanka will become the first Rugby playing nations in Asia to host an International Tri-Nation Series when it hosts the upcoming Serendib International Cup, featuring the national sides of Sri Lanka, Poland and Madagascar, later this month.
The other first to come out from Sri Lanka Rugby is the appointment of siblings Nilfer Ibrahim and Ronnie Ibrahim as coaches of the national 7s and 15s teams, interestingly at the same period. Nilfer was appointed as Sri Lanka 7s coach last month but this unique occurrence took a completion when his elder brother Ronnie was placed as the national 15s coach earlier this week. This will probably be the first instance in World Rugby where two brothers take charge as coaches of the respective national teams at the same epoch. "This was something our family anticipated some time back. Our clan knew that both of us would reach this status and they are highly thrilled by this. It's a great honour for our family and eventually a great payback to our efforts," Nilfer, the youngest of the Ibrahim siblings stated.
Ronnie and Nilfer come from the Ibrahim clan where a total of six brothers made their contribution to Sri Lanka Rugby as school and club players. Others who have played Rugby from the Ibrahims are Raja, Roy, Rizvi and Rinnie. Ronnie is the third of the set while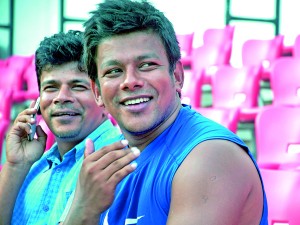 Nilfer is the youngest of them all. All represented Kingswood College Kandy and went on to play for Kandy Sports Club as key players. Ronnie played for Kingswood during 1983 and 1986 and captained his school side in his final year while Nilfer turned out as a key player from 1993 to 1996. Their cousins Dev Anand and Fazil Marija, also represented Kingswood and inspired by them, followed the footsteps of the Ibrahim brothers.
"I was the first from the lot to take up coaching. I was still a club player when I got involved as a member of the coaching staff at Kingswood in 2003. Ronnie came a bit later but he earned the position officially prior to me at Kingswood. Though we are brothers and possessed almost the same style of playing, we have our own ways and style in coaching. That will probably make us distinguish in the trade of Rugby coaching," Ronnie (45) opined.
Interestingly both Ronnie and Nilfer were appointed as coaches of national teams in 2009 for a short stint. When Ronnie was given the task of the national 7s coach for Shanghai 7s Nilfer was in-charge of the Sri Lanka Under-20 team for the Junior Rugby Asiad. But four years later they are responsible of the Sri Lanka 15s and 7s sides respectively and part of their task as coach will be to coordinate with each other and swap players from each squad. This is for the interest of the respective national sides. "There is no competition between these two sides. Coaches of both sides should work very closely as in Sri Lanka we get certain players who can be termed as assets both at 7s and 15s Rugby. Unless both sides are coached by a same coach, as a country Sri Lanka will not be able to make use of such players. Today the technical side of Rugby has developed that top countries field totally different teams and have separate coaching staffs for each version. But in our case we will be very much comfortable in working closely and cooperate. The ultimate goal is that Sri Lanka should win," Ronnie said.Nilfer's stint as national 7s coach has been of a cause for celebration after Sri Lanka recorded wins at recent Asian Sevens Series editions. His task has become a more serious one after Sri Lanka was ranked third in Asia after the series in Thailand.
"I think it has nothing to do with us being siblings nor this comes as a blessing. We are individuals with unique and separate styles of coaching though both of us are from the Ibrahim clan. I've had my faith in the Sri Lanka 7s team for a long time. I knew that we are a team that could have reached greater heights much earlier. We are a team that deserves to be among the top 10 in the world. At present it may sound like a presumption but mark my words we are capable of competing in the Plate segment at world stage. I think the Carlton Super 7s played a major role in Sri Lanka's 7s success," Nilfer, who also earned a good reputation as the victorious 7s coach for his former club, the Kandy SC for quite a few seasons, said.
Though the brothers have good memories from their past, as players and later as coaches, expectations of their employer, the Sri Lanka Rugby Football Union (SLRFU) will be different than the past. Nilfer will soon embark to Mumbai with the aim of achieving better results than what they earned few weeks back while Ronnie is left with 19 days to prepare the 15s side for the curtain raiser game of the Serendib International Cup against Madagascar on October 26. Nilfer handles 20 strong 7s players while Ronnie manages a squad of 44 with a different blueprint. In general both share around seven key players who are members of both squads, which can be a challenge for the coaches and as time goes by for the players themselves. But as both stress challenges of the trade are the path for success for them.
"Though it's Rugby the versions are different. Unlike 7s where the team will have to cover a total series expanding from six to ten, 15s serves a totally different purpose. As at present my priority is to prepare the team for the historical upcoming Tri-Nation Series which involves Sri Lanka, Poland and Madagascar. We will have more time to think about the Asian5Nations. The Tri-Nation will help Sri Lanka to gain places in rankings whereas the aim at Asian level should be to remain in the top tier as long as possible. But in the meantime we will have to conduct training sessions, look after the players and their well-being. In between it will be wonderful if Sri Lanka could play against other countries, like the upcoming Tri-Nation. The SLRFU should continue the vision with more optimistic developments. We should seriously think of maintaining two squads for 15s and 7s if we are to love forward internationally," Ronnie, a coach who tasted success at Kingswood, S. Thomas, Air Force 7s, Navy SC, Sri Lanka 7s and India stated.
"At the Mumbai 7s our aim is to reach the Cup final. It's not easy to compete at Cup level because most of the other teams nowadays field have foreigners, including Japan. Sri Lanka is the only side from the Cup to go with locals but we have managed well enough as a team. But the SLRFU should take this success as a turning point in 7s rugby and aim at Olympics with a broader vision. Unlike the past players must earn their place and maintain it with notable performances. This is one of the key ingredients to our success in the recent times," Nilfer who stepped into coaching by creating champion sides from Dharmaraja, Kingswood, Sri Lanka Juniors and presently Trinity stated.
comments powered by

Disqus