Still young
View(s):

Still young

Recently a Sri Lanka team to take part in a youth competition to be held in Singapore was announced. Lo! There were two ladies who were in the ages of 36 and 37 in this youth team. These two players have taken part in veteran's tournaments earlier and now they have been named in the youth squad. At a time when the road is cleared for youngsters and that too for a youth contest, how come that these two veterans have found their way into a youth team?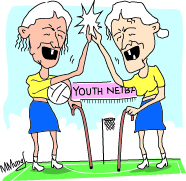 The fuel trickster
The transport officer of a top sports body is enjoying all the facilities that he is not entitled to. When he first joined this sports body he was riding a motorcycle, now he is driving a car and that too at the expense of the sports body he is attached to. It is even alleged that he pumps petrol to the car using the sports body's car number plate and does all his private work using his own car. The sports body he is working for is unaware of this trick and assumes that the petrol that is used is for the official car of the sports body.
Hungary episode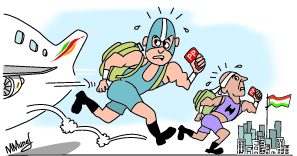 Ten grapplers took wing to Hungary to take part in a wrestling meet but only eight have returned. What happened to the other two? All the wrestlers were from the forces and even a top man in one of the forces was the manager of the team. It is reported that the two who had jumped were from the team from the skies. But no mention has been made of the missing grapplers and officials are trying to keep the matter quiet.
Super duper lunches
The scene now shifts to a big women's cricket tournament that is being planned. A former women's team skipper is in charge of the planned tournament. This lady has drawn up a budget for the competition which exceeds all other top level competitions. According to the budget lunch is estimated at Rs. 1000 a head which is the rate for super class games. What is this lady trying to do?
comments powered by

Disqus