Meet a host of artistes
Kala Korner by Dee Cee
View(s):
Most of us would link the name Ruwan Ekanayake with cardiology. True– he is a well-known cardiologist but few of us know of his interest in Sinhala language and music though he delivered an oration at the Cumaratunga Munidasa Day recently. The other day I heard about his interest in Sunil Shantha's songs and music.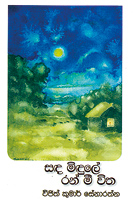 Free-lance journalist Vijith Kumar Senaratne relates the story of how Dr. Ekanayake as a student at Trinity, came across 'kukuluhevilla' in Cumaratunga Munidasa's grade 7 book. At the end of the lesson it was mentioned that Sunil Shantha had sung it beautifully. "I wanted to listen to the song. You will be surprised – I heard it only after I became a doctor, in the 1970s. I started listening to the Swadeshiya Sevaya and began to like Sunil Shantha's songs immensely," he told Senaratne in an interview for the 'Ravaya'.
Dr. Ekanayake also spoke about Music Therapy, particularly for heart patients as a way of mental relaxation. To try it out he invited Pandit Amaradeva. It was an instant success and many other musicians came in too.
Vijith Kumar's book is a fine collection of biographical sketches- some 30 articles he wrote to 'Ravaya' on well-known personalities in the cultural scene. Titled 'Sanda Midule Ran Mee Vitha', it is the type of book that one wants to read at one go, it's so well written. He has interviewed the artistes and in the case of those who are no more he had spoken to family members and gathered interesting information about them. They had all been very frank and these interviews are written in such fine poetic language that the reader can enjoy every word.
The opening chapter features the life story of Sri Chandraratne Manawasinghe, the renowned lyricist and 'Lankadipa' columnist (his 'Vagathuga' column was highly rated at the time). He had spoken to Manawasinghe Jr, Udaya and got the details of the escapades of a fascinating character born at Puwandandawa – a village between Beliatta and Tangalle. He was one time Puwakdandawe Sri ChandaratanaThera, knew several languages and was a prolific writer and later re-entered lay life as Sri Chandraratne Manawasinghe.
Vijith Kumar had interviewed the character actor J.H. Jayawardena when the latter was in his 90s. JHJ had told him how he was a naughty child who sold his school text books and ate ice cream and smoked, went to school with just one exercise book in his hand but had a good memory and remembered whatever he learnt in school. He remembered the day his father ("a notary public") came near the door of his room, threw a copy of the Daily News towards him and went away saying his name was in the paper. He had got through the London matriculation, which the father was pretty sure he never would.
Though his father wanted to send him abroad for studies, he resisted. Instead he got a job as a public health inspector ("we were generally known as 'santy board mahattaya' but many called us 'kunna' meaning dirt"). When the father persisted he went to India. "I went to India by train from Talaimmnar. There I watched cricket matches, travelled around, stayed in hotels, had a good look at the people particularly the women who were much more beautiful than our women and came home after a few weeks," JHJ reminisced. 
JHJ related how he met the well-known broadcaster P. Welikela who got him in as a freelancer. He later became a household name as a talented actor on stage and screen. "Now I am blind as a bat", JHJ who went blind at 76, told Vijith. "I don't want to get my sight back. I got rid of most of my wants after I became blind. Really I am not feeling very sorry about it. But I pity my wife who has to suffer a lot looking after me. My children try to do everything to make me comfortable but I don't need anything."
This is just a glimpse of the characters Vijith Kumar had written about. The list is too long to record here. He had tried to delve more into the human aspects of the persons he had interviewed and succeeded in providing the reader with untold stories. His choice of both better known and lesser known persons gives the book a fine mix. I wonder why the writer has ignored the women. Maybe he is planning a separate book.
comments powered by

Disqus