CHOGM 2013 preparations meet with official optimism and some public scepticism
Pix by Indika Handuwla and Susantha Liyanawatte
View(s):
With little over a month left before the Commonwealth Heads of Government (CHOGM) meeting begins in Sri Lanka, officials engaged in the large scale development work in the city, say they are on track to complete the work on time. However, the public has mixed feelings about the ongoing work.

Project manager Priyanka Suriyaarachchi, in charge of work at Union Place, Kumaran Rutnam Road and T.B. Jayah Mawatha, said that 98 per cent of the work has been completed in these areas, while the rest of the work should be finished in about two weeks.
Project manager Eranga Wedage of SMS Holdings Pvt Ltd., one of the contracting companies, said that the workload keeps increasing by the day. It's a tough task, as they also have to manufacture the blocks. "However, we are confident of finishing our work by November 1," he said.
He added that, though time is limited, quality of the work will not be compromised. Colombo Mayor A.J.M. Muzammil told the Sunday Times that the work done is well supervised. Therefore, the work will be of good quality. S. Wickramapala (43), a worker on site, states that 75 per cent of the work has been completed, and that the remaining 25 per cent will be completed well before the Summit.
Pradeep Kumara (45) another worker on site, with over 20 years of experience, said that they were nearing their target. He, however, went on to say that the main problem they face, and if at all likely to hinder them, are the underground cables.
These underground cables keep getting unearthed where roads are broken in the construction process. Members of the public had different views on the ongoing work.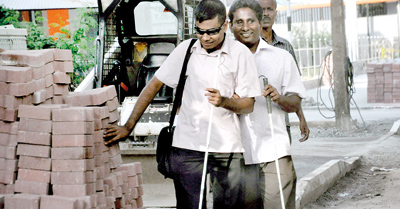 "It's good for development," says local ticket vendor Padmasiri Jayasekara (73), while Nirmalee Hettiarachchi (30) said that the city looks beautiful, and once the work at Vihara Maha Devi Park is finished it will attract more people. Also the people will find it much easier to move around," she said.
Senior Lecturer, Department of Architecture, University of Moratuwa, Dr Janaka Wijesundara said that improvements in infrastructure and road development are an important part in the development of a country. He added that architects involved in this should be looking into these matters and supervisors should ensure that the work is done according to standards.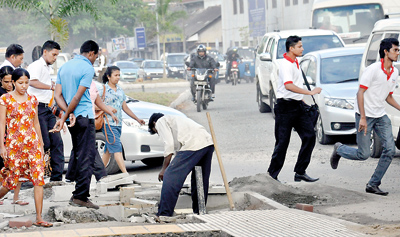 A retired landscape expert, who was once attached to the Urban Development Authority, expressing her opinion said that, while the work may finish on time, they may not do a proper job as it's a hurried process."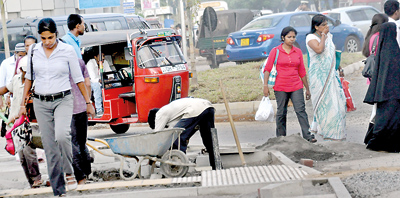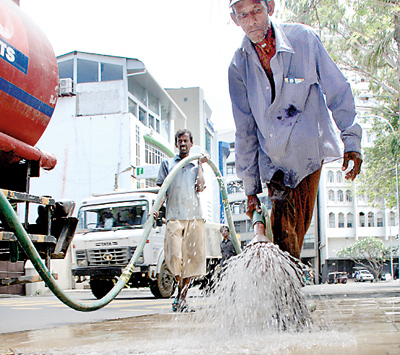 Power cuts hit city residents, businesses
Parts of Colombo have been experiencing regular interruption to power supplies due to the ongoing construction work in preparation for next month's Commonwealth summit, residents and businesses said. They said power cuts, sometimes lasting several hours, had forced commercial establishments to operate generators at a high cost.
The Ceylon Electricity Board's (CEB) Emergency unit said the power supplies had been interrupted due to maintenance activities, but other sources said it was due to the construction work in the city.
comments powered by

Disqus