Building on safety
A spate of construction site accidents brings to focus the protection of workers. Chaturi Dissanayake reports
View(s):
An experienced mason was shifting bricks on the seventh floor of a partially built apartment block in Borella last week when he fell 80 feet to his death. Ranawaka Arachchige Chandana, a 42-year-old father of two, sustained severe injuries to his brain, abdomen and chest and died before admission to the National Hospital, Colombo. The construction site was in Sahanapura, Borella, where a 15-storey apartment block was being erected.
"I employed him as a mason, paying him Rs. 900 a day," said Galabadagedara Jayatissa, the sub contractor, at a coroner's inquiry. "There were nine others working on the seventh floor. He was moving 'block gal' when he fell. I was at the bottom, also working. I and two others rushed him to National Hospital but he was dead on admission."
The inquiry was held before City Corner Edward Ahangama.  The incident is the latest in a series of mishaps that question the standard of workplace protection in Sri Lanka. The incident occurred in the backdrop of Workplace Safety Week being celebrated from October 14-20 every year.
On Monday, five workers were buried alive when an earth embankment collapsed in Mutwal, Modera. Two of the men died. They were excavating a tunnel 20 feet below ground as part of a pipeline renovation project for the National Water Supply and Drainage Board (NWSDB). Eyewitnesses said the digging was done without even standard precautionary measures being taken to prevent the earth from slipping.
Last week also saw a quarry worker being crushed to death when a rock fell on him. The incident occurred at Polpithigama. The victim was rushed to the Teaching Hospital, Kurunegala, but was pronounced dead on admission. The International Labour Organisation (ILO) says Sri Lanka records around 4,000 workplace accidents a year and that an estimated 600,000 workdays are lost during the same period.
Could many of these have been prevented if employers had been less negligent about worker safety?
NWSDB Chairman K. Hettiarachchi said he was awaiting a full report into the tragedy at Mutwal. Meanwhile, the contractor has paid Rs. 300,000 as compensation to each of the families of the two workers killed. In the case of one worker who left behind a wife and child, Mr. Hettiarachchi has also promised to pay them his salary for one year.
Labour Minister Gamini Lokuge admitted that many employees are engaged in labour-intensive work without protective gear.  "In the incident at Mutwal, we have learnt that the main contractor, China Geo, had outsourced the work to a subcontractor who had failed to take precautions," he said. "Regardless of whether they outsource, the main contractor is responsible for the safety of all workers. They (China Geo) have not ensured this and will be dealt with strictly."
A. Sarawanan, a senior lecturer at the Faculty of Law in the University of Colombo, says Sri Lanka has insufficient legislation to compel employers to take sufficient workplace safety measures."We have the Factories Ordinance which details safety measures to be taken by employers but it is only applicable to factories," he explained. "The Shop and Office Employees Act covers maternity benefits to employees. The Industrial Dispute Act covers terminations and related issues. But we do not have proper legislation to ensure health and safety conditions at the workplace. Our Workmen's Compensation Ordinance also needs to be updated."
The ILO points out that occupational safety and health laws in Sri Lanka are confined to mines and factories. Only around 30 percent of the labour force is covered by the main statutes on occupational safety and health.  However, Labour Commissioner V.B.P.K. Weerasinghe said there were no shortcomings in the existing legislation. She maintained that the Factories Ordinance covered all angles of workplace safety.
"The Factories ordinance has detailed all precautions that need to be taken by the employers to ensure work place safety. On our side the department makes routine inspections and we also investigate any complaints we receive. However, we are not able to ensure 100% of adherence," she said.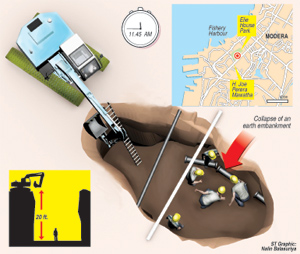 One of the Labour Department's key challenges is that most workplace accidents and injuries are not reported to them. They recently conducted an awareness programme for police, encouraging them to report such incidents to the Department immediately.
Labour Ministry Secretary W. J. L. U. Wijayaweera admitted the laws needed improvement, adding that his ministry was drafting a new bill. The process, which started in 2010, is now in its final stage. The ministry hopes the draft legislation will be in parliament in the first quarter of next year. 
"Existing provisions are not sufficient in today's context, especially with changes taking place in industries and technology," he said. "We have been working with all stakeholders in formulating a framework for the new law. We will be able to introduce regulations for each and every industry."
But Mr Wijayaweera stressed that it was also the responsibility of employees to use safety equipment provided to them. 
"Many workers don't wear safety gear," he said. "We need to change the attitude of workers, too. Earlier this year, we had a workshop for garbage collectors on safe working practices. We gave them a handbook printed with ILO assistance.
"But the very next day, I saw these people working without any protection," he remarked. "I think that, once a proper system is in place, employers should introduce a penalty system to ensure their employees use safety gear."
Additional reporting by Chandana Samarawickrama
comments powered by

Disqus