'Udu Sulanga' begins to blow
View(s):

'Udu Sulanga' story written, scripted and directed by Mavo Lakshitha Karunatillake will be telecast from today, October 6 at 8.30 pm on Rupavahini channel.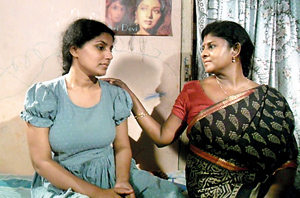 A story around a politician and his family, the teledrama is played by Athula Pathirana, Sujani Menaka, Jagath Chamila, Madani Malwatte, Umayangana Wickremasinghe, Lionel Wickrema, Awanthi Aponsu, Sriyani Amerasena, Sathschandra Edirisinghe, Duleeka Marapana, Sujeewa Priyalal, Douglas Ranasinghe, Liyoni Kotalawela, Daya Tennakone, Mahendra Weeraratne, Malkumari Geetharani and Sumana Wannianayake. 
Douglas is a minister in the ruling government and his wife is Sylvia. Their two sons are Malan and Amal. Malan wants to follow his father and become a politician. Amal is an undergraduate. In order to groom Malan to enter politics, Douglas sends his son to the estate belonged to him so that he can gradually win votes. However Malan is a playboy and he tries to win the heart of a poor school teacher in the village. At the same time he molests the poor servant girl in the house and she becomes pregnant. Malan tries to get away from what he did and his mother tries to abort the child and get rid of the servant. But Amal who is a good hearted intervenes and saves her.
This does not give an end to Malan's unacceptable conduct. But this leads to his own downfall destroying his and his father's political dreams. Screenplay written by Deepani Manjula Sinhapruthuvi, camera and lighting by Ranjan Gurusinghe, art direction by Eheliyagoda Somathilaka and music direction of 'Udu Sulanga' is by Navaratne Gamage.
comments powered by

Disqus