'State Tvs violating viewers rights'
View(s):

Award winning teledrama director, former president of Tele Makers Guild and activist campaigning for quality teledrama industry, Sudath Rohana will release his newest tele-produciton, 'Girikula' starting from October 13 at 8.30 pm on Swarnavahini channel. 

Staring from the school stage, Sudath has become one of the leading teledrama directors in the country. Interested in the working behind the screen, Sudath entered cinema working as an assistant director to late filmmaker Tissa Adeysekara. Entered the teledrama direction with 'Amarawathi Saha Somadasa', Sudath discusses issues relating to family, society, history and politics in Sri Lanka through his directions.

Famed for directions like 'Avidu Andura'- Darkness of Ignorance, 'Wanawadule Vasanthaya'- Jungle Abode, 'Vikum Siha Katandara' based on short stories written by Martin Wickramasinghe and many more, Sudath Rohana who also the first coordinator and former chairman of Tele Makers' Guild, an organisation comprising teledrama artistes spoke on the challenges, difficulties and dangers faced by the teledrama medium due to greediness of major section of the industry who wants to make quick money from a medium of art. 

Q: How do you see that advertixsing industry has affected the teledrama?

When Jayantha Chandrasiri's 'Dandubasnamanaya' was telecast, the sponsor the People's Bank did not telecast its advertisement in between in order to preserve the artistic quality of the episode. And also there were certain ethics that were followed in telecasting advertisements. The TV channels did not telecast advertisements of rival companies of the main sponsors anytime closer to the teledrama is being telecast. We had such standards in this form of art but unfortunately it has changed today. 

Q: How does this affect the artistic quality of the teledrama medium?

Earlier the teledrama was telecast for at least 25 minutes but today specially with teledramas with many-episodes which is also called 'Mega' teledrama, the teledrama time has limited to 13 to 14 minutes. Most tragic part is that advertisements are brought in disturbing the frame of the teledrama. This is not done not only in a developed country but even in an under-developed country. This is only done in Sri Lanka. The frame is the ultimate creativity of director's imagination. It should not be disturbed. Sometime in middle of a scene with lot of emotions, you see an airplane appears in the frame disturbing and distracting the viewer. This is an instance where both the viewer and the director become helpless. There are advertisement running on the top, on the bottom, around and from the centre also. What we see as teledrama today is a short teledrama episode in midst of a series of advertisements. 

Q: What is the immediate action that can be taken to solve this problem?

We must quickly introduce a standardisation to this medium. What some of the teledrama makers are doing today is killing the goose laying golden eggs. The companies that had been sponsoring teledrama have realized investing on teledrama is a failure and they are in search of alternatives.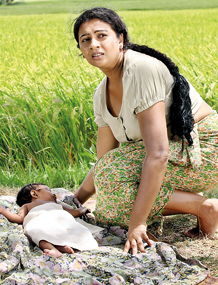 At this stage I think the government must intervene to solve this problem. The most pathetic point is that before we point finger at private channel, the state-run television stations must set an example. Right now Sri Lanka Rupavahini and ITN blatantly violating the rights of TV audience where as they should have been the teachers or the guides for this medium. The state TVs also have become parties to destroy this medium by joining the senseless rat race. As a government that is responsible for its people, there should be an standardisation. At the same time while we point finger at the authorities we also insist that the teledrama directors and artistes should be responsible. Otherwise viewers who have the remote control will reject what is not necessary.
Q: Do you think that Censor Board can guide the teledrama industry?
If there is a censor for the cinema which is a medium that is used by a limited audience attracted to a particular place over a limited hours, why should we not introduce a censor to teledrama which is being watched at least 15 million including the children at your living room. The process to introduce censor is on the way as the cabinet approval has already been granted. By introducing a censor we don't intend always to produce complex artistic directions but simple, variety and entertainment dramas. This will bring about certain standardisation.
Q: Why do you think that the state TVs should be different from the others?
We cannot point finger at the private channels if the two state TV channels are also acting in the same manner. They must definitely set an example for other channels. We don't say that they should stay away from making money. But they should maintain certain standards so that others would follow them. They should stop making the audience and the teledrama artistes sick by unnecessarily loading the advertisement while teledrama is being telecast.
Q; There is also a serious question with regard to the subject matters and certain presentations of teledramas as the entire family cannot sit together and watch them?
This is why we said that there is a dire need for a censor . When a film is made we know whether that is a children's film, a family film or an adult only film. But there is no such limitation for teledramas. At least the authorities in the TVs must have certain discipline over what they telecast. This is not happening now and that is why we insist on standardisation for teledrama industry.
comments powered by

Disqus