'LitEx' showcasing the creative streak of Jaffna University's literature students
View(s):

The English Literature students of the University of Jaffna recently organised an exhibition "LitEx – 2013" at the New Arts block of the Faculty of Arts, under the guidance of Dr. A. Sivapalan, Senior Lecturer, Dept of Linguistics and English, University of Jaffna. This exhibition the second of its kind after 'Lingua – 2008', was inaugurated by Rev. Prof. G. Pilendran, Acting Dean of the Faculty of Arts.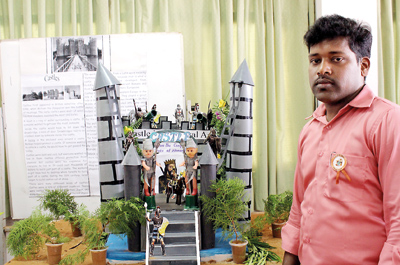 The students took attendees back to the eras of the Anglo-Saxons, Elizabethan, Augustan, Romantic, Victorian and Modern. The displays and exhibits were a reflection of the hard work and commitment that went into organising the event. Some of the themes of the exhibits included The Canterbury Tales, Daffodils, The Globe Theatre, Runic Alphabets, Animal Farm, Costumes of different ages of English Literature, the seven Ages of Man, Feudalism Pyramid, the Happy Prince, history of English Literature, Wuthering Heights, The Garden of Love and Medieval Theatre. 
'LitEx' was the brainchild of Dr. A. Sivapalan who spoke about the project saying, "We planned two months ahead and started working on this. Each and every student contributed towards its success. We really wanted to give the spectators a real picture of the different ages of English Literature and its components, especially for the benefit of the O/L and A/L students."
With limited resources and sponsors, the students and the guide strained every nerve to make this exhibition a grand success. This was proved by the ardent requests they received to extend the exhibition by a day.
Sam Hensman, Jaffna
comments powered by

Disqus