Pieris' galkatas in outer space
View(s):

External Affairs Minister G.L. Peiris appears to have taken the pursuit of the country's foreign policy fast forward to new millennia. He perceives that perhaps sooner than later Sri Lanka will emerge as a producer of offensive weapons. That is after Sri Lankan troops have victoriously ended a two and half decade separatist war and the Government has embarked on a course of reconciliation in this century.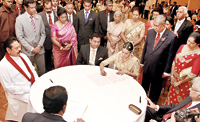 On the sidelines of the UN General Assembly sessions last week, Peiris held talks with Russian Foreign Minister Sergei Lavrov.  Mr. Lavrov, who served a stint at the Russian Embassy in Colombo also speaks Sinhala.
The result of the talks, according to a media statement from Peiris, is an agreement that would make many a developed country stand up and take note. Lavrov and Peiris, in the latter's own words "signed a joint statement on 'No First Deployment of Weapons in Outer Space'…."
The joint statement, according to Peiris, "while noting the significance of Outer Space activities for social, economic, scientific and technological development of states, as well as its role in maintaining national and global security, declares that all possible efforts will be made to prevent Outer Space from becoming an arena for military confrontation." He adds: "The Statement further expresses the belief that Outer Space should be used in compliance with international law for the benefit of all nations, regardless of the level of their economic, scientific or technological development."
In an External Affairs Ministry where little or nothing in the conduct of Sri Lanka's foreign policy occurs, there was laughter all round. A witty diplomat remarked, "Even the offensive weapons we have secured to fight terrorism came from manufacturers in other countries. If Prof. Peiris is talking about the locally made galkatas for use in outer space, he is perhaps right. However, there are several burning issues that require more of his attention than the outer space."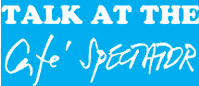 The diplomat added, "Then again, how do you take the galkatas to outer space. You cannot travel in business or first class in any airline." The Minister returns to Sri Lanka from space after two weeks just in time to meet his Indian counterpart who is arriving tomorrow. From New York where Peiris attended the UN General Assembly sessions with the President, he went to Cyprus mainly to ensure that it takes part in the Commonwealth Summit to be held in Colombo next month.
Wimal's plain quip about Mattala
It was a special flight for some Government MPs to travel to Kataragama to pay their last respects to Venerable Aluthwewe Soratha Thera, Chief Incumbent of the Kirivehera temple.
From Ratmalana to the Mattala Rajapaksa International Airport (MRIA), they were flown and later driven in a luxury coach to Kataragama. After landing in Mattala, some MPs noted that Minister Mahinda Amaraweera seemed uneasy for some reason.
One of them questioned him and pat came the answer. "I asked my driver to come over and pick me up from the SLAF airfield at Wirawila and not Mattala," he replied. "Oyath hariyata kaala gunaya wagey waradda gaththada (You also got it wrong like the changing weather. Didn't you?) remarked Minister Wimal Weerawansa.
United National Party (UNP) Parliamentarian Gayantha Karunatilleke who was also at Kataragama asked Minister Weerawansa why there were no aircraft to be seen at Mattala. "Mey monawa kiyanawada. Api ena hinda okkoma plane tika ayin karala" (What are you talking. All the planes have been removed because we were coming) said Minister Weerawansa.
Gayantha denies crossover reports
It seemed much ado about nothing — speculation that UNP's Gayantha Karunatilleke was touted to join the UPFA to be its Chief Ministerial candidate at the Southern Provincial Council election. At the funeral of Berty Premalal Dissanayake, former Chief Minister of the North Central Province, several politicians were talking about the possible emergence of Karunatilleke as a candidate.
The SLFP's Bentara-Elpitiya, organiser, actress turned politician Geetha Kumarasinghe, said she was willing to offer herself for the post. Dayasiri Jayasekara, the UNP pole vaulter who is now the Chief Minister of the North Western Province immediately telephoned Karunatilleke after learning about Kumarasinghe's remarks. He said he would pledge his support if he is willing to join the UPFA.
However Karunathilleke dismissed speculation. He told Jayasekara that he is an original UNPer. There was also speculation about another UNPer from the South crossing over to the UPFA. It was said to be former UNP MP Vajira Abeywardene.
Opposition UNP Leader Ranil Wickremasinghe summoned him to Colombo on Monday. Both had a meeting which lasted for an hour. At the meeting Abeywardene assured that he had no plans to cross over.
After poll, wedding bells toll
There will be another new wedding for a not-so-new politico from the hills and this has become the talk in sports circles.
If he was once married, his partner to be, his associates say, had also been married before. That is not all. She comes from a VIP family much in the news over Chief Minister appointments.
Wigneswaran gets advice from elders
The first thing Northern Provincial Council Chief Minister C.V. Wigneswaran did after receiving his letter of appointment was to visit the Elders' Home in Chulipuram. This Elders' Home tells a human story left behind by the separatist war. Not all the inmates are poor and without a fixed abode.
There are many who had come from rich and well-known families. Their next of kin had left the country. However, they are remitting funds monthly for the upkeep of their relatives. Mr. Wigneswaran spent the day with them. He sought their views on how he should set about with his new office.
No-smoking warning for Maheepala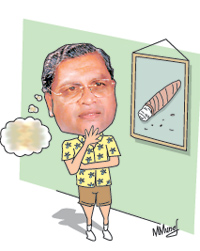 Sabaragamuwa's Chief Minister Maheepala Herath's experience as a youngster would be good news for the anti-tobacco lobby. One day at home, he saw a close relative who came there smoking a cigar. Days after he left, Mr. Herath had obtained some tobacco, rolled a cigar and was smoking. He got caught red handed to his father who had returned home after work earlier than usual.
He received a few painful slaps. If that was bad enough, the partly burnt cigar he had wrapped was hung on the wall as a warning. He said that was a reminder every day that he should not smoke.
comments powered by

Disqus