From rhetoric to reality
View(s):

My Dear Wigneswaran,

I thought I must write to you again because congratulations are in order after you were elected as the Chief Minister of the Northern Province at elections held a couple of weeks ago. Now all that is left to do, it seems, is to take oaths in your new job. 
I know your election was different for many reasons but you also had the easiest election. That your party would win was never in doubt and, unlike in Wayamba or in the Central Province, there were no contenders for the Chief Minister's post from your own party!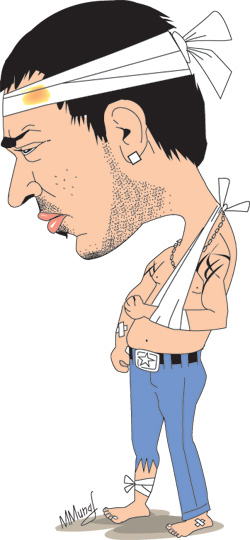 I heard that you had decided to take oaths before Mahinda maama and I was really happy to hear of that decision. I also heard that many within your own party opposed this idea because of various issues they had with the Blue party regarding some of their policies.
It takes a lot of courage to take a decision to take oaths before Mahinda maama, especially when sections of his government are calling for your arrest — and you and your leader Sampanthan have shown such courage. I can only hope that the rest of your party will follow in your footsteps.
I believe what you are trying to do is to send a signal to Mahinda maama, his government and those rabble rousers in it as well to those hotheads on your side that despite all that has been said in recent months, you and your party stand for a united Sri Lanka.
It is an appropriate gesture not least because your campaign had some unsavoury moments because of what was said during the election. In the South, it raised some justifiable suspicions as to whether you and your party really believed in one country.
For starters there was your manifesto which talked of 'self-determination' and a 'federal' set up. Predictably, the usual suspects in the South were up in arms saying that the election and the creation of a provincial government in the North was yet another attempt to carve out a separate state. 
Then, Wigneswaran, there was your comment about Velupillai, saying you saw no reason as to why he could not be considered a hero. I am not sure what exactly you meant by that, but surely being a retired Supreme Court judge, you must be able to realise why that didn't go down too well.
However, by asking Mahinda maama to administer the oath to you, you have redeemed yourself. We therefore hope that most of what was said during the campaign in the North was election rhetoric for the consumption of the public. After all, voters are a gullible lot be it in the North or the South! 
While you are trying to send a reconciliatory message to the Blues, Wigneswaran, I think you have already taught a lesson to the Greens about how an opposition party should function. You have shown them what you can achieve despite being an alliance of several parties, simply by being united.
Your nomination as the Chief Ministerial candidate was no cake walk. There was another contender but after Sampanthan and the party made a decision, not only did he graciously concede his slot to you, he also lent his whole hearted support to you. You owe your election to him, Wigneswaran.
He didn't go around sulking and keeping away from the election campaign just like they do in the Green Camp. And his supporters didn't go public with their grievances, trying to tarnish your image and reputation. For the sake of our country, I hope the Greens are able to learn these lessons.
That is not to say that you too have no lessons to learn. I hope you have realised by now that the solutions to our problems lie within this country and not with India. So, I hope your Council, whenever it encounters difficulties, will talk to Colombo first before talking to New Delhi.
I am sure there will be obstacles ahead. You want land and Police powers and those in the South are equally adamant not to give them to you. I think there is a lack of trust between the two and I hope you will be able to rebuild that trust once again although that is no easy task.
To do so you will need the wisdom of Kadirgamar, the tenacity of Amirthalingam and the popularity of Duraiappah. We hope you are able to find these qualities in yourself without having to suffer the fate that all of them suffered.
When all is said and done, Wigneswaran, you would agree that elections were held in the North and you will be taking oaths tomorrow only because the Tigers were wiped out. If they were still prowling in the jungles of Wanni, none of these would have happened. And, none of us wishes to return to that era.
Wigneswaran, you have the chance to show the rest of the country that you can make a difference — and a chance to show the rest of the world that Sri Lanka is indeed a land like no other. Of course you will need Mahinda maama to think along similar lines. In this task, we sincerely wish you well.
Yours truly,
Punchi Putha
PS: It is indeed fortunate that in you, we have probably the best moderate that we could have hoped for, to sit in the Northern Province Chief Minister's chair. What you, your party and the Diaspora must realise is that if anyone can sell any degree of devolution to the electorate in the South, it is Mahinda maama. That is why we hope you will be able to work together after all these years.
comments powered by

Disqus