Jaffna next Silicon Valley, eventually: IT industry leader
View(s):

Jaffna can eventually become the next Silicon Valley with all the physical and psychological transformation taking place over there, says IT industry leader Mano Sekaram, the Chief Executive of locally-based 99X Technologies. He also notes that the talent pool in Jaffna was the future of Sri Lanka's offering to the world.

Mr. Sekaram's comments were quoted in a statement issued by his company to highlight its recently concluded 2-day workshop for students at the University of Jaffna, a part of the company's ongoing university relations initiatives. This also follows a previous workshop held by the company in Jaffna in 2011.

Mr. Sekaram also added; "It was heartwarming to interact with the youth of Jaffna and make them feel that they are as equally Sri Lankan as we are."

Meanwhile, the statement also quoted Dr. Charles Eugene, Head of the University of Jaffna's Computer Sciences Department, as stating that the "workshop was energetic, informative and encouraging which [had] a positive effect on students towards determination, team spirit and communication. 'This has definitely helped the students to decide their future career goals which will contribute to their self-improvement and betterment of the society'".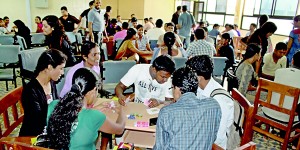 Comprising 15 employees of the company, as well as second year Computer Science students, and even lecturers, this "Life Skills Development" workshop encompassed topics such as "the role of team building and architecture in creating and innovating successful products that can make market-entry, the vast career opportunities to be explored upon graduating, perspective of how to think like an Engineer and aspire to become one, and an informative and interesting session on Agile", according to the statement.
(JH)
comments powered by

Disqus