68 years on, Azeez's vision for Muslim education
By A.G.A. Barrie
View(s):
The Ceylon Muslim Scholarship Fund has rendered yeoman service to Muslim education over the past 68 years. The Architect and founder of the CMSF was Dr. A.M.A. Azeez, eminent educationist, efficient administrator, erudite scholar, visionary and community worker.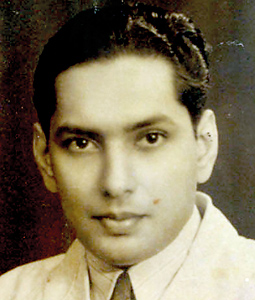 Aboobucker Mohamed Abdul Azeez was born in Vannarponnai, Jaffna on October 4, 1911. His education in the Hindu schools R.K.M. Vaidyeshwara Vidyalayam and Jaffna Hindu College, and his training under distinguished teachers had stood in good stead in his later life particularly for his invaluable contribution to education of the Muslims. His interest in education was also encouraged by his paternal uncle, Asena Lebbe Alim Pulavar, a Tamil scholar, poet and expert in Arabic-Tamil.
Azeez graduated from the University of London with Honours in History and proceeded to Cambridge University on being awarded the Government Arts Scholarship. On his success in the Ceylon Civil Service Examination as the first Muslim Civil Servant, he abandoned his post-graduate studies and returned home to embark on an administrative career.
In his speech delivered at the Ceylon Muslim League felicitation dinner at the Galle Face Hotel on 13.4.1935 on becoming the first Muslim Civil Servant, Azeez said, "The fact that I am the only Muslim in the Ceylon Civil Service should at once make us ask ourselves the question why it is so, and remind ourselves of the general backwardness of our community in the sphere of education. And in this context a discussion of some of the educational problems will not be out of place even on an occasion like this". He elaborated on the need for education of the Muslims and cited the Zahira College Hostel Majlis and Muslim League Senate as the only known organisations to spearhead the discussion. Soon after graduation Azeez was the resident tutor and active member of these organisations.
It was also emphasized that for the progress in all spheres of life top priority should be given to education of Muslim students, otherwise their talents will be lost to the community.
Kalmunal Experience
During the Second World War there was an acute shortage of food in Ceylon. Azeez was the Additional Landing Surveyor of Customs, and in April 1942 he was handpicked and transferred at short notice as Assistant Government Agent to set up the Emergency Kachcheri in Kalmunai. He was specifically instructed to increase food production in the large Ampara District (present Digamadulla). Here he came face to face with the plight of the landless Muslim farmers and their backwardness in education. State lands were distributed and the district soon became the granary of the East.
In education his views expressed earlier were amply proved. With his close friendship and discussions with Abdul Cader Lebbe, well known poet of Kattankudy, and the eminent educationist and scholar Swami Vipulananda of Karaitivu, Azeez formed the Kalmunai Muslim Educational Society with other local personalities. The main objectives were to establish an English medium school with sections for Arabic and Tamil and to offer scholarships to students in the district. This programme was interrupted with Azeez's transfer back to Colombo in January 1944. He was transferred again within a month as Assistant Government Agent, Kandy.
In the Kandy District, Azeez observed the poverty and illiteracy among the Muslims. He gathered information from other areas and was convinced that education was the key for the progress of the Muslims. At the same time he noted that many students did not continue their schooling due to poverty. When Swami Vipulananda was appointed as Professor of Tamil at the University of Ceylon, he stayed with Azeez for twelve days in his official residence 'Mount Airy'. They discussed many subjects including the formation of a scholarship scheme for poor students throughout the Island, which was encouraged by Swami. They found that despite the awakening by Siddi Lebbe, Wapichi Marikar and I L.M. Abdul Azeez in the late 1880s, the Muslims were conspicuously unrepresented in the professions and senior positions in other fields. In 1945 Azeez was transferred to Colombo as Information Officer.
Scholarship Fund
From September 1944 Azeez personally canvassed support and donations from the Muslims for the CMSF project which were encouraging. The Kalmunai Muslim Educational Society was merged with the CMSF. On 19.4.1945 he sent out a notice summoning a meeting of donors and helpers on 19.5.1945 to inaugurate the CMSF. It was held at the Zahira College Library Hall and chaired by T.B. Jayah who was an ardent supporter. Azeez presented a detailed Progress Report which was well received. Jayah paid a glowing tribute to Azeez for organising the Fund and said that "he could not think of a more deserving cause for the uplift of the Muslims than the CMSF". The aim of the CMSF is to see that no Muslim scholar, capable and deserving, in any part of the Island is deprived of the education he or she deserves for want of money. 
The First Annual General Meeting of the Board of Trustees was held on 28.7.1945 at Zahira College with T.B. Jayah as Chairman pro-tem. Dr. M.C.M. Kaleel was elected as President, A.M.A. Azeez as Chairman of the Committee of Management and M. Rafeek as Secretary to the Board. The Committee Members elected were T.B. Jayah, Dr. S.A. Imam, M. Mathany Ismail, A.J.A. Cader, M.H.S. Marikar, M.H.M. Naina Marikar, A.J.M. Jameel and M.U.M. Saleem.
A.M.A. Azeez held the post of Chairman until 1955 and gave it up after an illustrious decade to devote more time to Zahira College as principal. M.H.S. Marikar was a pillar of strength for many years from the inception and his significant contribution cannot be forgotten.
On 6.11.1945, Jayah moved the Incorporation Bill in the State Council and the CMSF was incorporated by Ordinance No. 19 of 1946 (Date of Governor's assent 16.7.1946). The CMSF was recognised as an Approved Charity for tax purposes by Ceylon Govt. Gazette (Extraordinary) No. 10,358 of Friday 22.2.1952.
Vision
The far sighted vision of the Founders formulated ingenious methods for the CMSF to continue ad infinitum. The students are given interest free loans to pursue higher education which they must pay back when they are in a position to do so, after completing their studies and getting employed. It gives them a sense of dignity. They are not accepting charity They are morally obliged to repay to benefit others like themselves. This is in the best tradition of Islam with its fine sense of brotherhood.
The repayments made by the scholars and possibly with their annual donations by way of gratitude, CMSF will be a revolving fund, and the charity of the donors will last forever as their donations are recycled over and over again through the CMSF. These will augment the financial resources, increasing every year and enabling more and more students to be assisted — a multiplying effect.
The Members of the Board of Trustees are from various districts of the Island and will be required to go in search of needy students. Once assistance is granted the Trustees will monitor the progress of the students and ensure that repayments are made later.
The students have to sign a bond for repayments. If not legal action would be taken, but this has been avoided for obvious reasons. Insurance policies for lives of scholars were suggested but the idea was not approved.
There have been a large number of benefactors over the years. A saltern in Puttalam was gifted in 1946 by H.S. Ismail (later Speaker) and this is still managed by the CMSF. In the early years fund raising was done by conducting film shows, plays, sports matches, sale of flags and collection tills. Many Memorial Scholarships were created by donors including King Farouk of Egypt in memory of King Fuad and Government of the Maldives in memory of Sultan Amir Abdul Majid Didi. These ceased to continue as the capital of Rs. 5,000/- did not give adequate income for the increasing costs of scholars, and a new Endowment Fund scheme was reintroduced in 1984, where the donors' perpetuate the memories of their loved ones.
The capital is retained intact which will grow in perpetuity and assistance is granted from the income derived. At present 320 Funds are managed which have become the mainstay of the CMSF (details are shown in the Ramazan Appeal 2013). The property, 94, Second Cross Street, Colombo 11, was purchased by the CMSF in December 1950 to derive rental income. It was disposed of in November 1978 to overcome the paucity of funds.
In the early years prizes were awarded annually for religious knowledge exams to encourage such education.
Educational Advancement
The CMSF has assisted over 2,000 scholars who had held and are holding high positions in Sri Lanka and overseas, including the second and third Muslim Civil Servants. In 1946 four scholars entered the A1-Azhar University in Cairo, Egypt for post-graduate studies with the idea of imparting religious knowledge on their return. Another scholar was encouraged to research into Islamic Tamil Literature. In later life, he emerged as an Internationally renowned expert on this subject bringing out details of more than 2,000 works of Islamic Tamil Literature.
The need for assistance by needy Muslim students to pursue higher education is ever increasing and never ending. The repayments by past scholars have not been as expected, and the CMSF has to depend on other benefactors. Therefore, the support of affluent Muslims is a sine-qua-non.
Today there are leaders of the Muslim community who in point of education, culture and character are second to none in this country and Muslims are no longer considered backward. However, in the words of the Founder, "it is not enough to have an enlightened elite, unless the generality of the people are equally enlightened, the Muslim community as a whole must suffer".
The CMSF has rendered an invaluable service and is a landmark in the history of Muslim Education. It is another achievement of Dr. A.M.A. Azeez and has left an indelible footprint on the sands of time.
The present officials of the CMSF are S.H.M. Jameel (President), M. Ali Azeez (Chairman, Committee of Management), A.S.M. Muzzammil (Secretary) and Committee Members Dr. A.M.M. Sahabdeen, M.Y.M. Faiz, K.M.H. Akbar, M. Faizer Hashim, M.M.S. Fuard, Dr. M.A.M. Shukri and A.G.A. Barrie.
Dr. Nuhman to deliver  Azeez lecture
Dr. M.A. Nuhman, retired Professor of Tamil, University of Peradeniya will deliver this year's Dr. A.M.A. Azeez oration at the YMMA auditorium, Dematagoda Road, Colombo 9 on Friday, October 4 at 4.30 p.m.  His topic will be 'Language and education of Sri Lankan Muslims: Problems and Prospects'.
The meeting will be jointly chaired by Dr. A.M.A. Azeez Foundation President S.H.M. Jameel and YMMA National President K.N. Deen.
A book titled 'A.M.A. Azeez – Early Life and Tributes' will also be released. This is a public lecture. All are welcome.
(A.G.A. Barrie, a distinguished scholar of the CMSF, hails from Beruwela and excelled in studies, sports and cadeting at Zahira College during the Azeez era. He graduated as a civil engineer from the University of Ceylon in 1960 and emigrated to Canada in 1969. An expert in heavy construction, he is at present a project management consultant.)
comments powered by

Disqus