Medira and Aadavan excel at ATF U-14 second week
View(s):

Medhira Samarasinghe and Aadavan Pushparaj produced some masterful exhibitions of tennis in the girls' and boys' finals of the Under
14 Asian Tennis Federation tournament's second week respectively, to register exciting wins at the Sri Lanka Tennis Association recently.
Samarasinghe, who lost to her finals opponent, the much-touted Adithya Karunaratne during the ATF's first week, returned the favour with interest, trouncing her 6-1, 6-2. Meanwhile, Pushparaj beat Jerique Rajapakse 6-4, 6-2, in a match which was not as straightforward as the score suggested.
During the first week of the competition, Adil Kalyanpur of India came out on top in the boys' bracket by calmly dispatching of Jerique Rajapakse in straight sets 6-1, 6-0, after enjoying a leisurely trot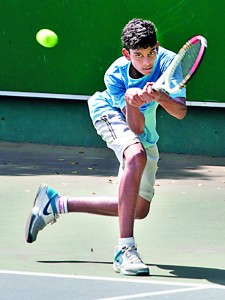 through the early segments of the tournament.
However, the girls' final produced a furious melee as Lankan-born Adithya Karunara, who now represents Hong Kong, had to rise from a one-set deficit to churn out a gutsy 3-6, 6-2, 10-8 win over Samarasinghe.
Karunaratne would later pair up with her finals' opponent to launch through the girls' doubles event and quickly book a place in its finals against Janali Manamperi and Tarah Greig. Samarasinghe and Karunaratne were barely tested throughout the match as a combination of fierce swipes from the back of the court and nifty play near the net yielded an emphatic 6-0, 6-1 victory.
Disappointingly, the Boys' Doubles competition could not be worked off due to adverse weather. – DS
comments powered by

Disqus