Appreciations
View(s):

My prayer for my alma mater is let there be another JBC era

J. B. C. Rodrigo

The 35th death anniversary of J. B. C. Rodrigo (M. A. Oxon) fell on September 3, this year. Born on June 6, 1899, JBC had his education at Royal College, Colombo, and Trinity College, Kandy. After he left school, he trained in languages and joined his alma mater Royal College as English and Latin Master. Amongst his students was J. R. Jayewardene. Later he moved to S. Thomas' College Mount Lavinia as teacher cum master in charge of cricket. Dudley Senanayake represented STC at cricket during this time.
In the mid 1920s, JBC joined Oxford University and played cricket for Keble College along with the Nawab of Pataudi (Snr) who later played for England and India. After graduating, he joined Lincolns Inn and passed out as a barrister. JBC returned to Ceylon to serve his motherland. After a stint at the Bar, he preferred to pursue a career in teaching. The legal heirs of Prince of Wales' College, the de Soysas, invited him to take up duties as Principal of PWC, which he willingly accepted. He served for 27 consecutive years- a record to this date,
The ground at the College is a living testimony to him. The first step taken was to make the ground bigger and suitable for all sporting activities. It is the same, ground we see today, except for the turf wicket. Most of the work was done with the sweat and toil of the students at that time. To raise funds, JBC, his staff and pupils staged Shakespeare's play, Julius Caesar in which JBC was cast in the main role. A carnival was also held and other projects undertaken. An upsurge in the standard of the cricket was almost immediate. In l935 PWC captained by E. F. de Mel was unbeaten, winning all their matches.
In his time, many great cricketers were produced. In 1944, Cecil Peiris scored four consecutive centuries, within a short span of seven days, inclusive of twin centuries against Kingswood College, Kandy. A cricketer of repute to emerge in late 1940s was H. I. Fernando, a brilliant left hand batsman who represented SSC and All Ceylon. Other outstanding cricketers around the same time, nurtured by JBC were Stanley Fonseka, Nisal Senaratne and Paul Devadasan who all represented SSC and also the Ceylon Cricket Association (CCA).
JBC's contribution towards the game was immense. His son Lasantha too was an outstanding cricketer in the mid 1950s, playing for the SSC as a schoolboy. Lasantha represented Ceylon and toured India to play an unofficial test series, with the Indian Test Team, captained by the Nawab of Pataudi (Jnr). Ceylon won the third Test. Lasantha played in that match, which was the first victory for Ceylon against India at cricket. A unique feature was that JBC and the Nawab of Pataudi (Snr) played together for Keble College while their sons, Lasantha and the Nawab of Pataudi (Jnr) played against each other, for their respective countries.
JBC was President of the Schools Cricket Association for just under two decades. He was also a member of the Board of Control for Cricket in Ceylon. JBC used his position to promote and develop cricket standards at PWC and to bring it on par with other well-known cricket playing schools. His knowledge of the game was par excellence. His knowledge in either cricket or in education was passed on to whoever sought it, myself included.
In the summer of 1954, while on a short holiday in the UK, JBC was made an Honorary Member of the MCC – a rare honour for a Ceylonese at that time.
During JBC's time, discipline was at its peak. In his immaculate dress, Oxford cap and gown he would stride into the main hall to conduct assembly. JBC was famous for reciting poetry from Shakespeare, Wordsworth, Milton and other writers. When he made speeches at school functions or conducted assembly, he would quote from the greats to emphasise a point. 
Cricket was in the blood of the Rodrigo family. JBC's brother Conrad (JCG) was a brilliant cover point fielder and left hand batsman. JBC's grandson, Heshan de Silva, captained Royal in 1984/1985 and also played for CCC in the P. Sara Tournament.
JBC retired as Principal in 1959. His interest in PWC cricket never wavered. Many a time, when matches were played at the College grounds, he was a keen spectator.
When I captained PWC in 1961/1962, JBC was invited to help the cricketers at practices. Though retired, he willingly obliged. After leaving school, whilst working, I represented Moratuwa S.C. JBC used to be present in the evening at the club. It was initially uncomfortable for my friends and myself, to be seen by him, enjoying a glass of the "froth" and a puff. But JBC used to invite us to join him for a chat and a game of cards. We were reluctant but gradually, became comfortable in the great gentleman's company. Our association with him was very cordial and fruitful, exchanging ideas and cracking jokes over a drink. His company helped us to enhance our knowledge, even further. 
These are some of my memories of JBC, whom to this date, I salute, with honour. My earnest prayer for my alma mater today is, let another JBC era dawn again.
May the dear Lord grant unto him, eternal rest and peace. 
Hyasti Aponso
The personification of good breeding and refinement
Gertrude Dimbulane Rambukpotha
Gertrude Dimbulane was born in Gampaha near Welimada, Uva. She, and her four sisters were boarded at Hillwood College Kandy, and her brother Ananda, at Trinity College, where he excelled at Rugby. Gerty, as she was fondly known, had been a promising student, but her schooling had come to an abrupt end when her mother fell gravely ill. She had been a tower of strength to her father, and to her younger school-going siblings during her mother's period of illness and her eventual untimely demise.
Some years later, Gerty fell in love with a cousin, the handsome Hector Rambukpotha, whose other great passion was cricket. Hector was the typically laid back, easy going country squire who regularly turned out for the STC OBA Uva X1 well into his sixties. They loved each other dearly, and the sacrifices Gerty made during their marriage will remain a testimony to her strength of character, and her unwavering loyalty to the man she loved. Hector passed away suddenly, in 1978. Once again, Gerty put her shoulder to the wheel and took full responsibility for her young family, quietly fulfilling all her obligations.
By the mid 80's her brood had flown the coop and she was in complete control of all her affairs and totally independent. Quite recently she admitted shyly that during this period, "the little fellows in the village used to come to our place for lunch on the way home from school every day". Her kindness and compassion knew no boundaries.
She subsequently spent a year in Melbourne, Australia when she visited her daughter at the time of her confinement. She joined the local library, and spent long hours doing what she loved most – reading. Her charming manner endeared her to many, several of whom called on her whenever they visited Colombo.
From 1997, Gerty spent her twilight years with her daughter at Pamankade in Colombo up to the time of her recent, brief illness. Never once was she heard to complain, or utter a word in anger. She looked forward to having visitors, and only relaxed when she knew her guests were being well looked after. Her generosity was quite unbelievable. To her, giving a tip to a domestic aide going home on leave was as important as giving a birthday gift to a well-heeled relative , and she would dig deep into her resources with equal gusto.
She was showered with love and affection by her family, and nephews and nieces. Her younger sister Ira would call over regularly carrying armloads of books, fruits, and titbits. They would have long chats, often reminiscing about their trips to and from boarding school by train from Badulla, and "the naughty boys" going to Trinity who used to play pranks on them. Their father, "King" George was another favourite topic of conversation – obviously they thought the world of him.
On June 10 this year Gertrude celebrated her 96th birthday surrounded by her loved ones. She looked radiant, and content. Her birthday parties were always looked forward to by her nieces and nephews, their children and grand children, but this year, somehow, it felt very special. She sat quietly when her great grand nephews and nieces fell at her feet worshipping their beloved "Athammi".
This wonderful, selfless, lady, the personification of good breeding and refinement, breathed her last on Sunday, September 8, this year. She left as she had lived, with composure and dignity, and a burden to none. Farewell, sweet lady, you will always remain an inspiration to those who loved you. 
Wimal Heenetigala
Eulogy brought out the many facets of the man and his good work
Lanka Nesiah
Lanka Nesiah who passed away recently in London led an exemplary life that spanned three years more than the Psalmist's span of life of three score and ten. He was strongly committed to a united Sri Lanka with a pluralistic culture, deeply concerned for the welfare of the poor, social justice and a democratic polity.
Lanka had his education at S. Thomas' College Mount Lavinia. He was a loyal Thomian who supported the school. The extraordinary service at the College Chapel of the Transfiguration in celebration of Lanka Nesiah's life and work was a glowing tribute to a loyal and staunch Thomian and devout Christian. The congregation overflowed into the chapel steps and beyond.
The service led by former Bishop of Colombo and sub-Warden of STC Right Reverend Duleep de Chickera, went on for nearly two hours. His eulogy was exquisite for its language, thrust and the revelation of many facets of Lanka's character, life and good work.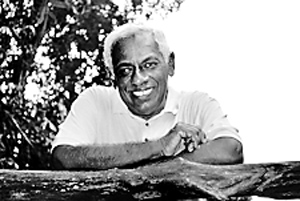 Lanka had been helping those in need, refusing any payment from the church even for his long trips crisscrossing the country and generally being a Good Samaritan in every sense. The Bishop was effusive in his praise for Lanka for his generous spirit, his quiet but sure support for the church's activities and according to Bishop Chickera, correcting him at times when there were faults in the discharge of the Bishop's own leadership. He said that next to his family, Lanka was the one who knew his faults best. 
The eulogy was exquisite, because he took a passage from St. John 12:20-26, and went on to deconstruct Lanka's contribution at two levels, the immediate and the substantive, Lanka stands tall, in both categories, but more on the substantive contributions he made. The Bishop praised Lanka's modesty, his self-effacing nature and the great help he gave to the church and all those he came into contact with, in well focused ways that were most effective.
Bishop Chickera also said that the secret is now out that Lanka was the author of the very well- analysed and effective column he wrote under the pseudonym, "Shanie" in the 'Island' and later in the Colombo Telegraph. For many there, including me it was a revelation. 
The several hymns sung at this service of celebration by the exceptionally trained Thomian choir are familiar to Thomians of several generations and reflected Lanka's life and beliefs. The service ended with the hymn "Lord, Thou Hast Brought us to our Journey's End" that is sung at the end of each term. The choir that had to be assembled from their holiday rendered the hymns exquisitely as has been the hallmark of the Thomian choir with traditions established by the Reverend Cannon Bowyer Yin who is said to have set the words to music.
"If we have learnt to feel our neighbour's need,
To fight for truth in thought and word and deed,
If there be lessons which the years have taught,
Then 'stablish, Lord,what Thou in us has wrought."
Ours was a long friendship from the 1950s. We were not only friends at school but since we lived on the opposite sides of the Galle Road at Dehiwela, we visited each other often. These occasions gave me the opportunity of meeting his erudite father, an educationalist and discussing many issues of national significance and borrowing books from his library, especially on Ceylon History. I also had the opportunity of visiting his home in Jaffna once.
Our interest in debating and other intellectual curiosities brought us together. We were able to have differing views on Sri Lankan politics that strengthened our friendship. There was no cultural divide between us or in fact among our other schoolmates. We shared the agony of the first ethnic violence of 1958 at College.
Lanka was a few years junior to me at school and consequently his friendship led to my being friends with several of his classmates and close friends, Monty Gopallawa, Nanda Mathew and Gamini Marapana among others. Memories of our school days are very vivid and nostalgic.
Lanka graduated in Sociology from the University of Ceylon, Peradeniya. He joined the Commercial Bank of Ceylon as an executive and made a success of his banking career and worked as a banker in the Middle East. Despite my own career in banking we never talked about banking, as there were far more stimulating mutual interests to talk about.
After his retirement, he devoted his time to the interests most close to him of the Anglican Church, political issues and social concerns. He gave of his time liberally to these and was a founder member of the concerned citizens' group Friday Forum that has boldly expressed concerns in the country's deteriorating law and order, erosion of the rule of law and on the need for social justice.
Nimal Sanderatne
comments powered by

Disqus