Letters to the editor
View(s):

Letters to state institutions draw no response

I am a retired public servant. Though retired, most people like me have dealings with state institutions where they worked, but when we write to local authorities and state institutions they simply do not reply.

During the past three years, I must have sent more than 300 letters, some under registered cover, but received only four replies. I fail to understand why these officers are so callous as to ignore letters from the public. When there are no replies we have to go to these offices wasting time and money — and that too only on Wednesdays. Often we have to make two or three visits due to reasons such as "the officer is on leave" or "your file cannot be traced".

In contrast, it is a different story in developed countries. I worked in Britain for two years from mid-1971 to mid-1973. Two months ago I came across an old letter sent by my former employer in 1973, stating that once I reach the UK retirement age of 65 years, i.e. in 2005, I could write to the Pensions Department giving my National Insurance number to see whether I was entitled to a pension. Please note that it is for working for just two years, 40 years ago. So I wrote to them, at the age of 73.

There was an immediate response. It said: "Thank you for your letter. We will reply within 10 working days. If we are unable to provide you with a reply by then, we will let you know why and how long it would be before we can provide you with a full reply".  A second letter sent within the ten days stated that I would be paid a pension annually from the date of my letter and calculated per week. The amount is small, but the important thing is that the reply was quick and dealt with a matter 40 years old. Really great! 

That is not all. They sent another letter saying that I could be paid arrears for the period from the date I was entitled.  Again not much, but it was without a request from me that they had checked whether arrears could be paid! Can you imagine such things happening in our country even after 100 years?  Actually, the position in Sri Lanka 40-50 years ago was not this bad. We seem to be going backwards. We are talking a lot about milk these days. Let there also be milk of human kindness, without DCD of course!

'Wijgokum', Nawala

In defence of Indian DEMUs

Recent newspaper reports on S11 DEMU (diesel electric multiple unit) trains seem to give a misleading impression to the public. Being an engineer, commuting daily by train from Galle to Colombo and back, I wish to express my opinion on the performance of S11 DEMUs.

Twenty sets of DEMUs were supplied by the Indian-government owned company Rites Ltd. between 2011 and 2013 at a reasonable price under an Indian loan scheme. These trains have been running well for the past two years on the Southern Line and commuters are happy with their performance. These trains were designed to run in a six-car formation with one power car and were originally meant to operate on the Southern Line between Colombo and Matara. (Samudhra Devi runs with a 13-car formation with 2 power sets and the Kalutara train operates with a 7-car formation with one power set.)
Sri Lanka Railways (SLR) is utilising these DEMUs mainly for important services such as Ruhunu Kumari, Samudhra Devi, Sagarika Express, Galle Kumari and Vavuniya Express. But they are also used on other lines such as Anuradhapura, Vavuniya and Rambukkana.

It is evident that DEMUs have performed, even under overload conditions, better than other multiple units. The trains with the longest railway carriage (22m long) and the largest passenger capacity are designed to run at a speed of 100 kmph. Besides other advantages, the train also has an effective brake system. The train running at 100kmph could be brought to a halt at the station by application of the brakes 400 metres ahead of the station. There are also no rigid coupler jerks at starting, stopping and on application of the brakes.

It is noteworthy that in these trains, toilets are provided with a special Ventura feature system that removes the foul smell. The carriages are equipped with fans over almost each seat. Trailer coaches come with wider double sliding doors in the middle for free entry of passengers.

I understand that Rites team officials are in Sri Lanka to provide technical assistance, co-ordination and training with a view to ensuring smooth running of the sets. It seems that railways maintenance sheds are struggling to maintain these sets due to lack of technical staff.

From what I gathered from Railway sources, the performance of these sets is found satisfactory. The reliability of S-11 DEMUs is 100 per cent, having a failure rate of only 0.007 per 1000 km. The trains, which have run 2.3 million km, have a high punctuality rate of 99.57%. Their fuel efficiency also appears to be high — 2.05 km per litre, which is perhaps far better than any other comparative stocks. 

E.S. Navaratne, Galle

Why oh why!

Why oh why do our Sri Lankan Ministers aged over 50 dye their hair? Ranil Wickramasinghe and Raulf Hakeem are the only two persons who look so distinguished with their grey hair. Very seldom do you find elderly Westerners dyeing their hair.
Why oh why do only Sri Lankans adorn the microphones with flowers whenever they speak on podiums etc.? No country ever does that. That money can surely be spent on feeding the poor.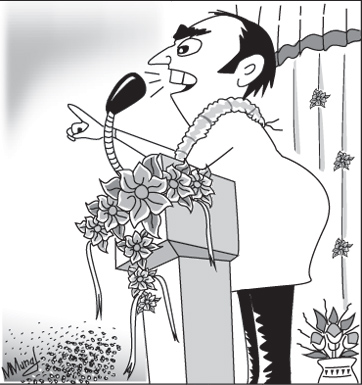 Why oh why do Sri Lankans spend so much money on plaques whenever any project or building is being opened? Did the British ever inscribe their names likewise on the numerous roads and bridges they built? Again, surely that money could be spent on more important matters.
Why oh why must we plunder and clear our forests of trees and mangroves thereby depriving our majestic elephants and other animals of their natural habitat. Preservation of forests should solve the elephant human conflict.
Jeanne Karunaratne, Colombo 5
comments powered by

Disqus