Giving shape to a man's world
With Colombo Fashion Week's Resortwear show opening in just two weeks in Galle, fashion circles are abuzz. Duvindi Illankoon meets two young designers determined to make their mark
View(s):
Sammani Pathiranagama is a little bored by shapes that she's all too familiar with. Whereas most designers would go for the allure and mystery-and also the workable charm-of the female figure this designer feels like she needs something a little more challenging when it comes to her work. This is why when she presents her collection Trivium at the HSBC Colombo Fashion Week Resort Wear show on October 5 and 6 in Galle, Sammani will be one of the few designers working with menswear.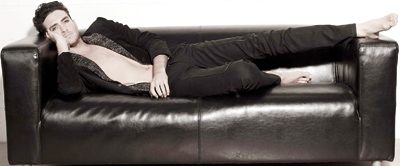 For the young designer fresh out of Melbourne's RMIT University and a job at a well-known bridal boutique over there, coming back to Sri Lanka was a personal crusade of sorts. "You always feel like you haven't done much unless you come back and do something in your own country," she says. Sammani has been fascinated with shapes and patterns for as long as she can remember-"just like any other girl"-but she took this several steps further by signing herself up for a degree in fashion design from the Lanka Institute of Fashion Technology. In 2008 she followed her dream to Australia, where she studied for a BA in Fashion Technology at RMIT. 
Following her graduation, she decided to stay in Melbourne for two more years. Working at Bonita Bridal Boutique, Sammani picked up enough little pointers and experience to consider setting up her own line. The decision was easy to make but the tricky bit was in choosing to stamp her own personality into her work. Eventually, Sammani settled on menswear. It's not a choice many would make, given that menswear is not traditionally thought to be as versatile as women's clothing. She disagrees-"Maybe in Sri Lanka, guys would find it a little difficult to find clothing that goes beyond the conservative but when I was in Melbourne I would see all sorts of shirts and pants walking down the street!"
Back in Sri Lanka she relies on a trusty group of guy friends to provide her a guideline of sorts for what Asian men want in their clothing. For inspiration, she looks to men's magazines and televised shows on runway and says that you're most likely to find her sketching in front of a show.
On the ramp next month, Sammani will debut her first menswear collection Trivium. This is all about classic silhouettes mixed with modern detailing, she explains. The nautically inclined collection is for the man of leisure; crisp, edgy and timeless shapes are combined with a basic nautical colour palette of white, blues, reds, greys and a touch of tan. Sammani is working with key silhouettes of shirts, shorts, cropped pants, t-shirts and blazers and says that the use of breathable fabrics such as linen, cotton and printed cotton blend fabrics is prominent throughout the collection.
Catherine Rawson is not Sri Lankan. But she might as well be one; ensconced in the warmth and embrace of Sri Lanka's heritage city Galle, Catherine works with a group of local seamstresses to produce casual, quality garments for the discerning wearer. 
So what is this British born graduate from Central St. Martins doing on a small island in the Indian Ocean? There's an interesting story behind that, but we'd need to start from way back when Catherine first embarked on her career as a designer. Graduating with a first class degree in Fashion Design with Knitswear from Central St. Martin's College in London, she worked for quite some time with several British and French fashion houses including Bernhard Wilhelm, Guy Laroche and Jessica Ogden. The latter was an inspiration of sorts for Catherine, for the designer worked extensively with handiwork garments which would later become a great influence on her work.
Eventually, Catherine would become a little disillusioned with the industry's cutthroat race for survival-and the unpredictable income of a freelance designer. "I decided to join a travel company," she says. "It seemed like a fantastic opportunity." And what an opportunity it was; Catherine spent four and a half years travelling the world, filling her backpack with little knickknacks she picked up from around the world. "It was such an eye opener. Travel gave me an insight into different cultures and their clothing," she says. It was on one of these trips that she came to Sri Lanka to "meet up with an old friend" and ended up falling in love with her husband Rasika. In 2010 she moved to Sri Lanka, and more importantly to Galle-her husband's beloved hometown. She wanted to be where he was, she will tell you, but also because "I couldn't afford to fly in whenever I felt like it!"
In Galle Catherine has opened The Old Railway, a quirky clothing shop and café which she runs alongside her husband. Last January she presented her first collection SKIN which (despite being a debut collection by an unknown designer) received a great reception. "Things just picked up from there," she says. She had a steady stream of invitations to present at various shows coming her way and one of them was for this show-Catherine is already working like a demon with her team, translating her designs from mere sketches into beautiful flowing garments.
At the CFW Resortwear show Catherine will present her second capsule collection 'The Realm'. The focus is on bringing a sophisticated vibe to loungewear through evening wear. Using draping techniques, Catherine manipulates fluid jerseys with lightweight woven fabrics to produce an effortless, comfortable silhouette for the dynamic woman with not much time on her hands. 
"I want the women who buy my clothing to be able to work them into different outfits," she says. "Versatility is very important in what I design."
comments powered by

Disqus