Encouraging confidence and independence through holistic education
By Purnima Pilapitiya
Pushpa Aluthgamage's newest Montessori advocates American early education methods
View(s):
Pushpa Aluthgamage's Montessori is unlike the conventional classroom. The large open space has no desks and chairs as one might expect; just colourful blocks and woolly rugs in a corner. This unconventional setting reflects Mrs. Aluthgamage's philosophy of teaching. "Children should be able to move about freely" as restricting them to being seated at desks for long periods of time does not promote their concentration, she says. Instead they can do their work, sprawled comfortably on a rug if they prefer.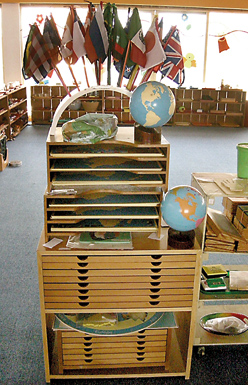 This practice is a reflection of the American approach to Montessori teaching of which Pushpa is a strong advocate. Having started a Montessori 16 years ago, she is also a Board Director of the Montessori Institute of America and prepares candidates for courses in Montessori Teacher Preparation of US in Sri Lanka. Over 600 graduates have gone through her hands.
Her newest venture is the Auston Montessori launched by the Auston Institute of Management (Colpetty). The Montessori that is based on the Singapore standards of Montessori training had its commencement in September. The programme of study gives prominence to the development of the five senses. The materials used for teaching allow children to learn using sight, sound and touch. An example would be the sand trays where children can practise writing the letters of the alphabet in the sand. The equipment is given to the children according to their age; with materials like porcelain being used by the older children and the younger ones' learning using clay and plastic. 
Pushpa emphases the need to work with the five senses in order to give children a more holistic education. "Here in Sri Lanka we focus more on writing and don't do enough practical work," she says. Her objective is to take on a more interesting and practical approach to education. Encouraging confidence, independence and the use of the five senses are imperative to her style of teaching.
She not only offers programmes for teachers but also for parents who want to have a better understanding of childcare and early education. 
Her Montessori is in session from 8.30 a.m. to 11.30 a.m. for children between the ages of 21/2 to 5 years.
Pushpa can be contacted at 077 3575145, or on e-mail: montessoriworld.lanka@gmail.com
comments powered by

Disqus