Adding more flavour to a popular cookery book
View(s):

A Revised Second Edition of Shanthi Casie Chetty's popular cookery book 'Anita Dickman's Cookery Course', which she compiled as a tribute to her mother, a renowned cookery teacher has just been released. The book has been a bestseller over the past 25 years.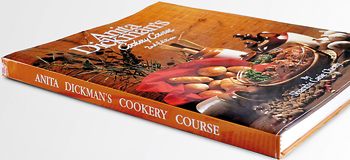 In the course of her travels, accompanying her spouse on foreign assignments, Shanthi mastered the nuances of the various cuisines of India, Indonesia, Belgium, Germany, Malaysia and at the 'Cordon Bleu' in Paris. 
Unlike other cook books available to Sri Lankans, this book covers a range of cuisines including Western, Mediterranean, Indian and Moghul. There is a chapter devoted to Sri Lankan Cookery and special occasion meals such as the genuine Lamprais, which dates back to Dutch rule in Sri Lanka. There are also chapters devoted to menu planning and garnishing and the nutritional value of foods.
Meringues, homemade chocolates, desserts and gateaux, cake mixtures, icings and frostings, breads and pastries, pastas and also soups, salads and hors-d'oeuvres are all included. Each recipe has been tried and tested and even a beginner could serve up a mouth watering range of dishes by simply following the detailed instructions. 
The second Edition has a richly illustrated detailed new chapter on the Art of Formal Entertaining and on table etiquette, wines and the use of different types of cutlery and glassware during a formal meal.
The illustrations alone are enough to whet the appetite. The book is an ideal gift for newlyweds, those in the upper echelons of the corporate world, diplomats and all those who wish to master the subtleties of dining on formal occasions.
comments powered by

Disqus