Bottled water under microscope again after complaints from customers
By Nadia Fazlulhaq
View(s):
Bottled water not meeting proper standards and unsuitable for consumption is being sold in public places, resulting in a fresh order by the Director General of Health to all provincial and divisional health officials to monitor bottled water distributors. 
Health Director General Dr. Palitha Mahipala last week issued an order to local government health authorities requesting them to check and ensure that all bottles carry the Health Ministry registration and thereby ensure that water labeled as 'purified' or 'mineral' are originally purified and not tap or well water.
This order was given following several raids in Colombo as well as the outstations and also complaints from consumers. The Health Ministry also ordered the removal of two mineral water brands 'Amaron' and 'Ceylon Water' not registered with the Ministry. 
Among unsuspecting customers are weary travellers using public transport for long distance travel, thirsty children and patients. "This move was following complaints from customers. People consume bottled water in the belief that it is safe and free of any harmful chemicals or bacteria.
Dr. Hemantha Herath, Acting Director of the Environmental and Occupational Health Division of the Health Ministry, under which the Food Control Administration Unit comes said that with no specific manpower or infrastructure for laboratory tests monitoring island-wide has been an extremely difficult task.
"Both chemical and microbiological aspects, sources and filtration methods are looked into prior to the issuing of registration and the registration is renewed every three years. At present there are 85 water bottling firms," he said. There is a possibility of refilling bottles which are sold at low rates, so the public should be vigilant when purchasing bottled water.
The month and the year the registration number was issued to the company concerned are mentioned on the label.  For instance bottled water that had a production date before August 2010 cannot be on the shelves. The bottle should also be transparent and should indicate the source of the water.
Microbiology tests for bottled water is usually done by the Medical Research Institute (MRI) and chemical tests mainly at the Industrial Technology Institute (ITI) or the National Institute of Health Science (NIHS) Dr. Sujatha Pathirage, Consultant Microbiologist at the MRI said that bottled water, whether it comes under the 'purified' or 'mineral water' label, should be free of organisms and meet all microbiological standards in the process of purifying and filtering.
"Carbon filtration or ultraviolet filtration is done to ensure no pathogenic bacteria, e-coli, salmonella and viruses like Hepatitis A. Well water may contain these, but tap water from the Water Board goes through water treatment but still there is chlorine in it to an accepted level of 0.5 milligram per litre," she said. 
Ms.K.Hemalatha, a senior chemist and food analyst of the National Institute of Health Sciences said "In the purifying process all chemicals and dissolved solids such as calcium, magnesium, ammonia and iron are removed using specific filters. Purified water also does not contain chlorine."
However, Ms. Hemalatha said that the NIHS is getting hundreds of samples from Public Health Inspectors and with only seven clinical staff and limited laboratory facilities it has been difficult to release results immediately.  "The test result on a sample will be released only in about a month. The laboratory workload is so much," she said, adding that as it involves clean drinking water, it is important to have more facilities.
Colombo Municipal Council Chief Medical Officer Dr. Pradeep Kariyawasam said testing will continue on bottled water and samples will be sent to the city analyst.
The Consumer Affairs Authority (CAA) is also conducting raids island-wide as it has also received complaints about traders refilling bottles and selling them as purified water.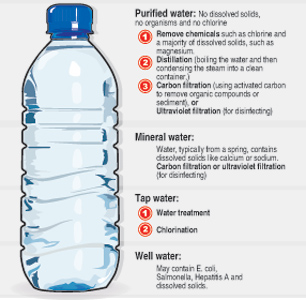 comments powered by

Disqus