WCMT Campus joins hands with PMI Sri Lanka chapter
With the clear purpose of creating effective project managers to take up emerging project management challengs in the country
View(s):
WCMT Campus chain of operations, in Sri Lanka is a fully owned subsidiary of Kartha Education Society (KES) set up by Dr. Sudhir Kartha and a team of eminent educationists in 1994, with the purpose of providing quality transnational education opportunities to the world.
KES owns and manages chain of education institutions in various parts of the world. Among many other prestigious education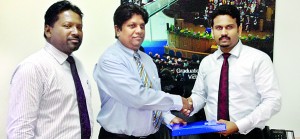 institutions under Kartha Education Society, WCMT Campus was established in Sri Lanka in year 2010 as a BOI Approved venture with a clear purpose of serving human development and socioeconomic advancement while uplifting the quality of life through education and research.
Wednesday, 18th September 2013 WCMT Campus joined hands with Project Management Institute, Colombo Chapter as the initial step of bringing world of professional education to the nation. President, PMI Sri Lankan Chapter, Mr. Aruna Kooragamage and Vice President, PMI Sri Lankan Chapter Mr. Shanaka De Silva joined CEO, WCMT Campus, Mr. Eranga Weeramanthri at the event of signing collateral at WCMT Campus, No. 54, Galle Road, Mount Lavinia.
At the event CEO, WCMT Campus, Mr. Eranga Weeramanthri mentioned, "Project management is not a skill which specific to domains like Engineering or Information Technology, it is a skill which every manager should possess and practice in their area of specialization. Further he mentioned, "At her path to development, country has started numerous projects. Successes of these critical projects are the success of Mother Sri Lanka in future. Therefore stakeholders of these projects should be extra cautious on skills and knowledge of project managers."
"By realizing emerging demand for project management professionals in country, WCMT Campus decided to launch PMP® training at our Campus in Mount Lavinia." he added.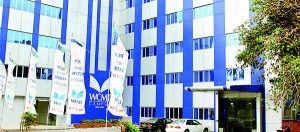 CEO, WCMT Campus emphasized, "WCMT Campus aspires to introduce a difference to PMP® training by introducing local and foreign outbound component to PMP® special workshops delivered at WCMT."
By participating in the event President, PMI Sri Lankan Chapter, Mr. Aruna Kooragamage said, "Project Management Institute (PMI) is the world's leading not-for-profit membership association for the project management profession, with nearly 1 Million members and credential holders in more than 185 countries. The worldwide advocacy for project management is supported by globally recognized standards and credentials, extensive research programmes, and professional development opportunities. These products and services are the basis of greater recognition and acceptance of project management's successful role in governments, organizations, academia and industries."
Further he added "The origin of the Project Management Institute (PMI) in Sri Lanka was a result of an increased awareness of the importance of project management due to the fast pace and global orientation that demands the professions today. Project management may possibly be elucidated as to how cautious organization and planning helps towards accomplishing a task efficiently on time. The PMI Colombo Chapter Sri Lanka (PMICSL) was formed and a public launch was successfully executed at JAIC Hilton in September 2004. The impressive number of membership and the positive response from them enabled the PMI Colombo chapter to achieve charter status in 2005. Since then PMICSL has helped to produce more than 500 PMP certified professionals by initiating / facilitating conducting training programmes leading toward PMP Certification. The recognition of PMP credentials by ICTA – Sri Lanka has resulted in 100's of public and private sector professionals receiving project management related training"
Vice President, Mr. Shanaka De Silva Mentioned "PMICSL hosted the first SAARC Project Management Conference on Sept. 24-26 at Hotel Galadari, Colombo, in collaboration with Project management Institute (PMI) chapters in the South Asian region. The PMI Regional Conference 2012 organized by PMICSL, which is an event targeting a network of professionals, national and international, marked in the PMI Asia Pacific calendar for 2012, was held on 27th to 29th April, 2012, at Kings Court Ballroom, Cinnamon Lakeside, Colombo."
Project Management Professional (PMP)®
PMI's Project Management Professional (PMP)® credential is the most important industry recognized certification for project managers. Globally recognized and demanded, the PMP® demonstrates that you have the experience, education and competency to lead and direct projects. This recognition is seen through increased marketability to employers and higher salary; according to the PMI Project Management Salary Survey–Seventh Edition, certification positively impacts project manager salaries.
Who should apply?
The PMP recognizes demonstrated competence in leading and directing project teams. If you're an experienced project manager looking to solidify your skills, stand out to employers and maximize your earning potential, the PMP credential is the right choice for you.
PMP Requirements
To apply for the PMP, you need to have either: A four-year degree (bachelor's or the global equivalent) and at least three years of project management experience, with 4,500 hours leading and directing projects and 35 hours of project management education.
- OR -
A secondary diploma (high school or the global equivalent) with at least five years of project management experience, with 7,500 hours leading and directing projects and 35 hours of project management education.
Examination
The PMP Examination is a paper based test (PBT), which consists of 200 multiple choice questions of which 25 are pre-test/unscored questions, which are placed randomly throughout the exam. Total time allotted is 4 hours.
How to Apply
To register for the examination you need to obtain the PMI Membership via www.pmi.org. PMI membership costs USD $129 to join (plus USD $10 application fee) and USD $129 for annual renewal. PMI member rate for the PMP Exam amounts to USD 250. (Non-member rate is USD 400).
Course Outline
The training programme is based on PMI's "A Guide to the Project Management Body of Knowledge" (PMBOK® Guide) – Fifth Edition and can be outlined as follows:
The Project Management Framework
The Standard for Project Management of a Project
The Project Managaement Knowledge Areas
Project Integration Management
Project Scope Management
Project Time Management
Project Cost Management
Project Quality Management
Project Human Resource Management
Project Communications Management
Project Risk Management
Project Procurement Management
Project Stakeholder Management
Professional Responsibility
WCMT Campus aspires to commence her first Project Management Professional (PMP)® training in October 2013 at No. 54, Galle Road, Mount Lavinia.
There is no age for learning, effective leaders are continuous learners. We welcome unique professionals who realize the value of quality, effective and enjoying project management training, to invest at WCMT Campus, professional training school. Hotline: 0777727172.
comments powered by

Disqus