The University of Greenwich offering unique industry relevant science programmes
View(s):

The University of Greenwich is home to a thriving community of over 28,000 students of all ages. Students from over 140 countries choose to study at Greenwich making a truly international community.

Located at the university's splendid Edwardian redbrick and ivy-clad Medway Campus, in Kent, is the School of Science, part of the university's Faculty of Engineering & Science.

The school unites science with teaching and research. It works with the university's Natural Resources Institute to provide a centre for higher education with international expertise that spans the social, physical and natural sciences.
We employ the very latest learning and assessment techniques, provide pastoral care to ensure students achieve their goals and deliver academic and professional programmes supported by research and scholarship. We have some of the most sophisticated instrumentation and most modern facilities in the UK, including a £1.5 million chemistry laboratory.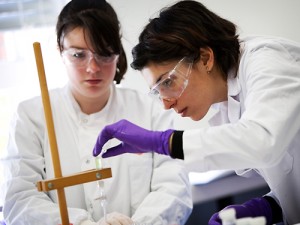 We offer a wide range of undergraduate and postgraduate programmes, including pharmaceutical sciences and formulation science programmes, as follows
BSc Pharmaceutical Sciences
MSc Formulation Science
MSc Pharmaceutical An
MSc/PGDip Pharmaceutical Sciences
All our programmes have been designed in consultation with industry and are continually being developed to reflect the needs of the job market. As we attract new staff, the content of the programmes change to make full use of their expertise. This allows our students to gain from the experience of our staff, both in terms of current pharmaceutical sciences and formulation science and the general skills that make our graduates more employable.
Our programmes are extremely popular with international students, students from India, Pakistan, Sri Lanka, Bangladesh, Nigeria, Ghana, Egypt, USA, Thailand and Indonesia all study with us. With students from so many countries, the School of Science gives you a unique opportunity to meet people from all over the world.
One thing that is common throughout our students is their motivation to study industrial relevant programmes and take the skills they develop with us and use them to secure employment when they return to their home countries.
The University of Greenwich is a great place to live as well as to study. Our Medway Campus is in the rapidly developing area of Chatham Maritime and boasts a mix of social and leisure facilities, including a restaurant and café. Sports facilities are also on campus and include a sports hall and gym. The campus has excellent links to London and the rest of the county and is close to the historic town of Rochester.
Both the MSc Pharmaceutical Science and MSc Formulation Science are one-year full-time degrees. Students study four taught courses, which cover subjects such as pharmaceutical formulations, pharmaceutical analysis and testing, product development and manufacturer and control. The four taught courses consist of lectures, tutorials and practical laboratory sessions. There is a large degree of self-directed study required – a Master's degree in the UK should produce students with flexible, problem solving skills, and ours are no different. We run case studies that put the students into small teams and where they solve problems relevant to common formulations currently on the market.
Each student will perform a laboratory-based research project, which should last for the entire duration of their degree. Research projects take one year and students will be working under the supervision of an academic to investigate a scientific topic of their choice. This is where the best students really develop their ability to work on their own, with some support if required. Students have gone on to study for PhDs having first developed their skills on MSc projects.
Postgraduate fees for 2013–14 for Sri Lanka Nationals are £ 9,950. Fees can be further reduced if they are paid in full at registration. Our degrees are truly different – the MSc Formulation Science is the only one of its kind in the UK and one of 3/4 worldwide. The MSc Pharmaceutical Science was the first of its kind in the U.K. Both degrees were developed in close cooperation with industry to fill a gap in graduate skills that industry needed. This unique position, coupled with the industrial experience of our teaching team, and the affordability of the course, based in easy reach of London and its airports, means that we have been very popular with international students. Although there are no bodies that accredit Pharmaceutical Science or Formulation Science degrees, we are in continual communication with relevant professional bodies to get their opinion. One of our teaching team was the Chair of the Academy of Pharmaceutical Science of the United Kingdom (2010–12).
We take our students on frequent industrial visits and welcome colleagues from companies like Glaxco Smith Kline (GSK) to teach our students. We also include a 2-month work experience placement at the end of our Masters degrees, subject to visa restrictions.
Joanne Wall, International Regional Director, will be visiting Sri Lanka in early October – meet with her to find the right course for you. Please contact British Council on 4521521, 4521577 and 4521576 for further information or visit the university website
www.greenwich.ac.uk
comments powered by

Disqus