Polls humour: From golden darling to the grave
View(s):

The polls campaign for yesterday's Provincial Council elections was not without a sense of humour.  In one instance in the Puttalam District, a candidate had almost fallen in love with his voters. In an SMS message he sent, he called them "Raththarang" or Darling. This is what he said:

"Raththaran, mama godak lengathuwa oyage dukedi sapedi oya laga hitiya. Punchchi hith amanapakam wenna athi. Mama tharaha na wagema oyath tharaha nathuwa athi . Me 21 daa 11 ta bulath kolayata manapayak denna kiyala oyagen adaren illanawa. Mama Chinthaka Mayadunna."

In English, it meant: "Darling, I was there for you in sadness and happiness with devotion. There could have been slight misunderstandings but I believe that you are not angry with me as I'm not angry with you. I request you lovingly to vote for the betel leaf number 11 on the 21st. I'm Chinthaka Mayadunna."

It is only later today the voters will learn whether Mayadunna's love sms has been responded to by the voters. 
Another instance came in the Kurunegala District last Thursday evening. In the village of Welipennagahamulla, a poor, elderly man was being laid to rest.

Pall bearers accompanied the cortege and those gathered were walking to the cemetery for the funeral with Buddhist rites. 
Amidst a queue of old vehicles were four luxury vehicles plastered with posters of a candidate who feared there may be what he called a "computer jilmart." This is when results are announced.

The posters were notwithstanding the fact that the deadline for the polls campaign had ended at midnight on Wednesday.
When one policeman on duty along the roadside pointed to the vehicles to his colleague, pat came the reply. "Oka kanattata neyda yanney. Ohey giyavi" or "it's going to the cemetery. So let it go."

Rivals play uncle-putha role on stage

Dayasiri Jayasekara and Johan Fernando, two frontline candidates of the UPFA for the North Western Provincial Council elections met at an election rally last week in Kuliyapitiya.  The meeting was also attended by President Mahinda Rajapaksa. The 20 something Johan asked how should he address the 40 something Jayasekara. "Mama dayasiri ayyata ayiya kiyannada, uncle kiyannada?"

(How should I call Dayasiri? Should I say brother or uncle?) young Johan asked.  "Oya thaama podi daruwek ne. Ey hinda mata uncle kiuwata kamak nehe. Mata oya puthek wage (You are still young. Therefore you can call me uncle. You are like a son to me)," Jayasekara said.

The duo are fighting for the number one slot in the North Western Province from the ruling UPFA. This they hope would ensure their selection as the Chief Minister of the province.

Rs. 1.5 million electricity bill: Naga Vihara seeks relief

The occasion was the ceremonial opening of the electricity complex in Chunnakam to connect power from the national grid to the Jaffna peninsula. Power and Energy Minister Pavithra Wanniarachchi and Ministry Secretary W.B. Ganegala were awaiting the arrival of President Mahinda Rajapaksa. He commissioned the power supply scheme last week.

Whilst waiting, Ms Wanniarachchi received a letter from a Buddhist monk who was present there. She handed it over to Ganegala and asked him to take action. 

The letter had sought the intervention of the Minister over a demand by the Ceylon Electricity Board (CEB) to pay up bills that had accumulated at the Sri Naga Vihare in Jaffna over the years. The amount was more than Rs 1.5 million.

It was pointed out that during the separatist war, the period for which payment was being sought; the temple had been used to house Internally Displaced Persons (IDPs). The temple authorities had thus helped the security forces.

Azwer plays the role of Yal Devi annoucer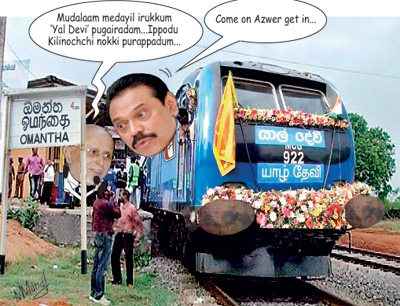 One-time UNP Parliamentarian and now Government MP, A.H.M. Azwer, who was known as a heckler earlier, was in a different role last week. President Mahinda Rajapaksa had gone to the Omanthai Railway Station, just north of Vavuniya, to inaugurate the train service from there to Kilinochchi. It was the initial phase in extending services up to Jaffna and then Kankesanthurai (KKS), the northernmost point in the peninsula. Services on the Northern Line were disrupted after Tiger guerrillas blasted the Yal Devi express train from Colombo to KKS in 1985.
President Rajapaksa bought the first ticket from the Omanthai Railway Station. It was issued to him by a neatly attired Station Master. Ahead of boarding the decorated train, there was an announcement. It was in Sinhala and it appeared that some of the public present did not quite know what was said. 
This was to draw the attention of Mr. Azwer. He rushed inside the Railway Station, grabbed the microphone and announced in Tamil that "Yal Devi, our bride today will travel to the north with President Mahinda Rajapaksa. He carries the message of friendship of the people of the south after 23 years. He is the leader of Sinhala, Tamil and Muslim communities."
With that announcement over, Mr. Azwer jumped on board the first train to Kilinochchi in 23 years.
Transport Minister like a train-ed singer
President Mahinda Rajapaksa was on a tour of the North last week. To keep to his punishing schedule, he had to travel by helicopter.
When it came to lunch time one day, he went to the Army Camp located near the irrigation tank in Iranamadu. During the separatist war, Tiger guerrillas who held ground in that area had operated a guest house that overlooked the sprawling tank.
During lunch time, the Army band played oriental music. That prompted Minister Kumara Welgama to move to the podium, seize the microphone and break into an old number made popular by the late H.R. Jothipala. It went "Taj mahalak thanawanna mata ne obe senehasata himi..His ahase geweenna tharamata gee sayak bandimi……"
Others in President Rajapaksa's entourage shouted "one more," "one more"… But it was time to go. Minister Welgama, who is Transport Minister, like the Yal Devi, was on track when he sang. So much so, even President Rajapaksa was impressed.
Ranil's pun on the bun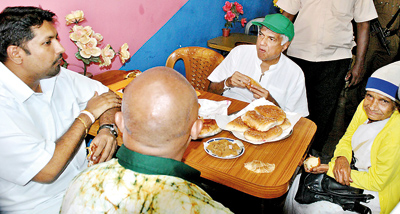 It was a hectic campaign for Opposition UNP leader Ranil Wickremesinghe in the Central Province last week. By mid-afternoon they were at a meeting in Hanguranketha. UNP Gampaha District Parliamentarian Ruwan Wijewardene proposed they should have lunch before the next engagement.
Instead, Wickremesinghe suggested they get on with the next engagement after a cup of tea. Hence, en route to the next event, they stopped by at a modest wayside hotel. Wickremesinghe was biting into a bun. An elderly woman who was already there asked "Deng Sirla kanneth banisda (Sirs, so you all also eat buns now?)."
Wickremesinghe who is known to excel in repartee shot back "Jeewath wenna amarui ne, ammey! (It is difficult to live now, mother)," he said referring to the mounting cost of living.
comments powered by

Disqus