Playing smart on all teams
View(s):

My Dear KP,

I am writing to you because I believe you must be the luckiest man alive and I would like to know the secret of your success. Why, just the other day, I saw a picture of you walking with Kings-rubbing shoulders with Mahinda maama, no less, while he was touring the North for the election campaign!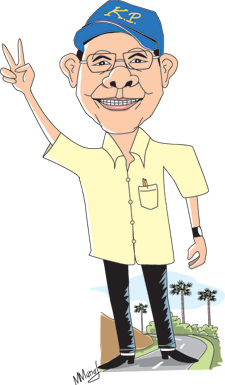 I am also a bit confused by all this, KP and would like to know exactly what your status is. What we all know is that you are a terrorist. Some tell me that you are in 'protective custody'. But then, if you are moving around freely and meeting with Mahinda maama, I'd like to be in protective custody too!
Not long ago, KP, we were told that you were among the most wanted men in the world, next only to Prabhakaran and Pottu Amman. We were also told that you were responsible for raising money for the Tigers-money which they used to kill thousands of innocent people of all communities in this country.
It was as if you were one of those fictional characters that one reads about but never sees. We were told that you were evading arrest in many countries and that Interpol had launched a manhunt for you. You were also accused of operating the Tigers' entire network of international offices.
We were led to believe that you were the mastermind behind the assassination of Rajiv Gandhi. India is in fact still after your head and would dearly like the pleasure of your company, to talk to you on related matters, perhaps in the comfort of a prison cell-but still, here you are, with Mahinda maama!
Of course, KP, no one doubted that you were clever. We were told that you spoke four languages, used two hundred names and even used disguises to hide your identity. That you were able to evade arrest when there was a warrant out for you in many countries proves just how smart you are.
We have heard of how you communicated only with Prabhakaran and no one else. We also know that when he was trapped in Nanthikadal during the last stages of the war, it was to you that he turned to, calling frantically for help and pleading for you to intervene, so that he could escape to safety.
If you had heeded Prabhakaran's call at that time, you too could have perished, trapped in a watery grave. But here you are, very much alive and enjoying the comforts provided by our compassionate government! Surely, Darwin must have had you in mind when he talked of 'survival of the fittest'.
It is here that you must explain matters to me because I am confused as to how this all adds up. For years, we have been told that all Tigers are evil. Why, the Greens are still losing election after election because, once upon a time ten years ago, they had a ceasefire with the Tigers and had talks with them!
But here you are, the third highest ranking Tiger of all time-and the man who assumed the Tiger leadership after Prabhakaran's death-living a life of luxury while other Tigers have been either killed or jailed. It is as if you are the Mervyn Silva of the Tamil community to whom no law applies!
Now don't get me wrong, KP. It is not as if there is no law and order in our country. We do have a very strict system where absolutely everyone-even the Chief Justice-is equal before the law. That is why Her Ladyship is being charged for allegedly not declaring what was in her bank account.
And we have such an efficient system of law and order that even people who risked their life for their country (to fight against you, by the way) are not given special privileges. That is why our ex-Army Commander was charged with some offences, stripped of his rank, deprived of his pension and jailed!
Now I hope you realise, KP, why I am confused. What many fail to understand is how you are still enjoying relative comforts after doing what you did with the Tigers for so many years. Even when you were in custody, you didn't have to get a court order to get a fan installed in your cell, did you?
We know that you are still a smart man, KP, because when Mahinda maama wanted you to run for Chief Minister of the North, you apparently declined. Now, that seems to be a wise decision, after seeing that much respected judge losing all that respect by running for political office in the North!
So, tell us how you do it. How is it that you are able to run with the Tigers and hunt with the Lions? Someone tells us that it is because of the vast amounts of money you still have access to, from the days you controlled the coffers of the Tigers but I suppose that is a story for another day!
Yours truly,
Punchi Putha
PS-After your recent appearances with Mahinda maama I am sure Sunil of Gypsies fame will add another verse to his song for next year's cricket awards. Now he will be singing: "Hamudaapathi hirey yawala kotinta raja sepa denne mona rateyda? Americave, Americave, Lankavey ehema wenne ne!"
comments powered by

Disqus