Foreign direct investment essential for growth
View(s):

The importance of foreign investment for the country's economic development can hardly be over emphasised. This is particularly so as domestic savings are low. Foreign direct investments (FDI) are especially important as they have multiplier benefits for economic development.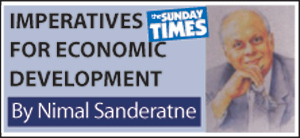 Higher amounts of FDI in manufacturing could make a vital difference to the country's sustained economic growth and development as they are a means of increasing exports, employment and incomes.
With a somewhat low efficiency of capital, there is a need to invest about 36 per cent of GDP to achieve an economic growth of 8 per cent. Domestic savings was only 17 per cent of GDP in 2012. Fortunately savings of nationals abroad remitted to the country was as much as 7 per cent of GDP last year. This boosted national savings to 24 per cent of GDP. In spite of this, there is a savings-investment gap of 12 percent of GDP. This must be financed by foreign investment.
Foreign investments of all forms to the country have been considerably less than this. In 2012 total foreign investment, including loans is estimated at less than 2 per cent of GDP. Of this, FDI amounted to only US$ 813 million that is about 1 per cent of GDP. Therefore, it is essential to increase FDI substantially to achieve the targeted 8 per cent growth.
FDI's contribution
The significance of FDI is by far more than its quantum. FDI introduces new technology and advanced management skills, expands international markets, increases exports and could contribute much to the development of the country's industrial and services sectors. What is needed is not only a larger amount of FDI, but also right types that would make a significant contribution to the country's economic advancement.
It is precisely such FDI that we have failed to attract. Recent increases in FDI have been mostly in the hospitality trade. While these investments too would contribute to the country's foreign exchange earnings, there is a crying need especially for investments in exportable manufactures. Foreign direct investments in industrial ventures that enhance export earnings are essential.
Investment in hospitality trade
The bright spot in this low profile of foreign investment has been the foreign interest in development of the hospitality services due to the boom in tourism. Tourist arrivals exceeded 1 million last year and are expected to reach 1.3 million this year. The expectation of increased tourism in the future has resulted in several large hoteliers deciding to establish high quality hotels in Sri Lanka. It is these investments that are dominant in this year's FDI that is expected to exceed US$ 1 billion.
No doubt these foreign investments of hotel chains will contribute to the country's tourist expansion. However, there are cracks appearing in this optimistic scenario. Are hotels out pricing themselves in comparison with similar facilities in other tourist destinations? Will the law and order situations discourage tourism?
Controversial casinos
Related to these investments are large investments in casinos. These casino enterprises are given much better incentives to invest than manufacturing companies. This is perhaps with expectation of huge amounts of profits of these. Is this in the best interests of the economy?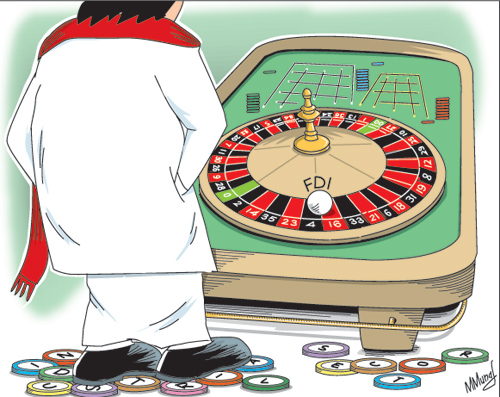 Then again there are objections to the introduction of casinos on grounds of their adverse religious, ethical, cultural and social impacts. What repercussions these objections would have on these investments are still to be seen.Increasing savings to 36 per cent of GDP, a rate of savings Sri Lanka has never had, is not a realistic goal in the foreseeable future. Therefore there has to be much higher dependence on foreign capital inflows. These include grants, loans at concessional rates from international agencies like the World Bank and ADB and commercial borrowing at higher rates of interest. For reasons discussed earlier, the preferred form of foreign investment is FDI as it is least costly, country risk free and confers a multiplicity of long run benefits.
It is also essential that the efficiency of capital is enhanced in order to reduce the required amount of investment. For this it is important to undertake incentive and institutional reforms while maintaining macroeconomic stability so that the marginal productivity of capital is raised. By improving the efficiency of capital the amount of capital needed to achieve an 8 per cent growth rate could be reduced.
If the capital output ratio could be reduced to 3.5:1, then an 8 per cent growth could be achieved with a total investment of only 28 per cent of GDP. This would reduce dependence on foreign funds. If domestic savings could be increased to about 20 per cent of GDP, foreign loans could be reduced significantly.
Other forms of capital flows are limited. Borrowing creates debt service problems of which we should not be careful given the rapid increase in foreign debt at less attractive terms in the past, particularly because we will enter a phase in the world economy when interest rates are likely to rise.
Strategies
Therefore there should be strategies for increasing domestic savings and increasing the efficiency of investment through reforms. Improving the incentives and the institutional environment will attract better kinds of FDI that would increase the country's competitiveness and provide more employment opportunities. The investment climate, business confidence and macroeconomic conditions must be improved to attract larger amounts and right types of foreign direct investments.
Summing up
The inflow of FDI is inadequate and is mostly of the types of investments that would not expand manufactures and increase the country's exports. The recent spurt in FDI has been in the hospitality trade and in casinos. It is not only the amount of FDI that matters; it is also the types of FDI that is important. On both these criteria, FDI falls short. 
It is now imperative to improve the investment climate to attract adequate amounts of the economically useful types of foreign investment. Why is there an inadequate flow of foreign direct investment despite peace in the country? What are the needed new directions in policy to attract FDI? We explore this issue next week.
comments powered by

Disqus