Son of Elara, amidst deities at Lankathilaka Raja Maha Vihare
By Srilal Perera
View(s):
Unlike the Hindus or other believers of divinity, Sinhala Buddhists do not consider the power they believe in to be all mighty. But they are heavily dependent on such metaphysical powers for their day-to-day survival.
One such interesting belief system is preserved at the Lankathilaka Raja Maha Vihare / Devale in Udu Nuwara (five km off Pilimathalawe on the Colombo-Kandy Road). This 14th century shrine built with unique architectural aspects has a shrine to Lord Buddha and well-known deities with supernatural powers, each facing the four directions of the magnetic compass. One such power centre within the monument accommodating multiple beliefs is the shrine of Kumara Bandara Deviyo.
Prince Kumara Bandara is believed to be the son of the Chola King Elara, who ruled ancient Ceylon from 161A.D. to 205A.D. The Mahawansa written by Buddhist monks praises King Elara as a just king for having given judgment to execute his own son for having killed a calf, in an accident with his chariot. But his son felt otherwise. He did not have the intention of killing. According to the dharma of the Buddha, one does not accumulate any bad merits (akusal karma ) if there had not been any bad intention. 
After having a supernatural experience, when King Buvenakabahu 4th of Gampola was advised to build a palace, he built a multi-deity shrine instead, at the summit of the huge rock.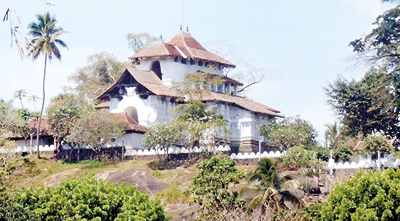 This unique brick shrine Lankathilaka, had been designed by a South Indian architect Stapathi Rayar with six niches to have the six deities looking out at the world through six doors at right angles to each other. Lord Buddha between gods Ganesh and Katharagama , looking in the same direction at the world through three different doors, Gods Saman and Vibhishana looking at right angles to that but looking through two doors, in opposite directions and God Vishnu back to back with Lord Buddha and looking out through another door. Only the statue of Kumara Bandara is placed facing inwards and is behind the Buddha statue, separated by a wall and is never taken out for any ritual or festival. 
With the shifting of the capital of Ceylon, the belief systems too have migrated. But when a baby is born or when a calf is born, the believers appeal to God Kumara Bandara seeking protection for their newborn.
comments powered by

Disqus