President makes historic train ride to Kilinochchi
By Ariyaratna Ranabahu in Kilinochchi
View(s):
President Mahinda Rajapaksa yesterday made a historic train journey from Omanthai to Kilinochchi on the Yal Devi marking the official opening of the newly constructed 63 kilometre track of the Northern Line after more than three decades.
The President, along with officials and media personnel boarded the train at the Omanthai station at 8.55 a.m. He purchased a ticket and cut the ribbon at the entrance to the carriage before boarding the train .The train reached Kilinochchi station at 9.37 a.m.
The President and his entourage were welcomed at the station in traditional manner by people of the area following which he addressed a gathering. The President said the Government is gradually restoring everything that has been destroyed due to years of terrorism in the area.
"I am no magician so I cannot perform magic like Gogia Pasha the magician and put right everything at once. We have to do the work gradually," he said. He said the Provincial Councils are important for development work. "I need the PCs to work together with the Government to develop these areas. If they oppose the Government's development work, it will be difficult to undertake the work," he said.
The President said people of all communities must join hands and come together for the sake of the country. "The whole country is equally important to me. People in the North and South have similar problems about land, housing, etc. They are all equally important to me and must be addressed," he said.
The reconstructed track is part of the 252 kilometre long route which is being constructed by Ircon International Limited, a government company under the Ministry of Railways of India. The project is funded by the Indian Government under the Indian Line of Credit.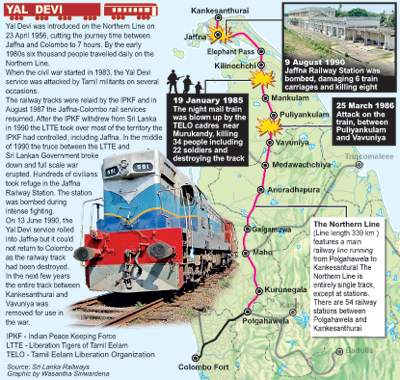 The reconstructed railway track is designed with a speed potential of 120 kmph (kilometres per hour) and the track is been constructed using a new technology in which the track is welded together to minimise jolting. Pre-stressed concrete sleepers have been used in laying the track instead of the traditional wooden sleepers to ensure a durable and stronger track.
The President yesterday also commissioned the new Chunnakam grid sub station and addressed an election rally at the Duraiappa Stadium in Jaffna.
comments powered by

Disqus