PC polls campaigns in full swing while violations abound
By Mirudhula Thambiah
CaFFE, PAFFREL seriously concerned about NP Gov. Maj. Gen. Chandrasiri's appearance on UPFA campaign platforms
View(s):
Over 4.3 million voters in the Central, North-Western and the Northern provinces will go to the polls on September 21 to elect representatives to their respective Provincial Councils (PCs). Of these, around 1.8 million are registered voters from the Central Province (CP), around 1.7 million from the North-Western Province (NWP) and around 714,000 from the Northern Province (NP).
A total of 142 members are to be elected to the three PCs, of which 56 members will be elected to the CPC, 50 to the NWPC and 36 members to the NPC. Some 126 political parties and 75 independent groups have fielded a total of 3,785 candidates to contest the forthcoming polls.
It will be a landmark political event in the NP where PC elections are being held for the first time since they were set up in 1988. An election was held to the merged North-East Province the same year, but the Council became defunct in 1990. The two provinces were demerged in 2007.
There will be 20 foreign observers deployed for the PC elections, Deputy Elections Commissioner, M.M. Mohammed said. These voluntary observers are mainly from India, Pakistan, Bangladesh, Japan, Maldives, Bhutan and Afghanistan, including former Indian elections chief N. Gopalaswami.
Meanwhile, the Commonwealth is sending an Observer Mission for the PC elections in the North. Former Kenyan Vice President Stephen Kalonzo Musyoka will lead the mission.
A total of 3,708 polling stations will be set up in the three provinces to facilitate voting, Elections Department officials said.
Meanwhile, Campaign for Free and Fair Elections (CaFFE) reports 479 incidents of election violations with the highest number of 124 incidents being received from the Kurunegala district, while 77 incidents have been reported from the NP, 224 from the CP and 178 from the NWP.
CaFFE Executive Director Keerthi Tennakoon says, "In the local level police areas, law enforcement is not taking place and is one of our main concerns. This is particularly so in the Gampola, Teldeniya, Harispattuwa and Nawalapitiya districts."
CaFFE also reports several shooting incidents, with the residence belonging to a supporter of former CPC member Thilina Tennakoon, the Sri Lanka Freedom Party (SLFP) organiser for Kandy District, attacked on September 9.
The election office of Kandy District UNP candidate Lalith Ranaraja situated at Yatiwawala, was shot at on September 9 by an unidentified gang who came in a double cab. Mr Tennakoon said, "Intra-party clashes were another cause for concern with over 38 cases of related violence being reported."
Mr Keerthi Tennakoon said that, however, casting of postal votes were conducted peacefully in government establishments countrywide. While People's Action For Free and Fair Elections (PAFFREL) Director Rohana Hettiarachchi said, "We have received a number of complaints with regard to misuse of government vehicles and government buildings. We have informed the Elections Commissioner on this matter and furthermore, contacted the Human Rights Commission (HRC) on Thursday."
"We urged the Commission to particularly look into an incident in Ambagamuwa, Nuwara Eliya, where we found strong evidence against a candidate using a government building for campaigning purposes, and as a party office earlier," he said.We received reports from the North where army personnel are involved in campaigns. We urged the HRC to look into the matter," he said
Mr Hettiaarachchi said, "The HRC gave us a positive response by promising that action will be taken with regard to the Ambagamuwa incident, while a team will be dispatched to monitor the situation in the North." With regard to the presence of international election monitoring bodies, PAFFREL states that, it has invited eight persons from the Asian Network for Free Elections (ANFREL), including its chairman Damaso Magabul.
One each from Japan, Nepal, Philippines, Bangaladesh Taiwan and Thailand will be present PAFFREL said.
CaFFE also expressed deep concern over the reaction of Northern Governor Maj. Gen. G.A. Chandrasiri to criticism regarding his campaigning on behalf of the UPFA in the Jaffna district. He told the media that he has a right to engage in politics, after attending a UPFA rally.
PAFFREL said, "The Governor should not involve in any political activities, he should respect his status as a governor."
(Additional reporting by Joshua Surendraraj)
Three TNA PS members join UPFA
Three Pradeshiya Sabha members of the Tamil National Alliance (TNA) joined the United People's Freedom Alliance (UPFA) yesterday. They are members of the PS of Manipay, Point Pedro and Chunnagam.
They crossed over while President Mahinda Rajapaksa was attending a rally at the Duraiappa Stadium in Jaffna.
'UPFA's PC polls a family affair using public property for private gain'
The most election complaints of over 37% is against the use of State resources, said election monitoring group the Campaign for Free and Fair Elections (CaFFE). The CaFFE said that one factor contributing to the use of public property is the large number of next-of-kin of Government ministers, MPs, provincial councilors, former councilors and Pradeshiya Sabha (PS) members contesting the Central and NorthWestern Provincial Council (PC) elections.
These candidates have access to State resources, giving them an advantage over other candidates of their own party and opposition political parties.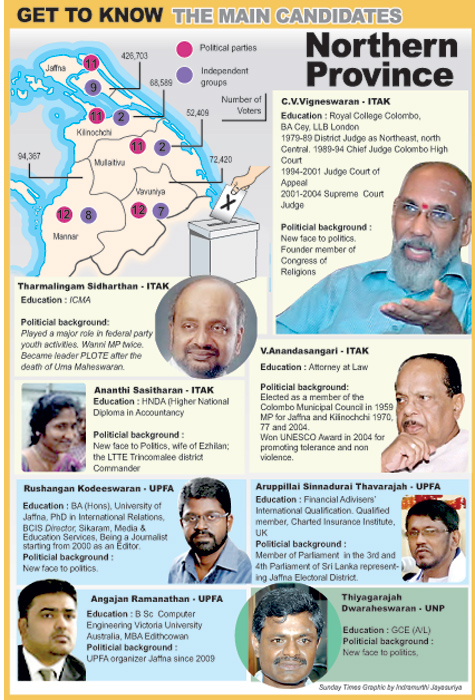 The CaFFE also said that they observed vehicles belonging to a number of ministries, government-owned corporations and statutory boards being used for electioneering in the Central and NorthWestern Provinces. Vehicles seen were from the Ministries of Lands, Buddha Sasana, Private Transport, Higher Education, Livestock Development, Environment and Fisheries.
There were more than 100 vehicles with fake and garage number plates involved in election campaigning in Central and Northwestern Provinces. 
Although the CaFFE repeatedly notified the Governors and Chief Secretaries of both provinces, relevant Ministers and the Commissioner of Elections, no action has been taken to stem these election law violations.  They noted that most of the complaints received regarding the abuse of public property, come from the same party, where members are vying against each other.
The CaFFE pointed out that vehicles and media equipment of the Ministry of Prisons and Rehabilitation were being used in the Mullaitivu District, in support of a senior advisor of the Ministry contesting for the District. Use of public property in the Northern Province is not limited to the UPFA. The Tamil National Alliance (TNA) has been using two vehicles belonging to the Karachchi PS for campaigning, CaFFE said.
The CaFFE pointed out that Panduwasnuwara Samurdhi Officers and newly recruited graduates were forced to attend an election meeting of a Kurunegala District UPFA candidate. The CaFFE also said that Samurdhi officers are misused mostly in Maskeliya, where they have been deployed to paste posters at night, which can be mainly seen within the Ambagamuwa PS.
TISL cries foul over UPFA candidates' use of State resources 
Transparency International Sri Lanka (TISL) says it has observed rampant election law violations including use of State property in Matale and Kandy areas, where sons of present Members of Parliament are contesting.  According to TISL, residents of 'Prince Street', Matale, were severely inconvenienced, when it was blocked on Friday, for an election rally of Chinthaka Ekanayake, son of Deputy Minister of Higher Education, Nandimitra Ekanayake.
TISL also noticed an election propaganda office in William Gopallawa Mawatha, Kandy, used by Anuradha Jayaratne, son of Prime Minister D.M. Jayaratne, on State land belonging to the Urban Development Authority. 
The present Chairman of Naula Pradeshiya Sabha (PS) in Matale, Tilak Bandara is using the official vehicle belonging to the Divisional Secretariat for election purposes, TISL said. It has also observed newly recruited graduates driving vehicles for election propaganda activities.
The Naula PS Chairman, also a ruling party member, is said to be using the former Agrarian Services building in Udadeniya, Nalanda, Matale, for election campaign purposes. 
TISL said UPFA Provincial Councillor has lodged a complaint with the Matale elections office and the Elections Commissioner, over a request made to school principals by the zonal education office, urging them to organise events and invite Mr Chinthaka Ekanayake as the chief guest. He has charged that there is an adhoc plan to open 5,000 preschools in the area.
Political rookies in the fray at PC polls
Several candidates at the forthcoming elections to the three Provincial Councils (PC) are new entrants to politics. Among them is UNP candidate for the Kandy District, Maneesha Seneviratne, who is contesting for the first time.
A lawyer by profession, he believes that PCs are helpful to the people and can be further improved to serve the people better.
"If elected, I wish to establish a proper administration system within the PC, so that, more people will have faith in the system. My personal opinion is that the PCs are another institution that serves the people and, though it may have its flaws, it is up to the candidates to change it into a worthy institution," he said.
Mr. Seneviratne said that he is disappointed that election laws are not applied equally to everyone. "The law is not equal for everyone. Cutouts of government candidates are found all over town. I personally wanted to campaign without posters, but was compelled to resort to similar activities," he said.
Hailing from a family of former politicians and advocates, Mr .Seneviratne states, "I was inspired by the fact that government institutions lack discipline and are on the verge of crumbling. I feel that more lawyers should get involved in politics and safeguard our nation, for it is wrong to turn a blind eye to such matters."
Meanwhile, Lt Col (Rtd.) R.M.M. Ratnayaka contesting for the Democratic Party from Kurunegala, says that, his motive for embarking on a political career is to change the current status of the country. "We spent most of our young years fighting the terrorists. But now, the country is not in a good state. Many swindle and deceive the people. There is no transparency in the work that is done in the name of development," he said.
Mr Rathnayake said that he wished to change this situation through the help of his party members. "Gen. Sarath Fonseka is trying hard to restore the economy and status of the country, and I wish to assist him in his work, even after I retired from the army," he said.
UPFA Candidate Manjula Polgampola, from the Kurunegala district, said that he will take this opportunity to help the people in the area to uplift their living standards. Mr Polgampola was a police officer for many years. He has also served as a Member of the Alawwa Pradeshiya Sabha (PS) and a deputy chairman of the Narammala PS. 
"I am contesting this election following a request by the organiser of the UPFA. I have served the people of my area by building roads and improving other infrastructure. After the election, I wish to carry on with my social services," he said.
Mr Polgampola said that he is certain that his party will win the forthcoming elections. "The President was the reason that Sri Lanka was rid of the LTTE, and now the country has become a developed nation," he said.
UPFA candidate for the Nuwara Eliya District, Nimala Karunarathne said she wishes to settle the land and housing issues in the Hatton area which has reached a crucial point. "I hope to introduce a housing project to settle this problem. Since there are people from different ethnicities living in this district, we have to build an environment where all these groups can live together as one. For this, we should no divide, but take all individuals into account to develop," she said.
Ms Karunarathne said that through the help of the people in the area, she wishes to carry on her services in her district.
UNP candidate for the North Western Province (NWP) Sumeda Arunashantha said that he believes the elections will give the people the liberty to choose their leaders, especially because they are disappointed by the present government.
He said that the government has failed to address most of the issues faced by the public. "The government had been ruling the NWP for many years now, but the Province has many problems. Other than what the UNP has done to the Kurunegala district, there is nothing that the government has done there," he said.
Mr Arunashantha was a teacher before entering politics. He said that he is going ahead with politics with a clear vision. "I was a Member of the Municipal Council and I did everything in my power to do a service to the public and I wish to do so in the future too," he said.
comments powered by

Disqus