Import of products using HCFC greenhouse gas to be phased out: Minister
By Damith Wickramasekera
View(s):
The import of refrigerators, freezers, domestic and industrial air conditioners, ice plants, paints, perfumes and other items that use the chemical compound hydrochlorofluorocarbon (HCFC) is to be phased out from this week as part of an Environment Ministry's initiative to save the Ozone layer.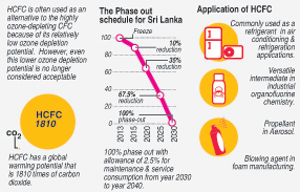 Environment Minister Susil Premajayantha said that at present the import of greenhouse gas HCFC was regulated through an annual quota system but under the new initiative that seeks to eliminate the use of HCFCs, the quotas granted to companies would be gradually reduced.
"The phasing out programme which began this week will be completed by 2030. The programme is being launched in keeping with the country's obligations under the Montreal Protocol," he said.
Accordingly, by 2015, there should be a 10 per cent reduction in the use of HCFCs in products that use this gas, by 2020 a 35 per cent reduction, by 2025 a 67 per cent reduction and by 2030, the gas will not be used in any products.
Once the restrictions were in place, Customs would seize the products that do not conform to the regulations and the offending companies would be compelled to re-export the products at their own expense, the minister said.
"We have trained 180 Customs officers to identify these products and supplied them with special equipment to detect HCFCS," Mr. Premajayantha said.
He said the companies are encouraged to import HCFCS substitutes or manufacture items that use HCFCS substitutes which are less harmful to the environment. HCFCs are a class of chemicals which are used to replace CFCs, owing to their comparatively low damaging effect to the ozone layer. However, under the Montreal Protocol, it was decided to phase out the use of HCFCs.
The minister said Sri Lanka was keen to implement the Protocol and phase out HCFC use and would use the experience it had gained from the implementation of previous control measures for the ozone depleting substances such as CFCs.
There are 26 registered companies that import HCFCS at present.d
comments powered by

Disqus