Depositors trapped in double game
By Namini Wijedasa
View(s):
Two CIFL companies: One registered and the other unregistered; one has a red logo and the other blue

Several  finance companies under stress; hapless clients told their deposits to be turned into shares
When her husband died of a heart attack in 2004, Ms. J, who wished to remain unnamed in this article, received a life insurance payout.  "He was a doctor," she related last week. "His death came as a terrible shock to us. My younger son was just two-and-a-half years old. I have two children."
"I had been a nurse but I retired early, making use of a half-pension scheme offered by the government," she said. "We went abroad, to the United Arab Emirates. My husband had a job and our second child was born in that country."
On their return to Sri Lanka, the couple bought a plot of land in Bokundara and built a house with the money they had saved up. After her husband passed away, Ms. J put his life insurance payout into a fixed deposit at Edirisinghe Trust Investment Ltd (ETI).
Her two children were enrolled in a private school. One day, the owner of the transport service that took them to and from school told Ms. J that he had invested his money in another finance company named Central Investments and Finance PLC (CIFL). He encouraged her to transfer her savings to the same institution, saying it offered a higher rate of interest. 
She followed his advice. But unbeknownst to both of them, the Aspic Corporation that owned CIFL was running a complex financial scam. They had, in fact, two companies named CIFL. One was registered with the Central Bank of Sri Lanka (CBSL) and the other was not.
The unregistered company was formed in 2007 while the registered one was set up more than 40 years ago but had changed hands several times. The unregistered company had a blue logo while the registered one had a red logo. The unregistered one was called CIFL Asset Management while the registered one was named CIFL. 
These subtle differences that went unnoticed by depositors were not brought to the notice of depositors by the respective companies. When agents went canvassing for deposits, they used the profile of the older, registered company to win customers over.
So Ms. J placed her money in what she thought was a registered finance company — but the fixed deposit certificate she received was issued under the name of CIFL Asset Management and was stamped with a blue logo. 
CIFL Asset Management was in crisis by 2008. The Sakvithi Ranasinghe scandal and the Golden Key Credit Card Company had collapsed that year and other finance companies were also feeling the pinch. Those, like CIFL Asset Management, which had been grossly mismanaged and had no money to meet their obligations, were reaching breaking point.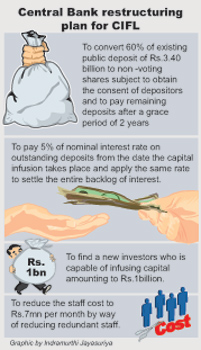 "Up to September 2009, I had received interest payments of around Rs 46,000 a month," Ms. J said. "Then they stopped. My fixed deposit matured in February 2010 so I went to the company and said I wanted to withdraw it. They said they had no money to give me. Until then, nobody had told me that the company was in such serious trouble."
The rest of Ms. J's story is similar to the tales of woe that hundreds of other customers of failed finance companies are now relating. CIFL, the registered company, is also now in distress.
"I have not told my brothers about my problems because I don't want them to feel sad for me," she said, crying. "I am managing with my small pension and through pawning my jewellery. I don't share my difficulties even with my children. The reality is that I am suffering a lot."
The reality, also, is that even if Ms. J had placed her money in a registered finance company — like CIFL — she might have lost it. After several waves of finance company collapses, it is increasingly evident that "regulation" by the Central Bank might not be "regulation" at all.
It is well known in the industry that ETI, where Ms. J had first invested, has a massive mismatch between its assets and liabilities and that the CBSL is working with both ETI and Swarnamahal Finance to fix their problems. "ETI is trying hard to get someone (an investor) to restructure the company," said H. M. Ekanayake, Director of the CB's Department of Supervision of Non-Bank Financial Institutions (NBFI), in a recent interview with the Sunday Times. The balance sheets of several other finance companies are also unhealthy.
CIFL, the registered company, is now in line for restructuring. As for CIFL Asset Management, in 2008 its deposits were used to buy a licensed finance company called Industrial Finance Ltd (IFL) from Tudawe Brothers. The liabilities of CIFL Asset Management were transferred to IFL which was later sold to another "investor" who did not put in any money. The Central Bank then intervened to restructure IFL. 
Under the restructuring plan, IFL was renamed as City Finance Ltd. Its customers reluctantly agreed to convert 50 per cent of their deposits to non-voting shares and to receive a four percent monthly interest payment on the rest. They were told their remaining capital would be settled in three years—2013, 2014 and 2015. It was a huge blow, particularly to the many senior citizens who had banked on these savings to help them get through their final years.
"You have to sacrifice something," sighed Rohan Perera, head of the Industrial Finance Investors' Society and a CBSL-appointed director of the company. "What else could we have done?" 
It is some consolation to depositors that cheques for the first repayment instalment are now ready. "The payments will be made in the first week of October," said Mr. Perera. "We have also been paying interest up to date. To meet the second repayment instalment due in 2014, there is a buyer for one of our properties in Saranankara Road, Dehiwala. For the final instalment, we might need an investor."
CIFL depositors have also been offered a similar deal, except that 60 per cent of their capital is to be converted to non-voting shares and the rest repaid in five years after a grace period of two years. Unlike IFL, this company is in a worse situation and needs a new investor to infuse 1 billion rupees. 
"With any kind of failed or distressed finance company, somebody is going to end up taking a hit — the current shareholders, the depositors or the financial institutions that have lent them the money," said an analyst, who did not wish to be named. "Converting some of the deposits into shares is the easiest thing to do as long as depositors consent to it. It is the one step that can be taken with the least hassle. Finding outside investors for a distressed finance company is not easy."
For the depositors, "It is the something-is-better-than-nothing model," the analyst said. "I'm faced with a situation where I can't pull my money out and I'm not getting interest. So I allow it to be converted to shares where, if they trade, I will get something. I can sell the shares in the secondary market, so long as there is demand for them. The Finance Company converted some of its fixed deposits into non-voting shares and they trade for a very low price."
CIFL depositors have so far not agreed to their repayment plan. But if the past is anything to go by, they might not have a choice.
More questions on Central Bank's monitoring role
It has long been in question whether the Central Bank of Sri Lanka can realistically regulate the nearly 50 finance companies operating in the market.  "There are far too many finance companies and they need to consolidate," said an industry source, requesting anonymity. "Imagine 48 finance companies setting up branch networks, information technology systems, performing systems, marketing, staffing, buildings, and so on? You're talking of an entire operation 48 times!"
"What is the scale you're running this at?" he questioned. "Do you need 48 financial institutions?
Despite the large numbers — and despite admitting that they would like to see more mergers in the industry — the Central Bank this year issued a licence to yet another company, Indra Finance Ltd.
"The Central Bank is saying, on the one side, that it would like the industry to consolidate," said the source. "So if you're telling the industry to consolidate, why are you giving a licence to another finance company? Why don't you tell Indra Group to go buy one? If they have money and if they want a licence, you tell them, 'Sorry, we don't issue any more licences. You go buy one'."
When asked whether his department had the capacity to monitor and regulate such a large number of finance companies, Mr. Ekanayake said he needed authority from his higher-ups to answer that question.
comments powered by

Disqus