PwC alumni holds quiz night
View(s):

Pricewaterhouse Coopers jumped on the quiz night bandwagon last month with the first ever PwC Quiz Night, organised by the company for its alumni.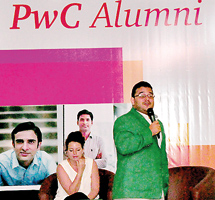 Contestants participated in five categories of sports, famous places, well known faces, true or false and general knowledge. 
CEO Yudhishtran Kanagasabai and COO Channa Manoharan were happy to let quizmaster Dominic Keller take over the proceedings-and take over he did, mercilessly driving the participants to rack their brains for answers. Team Stoned Stiflers emerged champions of the day, with the Retifists (who hilariously named themselves after the answer to a question in the first round) and No Idea were placed second and third respectively.
comments powered by

Disqus